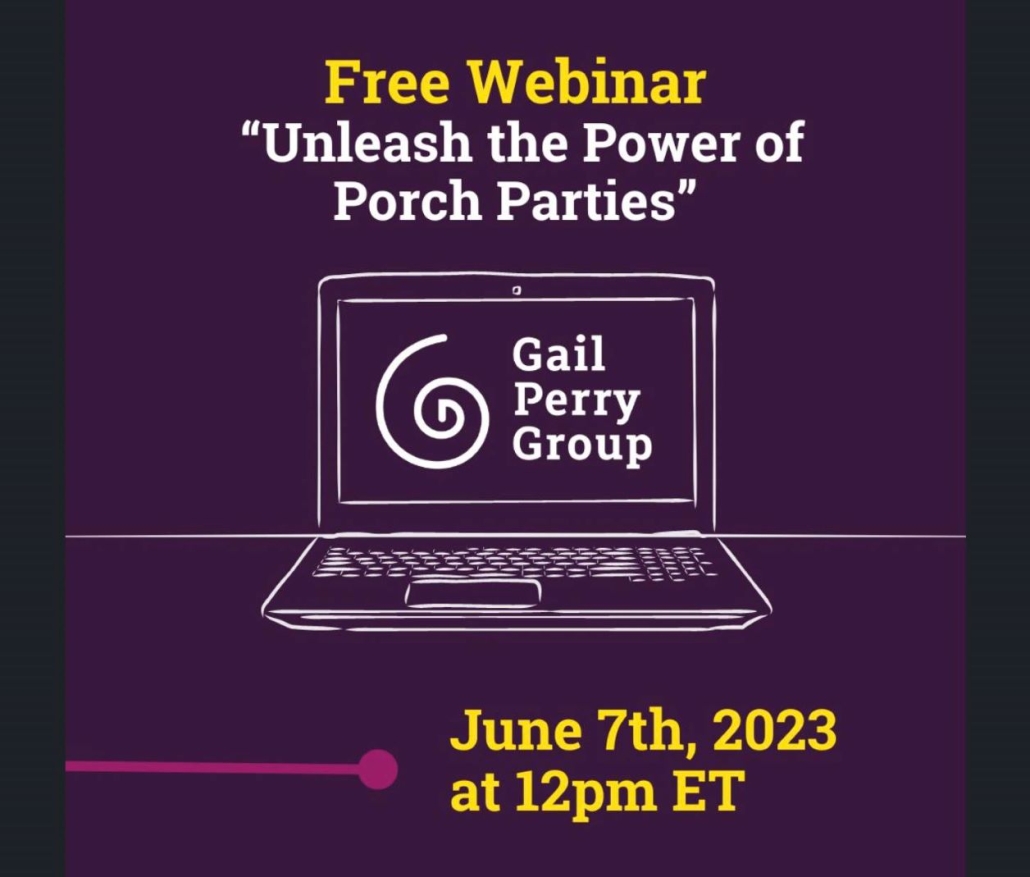 Just imagine: what if you had a new way to increase visibility and make new friends for your cause?

Wouldn't it be wonderful if you had an authentic and impactful way to help donors get to know your work, build trust and establish meaningful connections with your leadership?

Then consider the power of a no-ask friendmaking event like a Porch Party.

Don't miss our free webinar on June 7th,
"Unleash the Power of Porch Parties to Gain New Friends, Supporters, and Donors!"
You'll discover how to stage the ultimate summer Porch Party friendraising event!
Even more, social gatherings for your cause can foster a wonderful sense of community.
Let's explore how a Porch Party can help you build trust and ignite interest in your cause:
1. Getting to Know Your Organization:
A Porch Party provides a welcoming and intimate environment for donors to engage with your leaders on a personal level.
By hosting a relaxed social gathering, you create a space where conversations among people can flow naturally, allowing attendees to get to know you. They can also gain firsthand insights into the mission, impact, and values of your organization.
As they learn more about your cause and understand your work, typically, people's interest will begin to grow. Before you know it, you've just made a new "friend" for your organization.
In this webinar, we'll share our tips to engage your attendees in discussions about your mission.
2. Establishing Authentic Connections:
There's another reason we like Porch Parties: a casual social gathering can create the space to foster authentic connections between potential donors and your cause.
By inviting potential supporters to engage in conversations, share stories, and forge friendships, you help to create a sense of belonging and purpose. And that is surely a lovely thing.
This is what we mean when we talk about engaging donors – you are helping them forge personal connections with your work.
As attendees connect with others who share their interests, they'll also connect more deeply with your cause. This fosters a bond based on shared values and common goals.
All this happens before you ever ask for a gift.
In our June 7th webinar, we'll share why friendmaking is a powerful fundraising strategy.
3. Building Relationships that Inspire Support
Just remember: Successful fundraising is based on meaningful relationships with donors. And most importantly, these relationships are based on trust and understanding.
A Porch Party allows you to go beyond the transactional aspect of fundraising and move into cultivating genuine connections.
When you nurture donor relationships, and demonstrate your organization's community-wide impact, you inspire donors to contribute willingly. They can move on to become long-term advocates for your cause.
Making Friends First.
The Porch Party motto is "Make friends first."
First, you help donors get to know your cause and build their trust in your organization.
Then, later, you invite them to donate. First things first.
When you prioritize relationship-building and focus on genuine connections, you create a solid foundation for long-term donor engagement.
Just imagine: your donors and prospects are becoming more familiar with your cause. They're beginning to witness the impact of your work. And above all, they are building trust in your organization.
At that point, they'll be more inclined to contribute willingly and wholeheartedly. You are "attracting" donors rather than "pitching donors."
Your Next Porch Party Is a Platform for Building Trust and Inspiring Support.
Remember, a Porch Party is not just a social gathering; it's a platform for building trust, fostering connections, and inspiring support.
Make each Porch Party gathering a memorable experience. You can showcase your organization's values, its mission, and, most of all, your dedication to creating positive change.
We want you to embrace the power of Porch Parties to make new friends for your organization. New friends who will become deeply engaged donors.
In the June 7th webinar, we'll share the best format for the program at a Porch Party.
BOTTOM LINE: A small social gathering is a perfect way to create a welcoming atmosphere for new friends.
You can let the porch become a stage for meaningful conversations and relationships that will propel your cause forward. Hope to see you there!
https://gailperrygroup.com/wp-content/uploads/2023/05/Untitled-design-8-e1686834987946.png
900
1600
Gail Perry
https://gailperrygroup.com/wp-content/uploads/2022/09/Gail-Perry-Group-2.svg
Gail Perry
2023-05-25 14:40:24
2023-07-11 10:55:13
Webinar | 3 Ways a Porch Party Can Ignite Interest in Your Cause