How to Get Ready for a Capital Campaign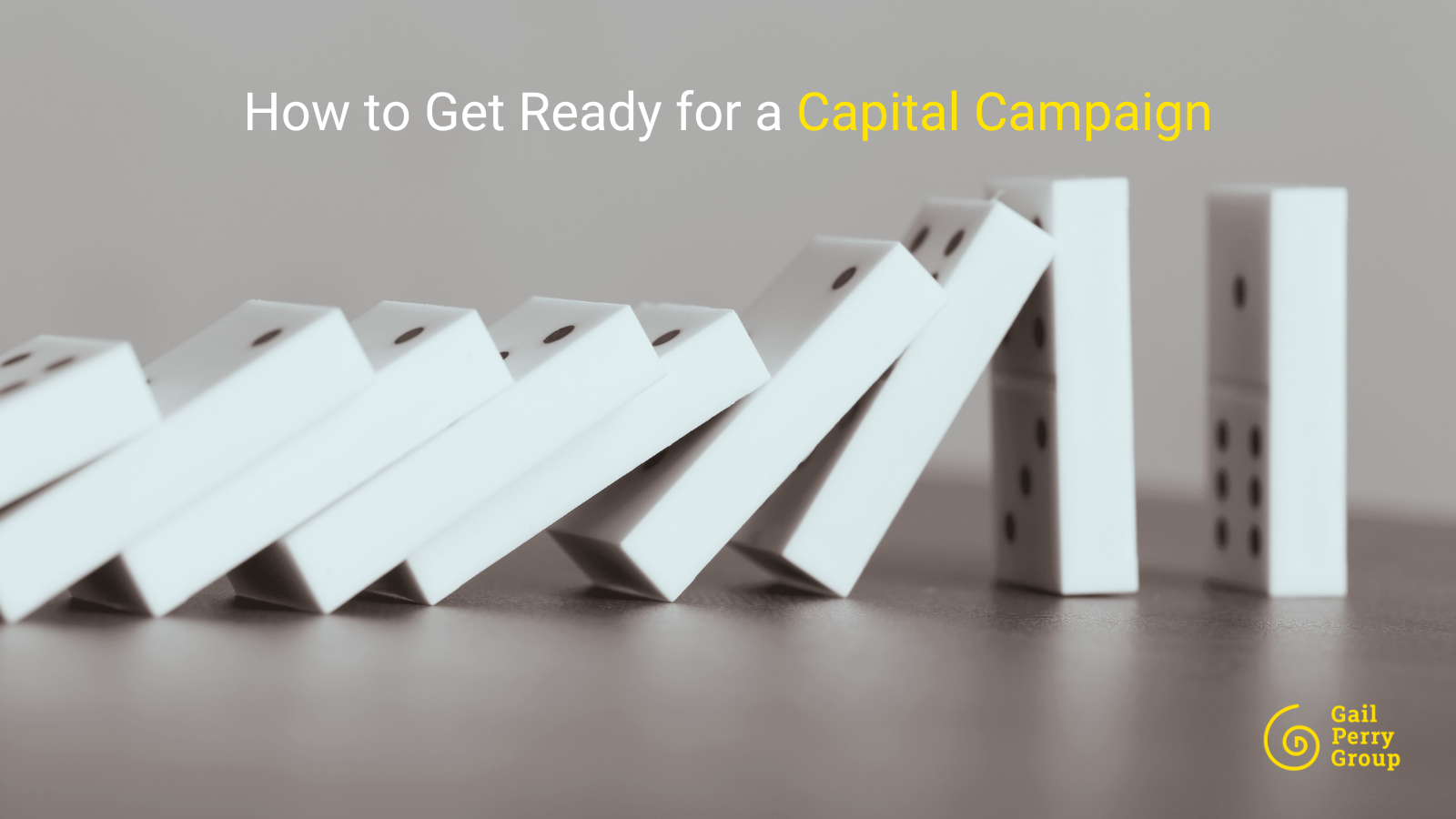 What does it take to really be ready for a capital campaign?
Often we see board members and leaders chomping at the bit to move quickly. And we hear from some fundraisers that they feel pushed to get going and start asking for lead gifts as soon as possible.
However, caution ahead: your organization may not be ready for our advice: Slow down and get organized now so that you can move ahead quickly later. You do not want to be charging ahead without doing your research and due diligence!
There are many steps to take in order to be ready for a capital campaign. Planning now will create a successful campaign.
Here are key steps you need to work through BEFORE you launch into the silent phase of your campaign.
1. Decide your scope. What exactly will you be raising money for?
This sounds obvious, doesn't it? But it's not.
Does your organization need a new building? If so, then consider this:
Where will the building be, and how much will the land cost?
Do you have a simple schematic design?
Do you have an idea of what the actual construction (or renovation) will cost?
What about the cost of building permits, new furniture, etc.?
Also, will there be additional items that your leadership may want to include in your capital campaign financial objectives?
What about funding for endowment?
Or a special building maintenance fund or money for equipment?
What about including start-up costs for any new programs?
It's important to identify all the different "funding objectives" or purposes that your campaign might include – well in advance. This is not a quick – or simple – process, to be sure.
2. Get a rough idea of your possible capital campaign financial goal.
Once your team has a sense of the proposed capital campaign's funding objectives, they can begin putting some numbers next to each funding objective.
Once that is accomplished, they can develop a "working" campaign goal. Go ahead and set a preliminary working goal as soon as you can.
This is a key starting place for your campaign planning.
Estimating the financial aspect of the campaign is an important step forward. Once you start talking numbers, you'll find a sweet spot: a number that impresses people but doesn't make them gasp at your foolishness.
Regarding your financial aspirations – remember that a little foolishness is not all that bad. It's much easier to come down later than it is to go up, so it's a good idea to reach on the high side at the beginning.
3. Break down the potential capital campaign goal by gift amounts.
It's essential for you to lay out your potential gifts in a Gift Range Chart. This little chart will be a remarkable planning tool for you and help you prepare for a capital campaign when the right time comes.
Based on your preliminary working campaign goal, create a chart that will show how many gifts you'll need in what sizes to reach that goal.
What's more, who do you think will be the donors who will step up with lead gifts for the campaign? You'll want to evaluate the size of your potential campaign prospect pool:
How many gifts of one million will you need? Where will they come from? Or, if you have a large campaign goal, how many ten-million-dollar gifts do you think you'll need?
How many of $500,000? And $250,000?
How much in smaller amounts will you need to cover what your major donors don't provide?
Know that a gift range chart for the same goal will vary from organization to organization. Why? Because it really depends on the size of your prospect list and the potential of your largest donors.
4. Get your board on board.
To be ready for a capital campaign, you'll want to be absolutely sure that your board is well-informed about campaign strategy, donor prospects, and potential for your campaign.
Your board needs to:
Understand how capital campaigns work. Major gift and capital campaign strategy is not always intuitive. Your leaders need to understand that it takes time and a lot of nurturing to close huge gifts. That's why we slow down now, to go fast later.
All must agree on the campaign objectives and scope. You can't go forward if there is dissent about whether to do a campaign and what it will require from the board and the organization.
Be willing to make the investment in infrastructure that will be required to support the campaign. This money won't just walk in the door! It takes extra staff, extra events, extra PR, and a ton of work.
5. Involve your most important donors in your capital campaign planning.
Many people ask us, "When can we approach our major donors about the campaign?"
We recommend that you engage major donors at the very beginning – when your campaign is just an idea.
It's always a great strategy to involve your major supporters, while the campaign is simply an idea. As your ideas evolve, get their support early on, particularly in the planning process. You could even invite their input into your plan.
You get the idea.
Don't keep your most important donors at arm's length through the planning process – instead, use your planning phase to draw them in. The pre-planning phase is a wonderfully exciting time to involve your donor prospects.
Bottom Line: How to Start a Capital Campaign
Pre-planning now will help you save time and money and have your campaign on the early road to success!
As always, it is a pleasure to share our weekly insights with you as we cover important fundraising strategies.
If your organization is planning a capital campaign or expanding your major gifts program – we can help. Send an email to coaching@gailperry.com if you'd like to schedule a free strategy call with us.
https://gailperrygroup.com/wp-content/uploads/2023/05/Blank-Dominos-Falling-.png
900
1600
Gail Perry
https://gailperrygroup.com/wp-content/uploads/2022/09/Gail-Perry-Group-2.svg
Gail Perry
2023-05-11 20:29:06
2023-05-11 20:29:07
How to Get Ready for a Capital Campaign