From Porch to Philanthropy: How Porch Parties Fuel Fundraising Success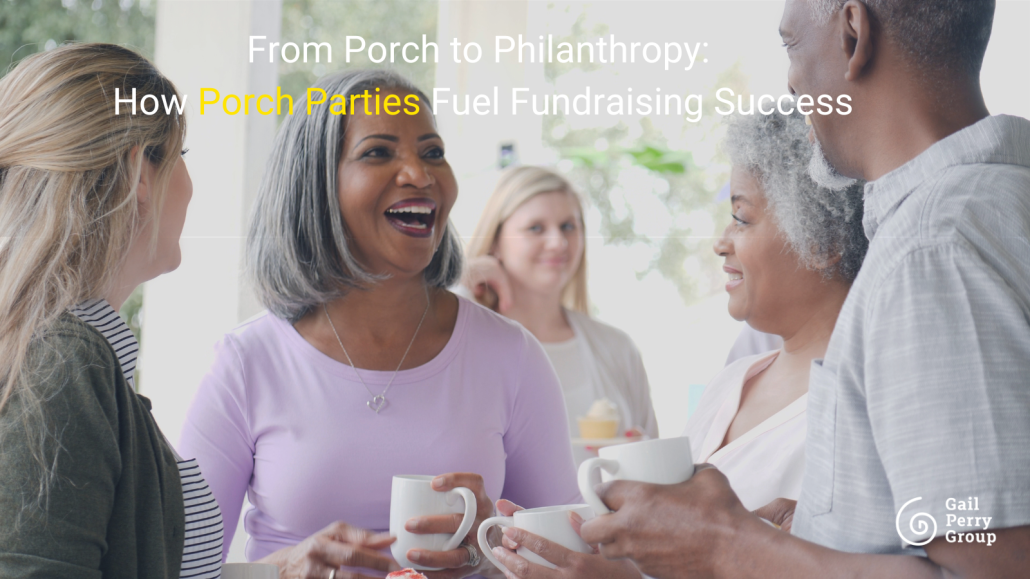 At its core, a porch party friendmaking event is a gathering that combines the fun of social interactions with the purpose of cultivating relationships with potential donors.
A good Porch Party can be a masterful blend of warmth, conviviality, and gentle philanthropic conversations. You can accomplish so much in just a couple of hours at a small event.
Since these types of events are no-ask, friendraising social events, you can use them to introduce new people to your organization and foster deeper connections with current donors.
Let me share with you why these types of events can help solve some of our toughest fundraising challenges.
Challenge – Increase Donor Engagement.
In the fundraising world, we know that engaging with our donors is paramount. Everyone wants more donor engagement. – but how to do it?
It can be a challenge to connect with important donors and get to know them.
We often struggle to find ways for donors to feel connected to our work and to understand what their gifts are accomplishing.
How a Porch Party Can Increase Donor Engagement:
At a Porch Party social event, you can invite key donors, visit with them, and nurture their interest in your work.
It's a great way to gather important people together. What's more, you can do a lot of cultivation work in just one hour at a good Porch Party!
Challenge: Want to Access the Important Philanthropists in Your Community
One of the biggest challenges for many fundraisers is getting in the door to the major philanthropists in the community.
Indeed, access to these individuals is often very limited, and you have to depend on a personal introduction.
How a Porch Party Can Help Open Doors to Important Philanthropists:
Unlike larger fundraising events, porch parties can offer private access to potential major donors.
These key philanthropists will often accept an invitation to a small event from one of their peers. When this happens, you can make magic!
In a small social setting, you can have important discovery conversations, learn more about their philanthropic interests, and hopefully begin a relationship with your cause.
This give you a wonderful opportunity to highlight the lives changed and communities impacted by your organization's work.
Challenge: Need to Build Deeper Trust and Connections with Donors.
Of course, we know that building trust and connections with donors will build longer-term relationships and encourage them to get more involved. And that's what good fundraising is all about!
Again, how can we reach out to our key supporters and build trust with them? It can be such a challenge to reach people and spend one-on-one time with them.
How a Porch Party Can Foster Donors' Trust
Porch Parties offer a relaxed and comfortable atmosphere where donors are willing to simply visit with you.
When a donor is able to have casual but meaningful conversations with representatives of your organization, their trust and confidence in your leadership will grow.
A compelling program at your Porch Party can trigger much deeper donor interest in your work!
Challenge: Need to Address Low Donor Retention.
Low donor retention numbers present a critical challenge that demands our immediate attention.
Everyone worries about their low donor renewal numbers, but they rarely have a plan to address this difficult issue. In fact, donor retention is the lifeblood of a sustainable fundraising program.
How a Porch Party Can Help Increase Donor Retention:
To address donor retention, consider holding a porch party for lapsed donors – people who are no longer supporting your work.
Once you have them in the room, they will probably feel re-engaged. You can gently invite them to renew their support or write them after the event and invite them to renew.
Or consider a porch party for your current donors – designed to help make them feel connected, engaged, and passionate about your work once again.
You are setting the stage for a renewal gift from these happy stakeholders.
Bottom Line: Porch Parties Can Be an Excellent Fundraising Tool
Try a small social event. Take the time to engage with donors, work the room, practice discovery conversations and foster connections. Your fundraising returns will increase!
As always, it is a pleasure to share our weekly insights with you as we cover important fundraising strategies.
If your organization is planning a capital campaign or expanding your major gifts program – we can help. Send an email to coaching@gailperry.com if you'd like to schedule a free strategy call with us.
https://gailperrygroup.com/wp-content/uploads/2023/05/Untitled-design-9-e1686835282627.png
900
1600
Gail Perry
https://gailperrygroup.com/wp-content/uploads/2022/09/Gail-Perry-Group-2.svg
Gail Perry
2023-05-25 16:48:56
2023-07-13 06:09:45
From Porch to Philanthropy: How Porch Parties Fuel Fundraising Success