How COVID Times Provide Unique Opportunities for Fundraising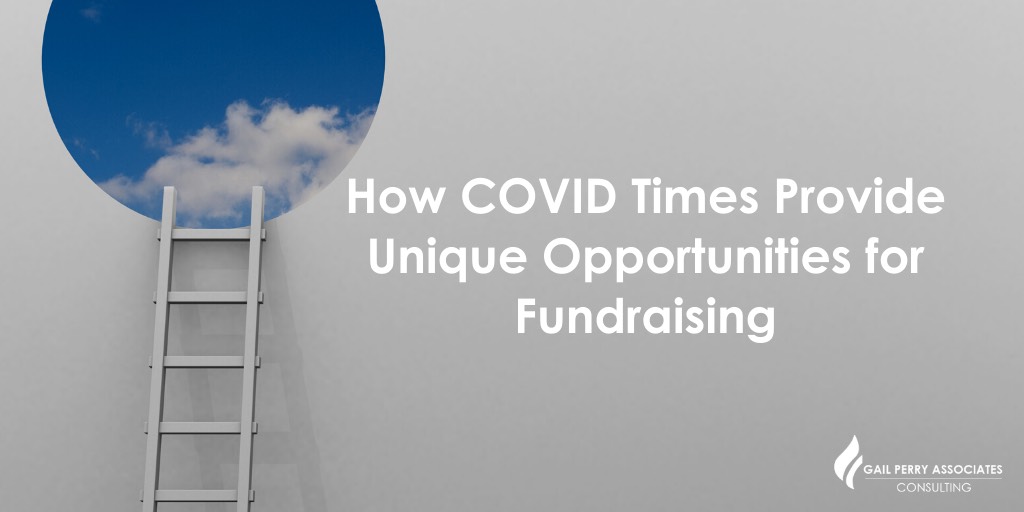 Yes, COVID times are hard for everyone to handle.
But don't despair: We are finding that these times offer some pretty interesting and unique opportunities for fundraising.
Unusual times often bring up unusual opportunities and special advantages.
Today we want to shine light on why COVID is granting us unique opportunities for fundraising.
As the world has gotten busier, with more distractions, perhaps we have forgotten that donors give because they care about your cause. Their donation comes from the heart.
Strip away the galas, dinners, and 5k runs. Donors actually give more when their gift is based on deeper conversations, instead of outings or 5-star meals.
I want to share with you three major ways that COVID times are offering unique and unusual opportunities for major gift fundraising:
1. You Have Access to Donors in Different Ways
The quantity of donor interactions you have during COVID times may decrease.
But the quality of your access is higher. And major gifts are determined by quality, not quantity.
On Zoom, you are eye-to-eye with your donor. There are no distractions. Your donor is on the call because she wants to be, and that is a golden opportunity.
2. You Can Have More Authentic Interactions With Donors
COVID times have created an atmosphere of authenticity and transparency.
It's critical to be honest and open with donors. And, in return, they are honest and open with you.
When you learn how to have intimate, thoughtful conversations with donors – you can discuss what they personally value, what they believe and hold true.
You can zero the conversation in on what the donor is really interested in. THIS is the heart of donor cultivation and engagement.
When you skillfully bring out your donor's feelings about why they care, it's easy to simply ask, "would you like to know how you can make a difference here?" This is how you bring up the topic of a potential gift.
3. You Have Interesting News to Share Since This Is Not Business As Usual
This may be your most powerful opportunity yet.
For better or worse, COVID has provided your organization with constantly evolving news.
This is an unusual time where your newsletters and impact reports are not "business as usual." How are you adapting? What exactly is happening?
Donors are interested to know what is going on. And you have constant updates to share.
No more "what do I say to my donors!" Now you have plenty to say.
Bottom Line: Fundraising in COVID Times
We understand this can be an exhausting time. Your best practices and comfort zones have been upended.
But don't let this blind you to the real opportunities that are in front of you.
You have a very special opening for frank conversations with your donors. So use it. You got this!
As always, it is a pleasure to share our weekly news and insights with you. We hope you will continue to capitalize on our years of experience by joining us Wednesdays at noon ET on Facebook Live and following us on social media.
Planning a capital campaign? If you would like to learn about our unique Capital Campaigns by the Numbers approach, let us know.
Hope you have a wonderful weekend.
https://gailperrygroup.com/wp-content/uploads/2020/08/Copy-of-Copy-of-Copy-of-Copy-of-Wednesday-6_3-5.png
1080
1080
Gail Perry
https://gailperrygroup.com/wp-content/uploads/2022/09/Gail-Perry-Group-2.svg
Gail Perry
2020-08-21 09:55:16
2023-07-11 08:45:30
How COVID Times Provide Unique Opportunities for Fundraising