Advice for a New Major Gift Officer: Raise Money the Minute You Hit the Ground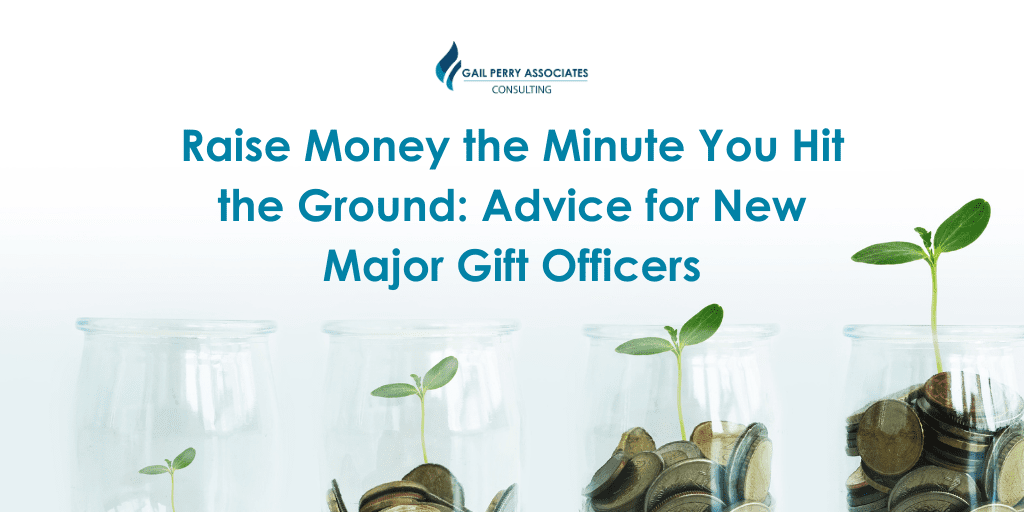 This week on Facebook LIVE we discussed common mistakes that a new major gift officer often makes.
Now we're following up with ideas to help you get started quickly and see some quick fundraising wins.
Being new can be daunting, especially when you're dealing with donors who can make very large gifts.
Instead of feeling overwhelmed and nervous, we want you to feel excited! Get this: You're new. And that is your ticket to getting into the hearts and minds of your donors.
Our Advice?
1. Understand your relationship, as the new major gift officer, with the donor.
Many new major gift officers start with a misunderstanding of this relationship. Remember, the relationship is not between you and the donor, it is between the organization and the donor.
And this is a good thing!
This means that you start your first day with an already robust relationship. You are just the new face in charge of their "customer service" account.
Don't be shy about inserting yourself into the relationship immediately.
2. Introduce yourself as their new contact person.
Need a reason or pretext to reach out for a visit? Introduce yourself!
"Hello Name, I'd like to introduce myself as your new donor relations contact at our organization. You have been a loyal donor over the years and we are so very appreciative of your generosity!

If you have any questions or concerns – please let me know and I'd be happy to help answer them. Here's my number xxxxxx.

Also, I'd love to know more about how you came to be a donor to our organization. Would you be willing to visit a few minutes with me on the phone or zoom, and share your story with me? It would be my deep pleasure to know more about you and your interest in our work."
This is just one simple example of how you can use your "newness" to reach out to donors. Make sure you use language your donor is familiar with, for example you could say "I am your new assigned gift officer" instead of "donor relations contact."
If you can't make headway with this type of introduction, then ask someone in your organization to make an introduction for you. Gentle hand-offs can work wonders.
3. Do your research.
Being prepared is always a must. Don't assume, because you are new, your first donor conversation will just be informal with no chance of a gift.
Before getting on the phone with your donor, always, always do your research. Be sure to review past giving history and timing, personality, and interests.
Any information on file (or not on file) is useful for you to brush up on. Your donor will be pleased that you took the time to understand their history.
And you never know when a donor will be ready to give. So you must be ready at any time with knowledge of their capacity and interests.
4. Ask skillful questions that lead to an Ask Conversation.
Remember: "She who asks the questions controls the conversation"
As a new major gift officer your job is to find out as much as you can about your donor – their philanthropy, their family, their personal values and interests. Since you are new, you can ask all of these questions.
Most of all, you want to know why they are giving to your organization. That's the path that will allow you to bring up a gift conversation.
"I'd love to know how you came to be a donor to our organization. How has your experience as a donor to our organization been so far?"
Then find out and explore your donor's interest area:
"What is your favorite aspect of our work? What makes you so interested in this area? Would you like to learn more about it?"
Then you can gently probe about their interest in helping more with a gift:
"Would you like to know more about the needs we have in this area? You could make a huge impact here if you might consider another gift. Is that something you might like to discuss?"
Remember that deep listening will take you all the way to a gift. Just be alert and ready to move the conversation forward!
Bottom Line: Being a new major gift officer gives you many advantages. Leverage your newness to gain access to all of your donors – and new gifts too!
You have a wonderful opportunity here. You are qualified, you are passionate, you are smart. Be confident and authentic and your donors will love you!
As always, it is a pleasure to share our weekly news and insights with you. We hope you will continue to capitalize on our years of experience by joining us Wednesdays at noon ET on Facebook Live and following us on social media.
Planning a capital campaign? If you would like to learn about our unique Capital Campaigns by the Numbers approach, let us know. You can also join our INSIDERS community for more fundraising training and content. We would love to have you!
Hope you have a wonderful weekend.
https://gailperrygroup.com/wp-content/uploads/2020/09/874E309F-F11F-4A48-B6C5-04A34052D6D6.png
1080
1080
Gail Perry
https://gailperrygroup.com/wp-content/uploads/2022/09/Gail-Perry-Group-2.svg
Gail Perry
2020-09-04 01:26:02
2023-07-17 02:02:49
Advice for a New Major Gift Officer: Raise Money the Minute You Hit the Ground