Why Fundraising Was the Right Choice: Kathryn's Story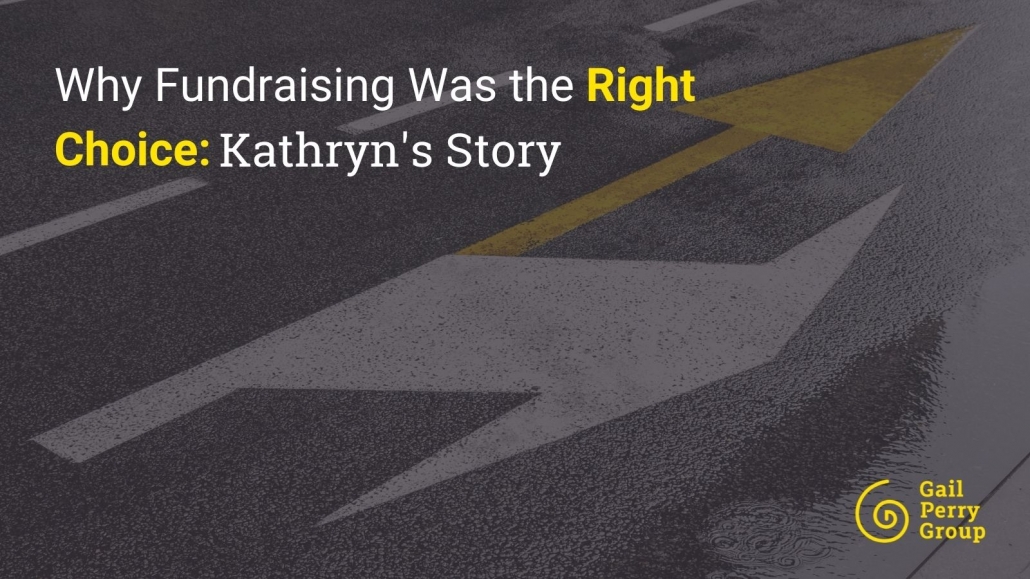 Have you ever had one of those affirming moments where your inner voice says you have made the right choice – you are on the right path?
Let me share a story with you.
A story about a young woman and her father, and the gentleman who changed their lives.
The story.
When I was Director of Development at an independent school there was a young woman who had received a full scholarship for four years. She was a great student, active in student life and well respected by her peers. She was even graduating with honors.
On graduation day her family came to celebrate her achievements, proud as can be. Her father was literally bursting with pride. He beamed with joy.
The scholarship fund that had funded the young woman's education had been created by a gentleman and his wife. They also came to witness her graduation.
I had the special honor of introducing the young woman's father to the donors. Full of joy, pride and gratitude the father took the donor's hand in both of his and just held them. The two stood with their hands clasped – tears in both their eyes.
To this day, it is a moment I treasure. For in that one moment, I saw the true meaning of what fundraising is all about. That was my affirming moment and I knew I had made the right choice to pursue a career in fundraising.
So how did i get to that moment?
An affirming moment. How I got started in fundraising.
Many years ago, when I was nearing the completion of my MBA, I didn't have a clear idea of what my next step would be. I was selling real estate to fund graduate school and I knew that was a means, not an end. This question kept coming up -what was I going to do with my career and my life?
A friend and I talked this over. She suggested I might like, and be good at, fundraising.
She said I had the right personality and the "smarts."
Before I knew it, my friend set up a meeting with her father, who was a fundraising consultant. Fast forward and within two months I had a job with the consulting firm as an assistant campaign director.
A fundraising career was born.
As I look back on those early experiences, I am filled with gratitude. A young thirty-something woman embarking on a new journey – suddenly I was working with smart and passionate professionals. And I was working with donors looking to make a difference in the lives of others.
Whether through education, healthcare, child welfare, animal welfare, the arts and many more, I found that the desire to generate goodwill in the world is the key motivation for giving.
This is my inspiration every day.
Some days the work of a fundraiser is not easy.  My career has certainly had its ups and downs.  But on days when things are not going as well as I hoped – I remember the story of that young woman, her father and the gentleman.  This story always reminds me why I do what I do. And I smile and know I made the right choice.
As always, it is a pleasure to share our weekly news and insights with you, especially our personal stories. 
If your organization is planning a capital campaign or launching a major gifts program – we can help. Send an email to coaching@gailperry.com if you'd like to schedule a free strategy call with us.
https://gailperrygroup.com/wp-content/uploads/2021/06/Why-Fundraising-Was-the-Right-Choice-Kathryns-Story-1.jpg
900
1600
Gail Perry
https://gailperrygroup.com/wp-content/uploads/2022/09/Gail-Perry-Group-2.svg
Gail Perry
2021-06-18 01:44:34
2021-06-18 02:15:23
Why Fundraising Was the Right Choice: Kathryn's Story