The Journey from a Fundraiser to Consultant: Lessons Learned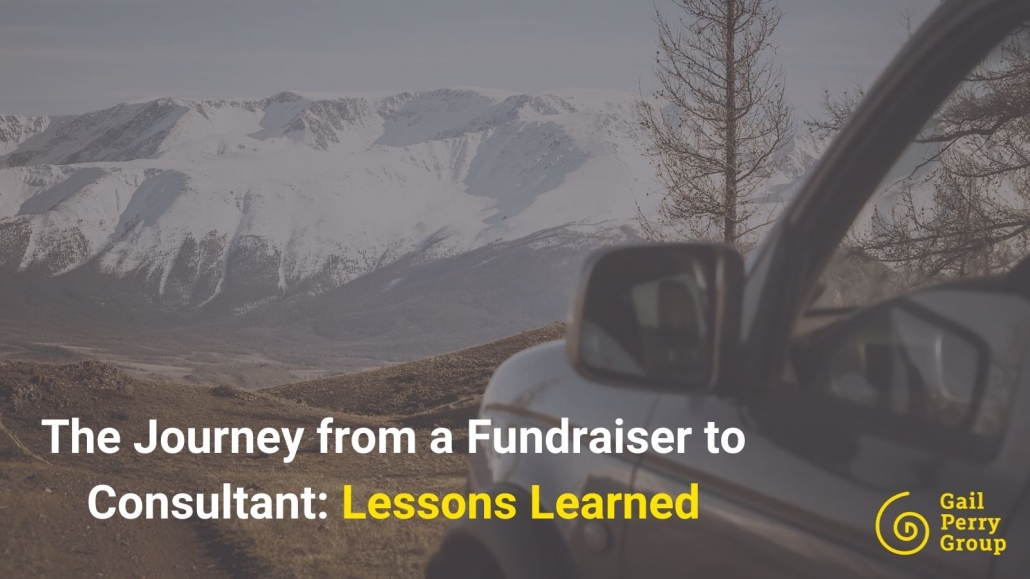 Over the years, many fundraisers have asked about our journey from practitioners to consultants. How Gail Perry Group got started. And how did we come to be consultants – offering advice and strategies to all sorts of organizations and institutions?
Well, we can tell you – it's a journey filled with adventure, mistakes and lots of learning.
Here's our story – with the lessons we learned along the way.
Years ago, Kathryn and I were advancing in the fundraising field, doing well at our universities – seemingly happy.
But something kept bothering me. Something was missing.
I enjoyed my work, but all along I had this idea that I needed a broader scope than only one organization. I wanted to reach out – and inspire – more and more nonprofit leaders and fundraisers.
That's why, for me, when the time came to leave my position at the University of North Carolina, the move to consulting happened organically. Organizations were reaching out to me quickly – asking if I could help them grow their revenue so they could expand. And before I knew it, I was in deep with many consulting clients.
But the transition wasn't easy. Becoming a consultant required some learning. As Kathryn and I embarked as consultants, we learned that to achieve true mastery with our clients and their campaigns, we had to get a few things right.
Lessons Learned: Becoming Master Consultants
1. Always Keep Learning and Learning
As a consultant, you must keep up with the latest knowledge and trends in the field – especially the various reports tracking shifts in donor behavior, along with everything else.
In addition to major gifts and capital campaigns (our forte) we also needed to know as much as possible about all types of fundraising: integrated direct mail and digital campaigns, planned giving, Donor Advised Funds, corporate and foundation grants, government and public sector funding, event sponsorships, auctions, and social media.
And yes, finance and accounting, too. Don't forget digital and video marketing. Add Big Data, CRM's and wealth screening to the mix as well. Acquiring the scope of knowledge we needed was – and is – a lifelong commitment.
We found that to be expert consultants, we consistently need a solid working knowledge of all these areas, and more.
2. The Art of Client Management
One thing we learned quickly is that, as a consultant, you can't just pontificate and tell people what to do. It doesn't work.
People don't want to be told what to do – they need to be coached in opening to a new idea.
What does it really take to get someone to accept a change or a challenging concept? We learned to go slowly, and respectfully meet people where they are. We learned to serve as mirrors – reflecting back to our clients and guiding them to come to their own realizations.
Only when you do that can you really create an impact or foster deep change.
We also learned that all organizations are different. What works for one may not be right for another. Flexibility is the name of the game. We learned that you can't only see things one way, and that a cookie cutter approach just doesn't work.
Mostly, we learned to ditch the standard cookie cutter approaches, and instead customize each campaign and fundraising initiative to each client.
3. Mastering Board Dynamics
The field of board governance is complex and vast. And as a consultant, it is a critical arena to better understand and know how to maneuver in order to help clients.
Learning to understand the subtle arts of organizational politics and the psychology of group process (management by committee, anyone?) was a journey in itself. We needed to develop a working knowledge of organizational behavior, and hone our leadership and facilitation skills.
Not only that, but our clients needed us to be a grounding force with their boards. Corralling board members into one direction, while at the same, inspiring and motivating them. Needless to say, this is an art that not everyone masters.
We learned how to build a strong board, how to best introduce fundraising and friendmaking to boards in a way that makes it fun, and how to get board members to engage in and support the fundraising process.
Bottom Line.
Sometimes to get where you want to go, you need to ask for help.
As a blossoming consultant, I hired a business consultant myself. They taught me powerful new facilitation skills and the secrets of creating change within an organization. Those ideas are ultimately what inspired my book: Fired Up Fundraising: Turn Board Passion into Action, and my popular board workshop, Easy Fundraising and Friendmaking for Board Members.
Looking back, I can confidently say that when we started we did not know what this journey would entail. But now, after helping hundreds of nonprofit organizations and boards, and learning through experience, we know this journey was our calling and we wouldn't have it any other way.
As always, it is a pleasure to share our weekly news and insights with you.
If your organization is planning a capital campaign or launching a major gifts program – we can help. Send an email to coaching@gailperry.com if you'd like to schedule a free strategy call with us.
https://gailperrygroup.com/wp-content/uploads/2021/06/Untitled-design-76.jpg
900
1600
Gail Perry
https://gailperrygroup.com/wp-content/uploads/2022/09/Gail-Perry-Group-2.svg
Gail Perry
2021-06-11 05:58:41
2023-08-08 05:41:55
The Journey from a Fundraiser to Consultant: Lessons Learned