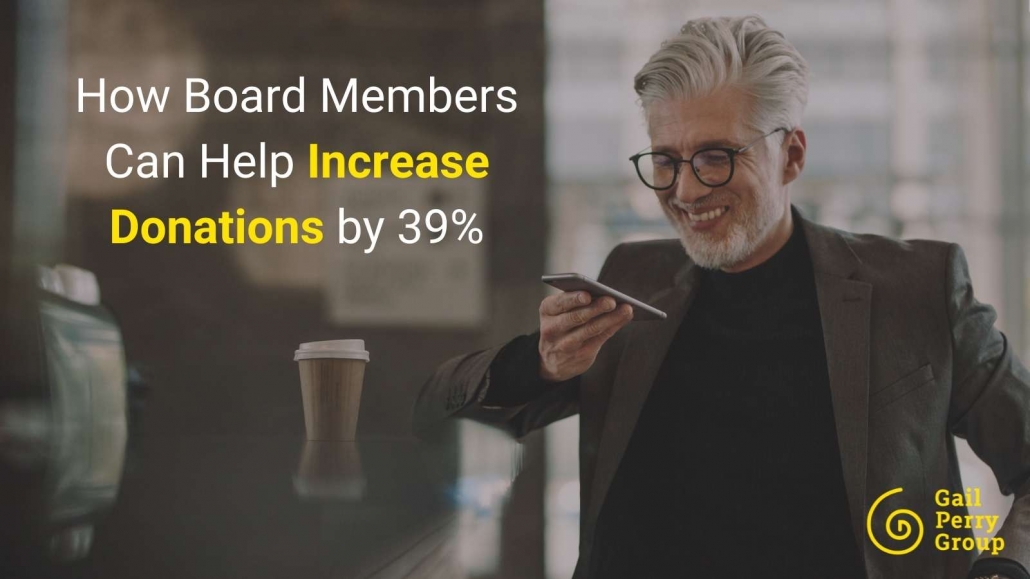 If you are serving as a nonprofit board member, I'm sure you are often asked to help in fundraising.
Here's how you and your fellow board members can help increase donations to your organization by 39% – without having to do any "asking."
To Increase Donations, All You Have to Do is Say "Thank You."
Are you and your fellow board members nervous about having to solicit or ask for gifts? We understand.
So we'd like to suggest a different role in fundraising for you. How about taking on a thanking role with donors?
When you, as a board member, offer your personal thanks to your organization's donors, you can make a huge difference. In fact, you can directly impact your institution's bottom line, while avoiding gift solicitations that could be awkward.
Special Thank You Treatment for Donors.
Try this test and track your results. Then you can evaluate how this strategy works for you and your fellow board members.
The next time your organization sends out a fundraising appeal, work with your staff to select out a random group of donors to receive a special thank you treatment.
Organize a team of board members to make thank you phone calls to these donors within 24 hours of the gift being received. It's important to make the call immediately after your organization receives the gift.
If the donor does not answer, the board member can leave a message that simply thanks the donor.
The phone calls are not about asking for another gift. They are for stewardship only.
If any of the board members are adventurous, they can take another step and ask the donor why they chose to make this gift. That would create a rich conversation that the donor will enjoy.
Track Your Results.
A few months after this first gift, your organization should send another fundraising appeal to all donors – both those who received the extra thank you phone call and those who just received a standard acknowledgment letter.
And when repeat gifts come in, compare the results of both groups.
You'll find, when all other things are equal, some interesting results.
The donors who received a prompt, personal thank you from a board member within 24 hours of the gift being received, will usually give up to 39% more than the other group.
This is how board members help increase donations without having to ask.
3. The Original Research Findings.
Fundraising pioneer Penelope Burk performed the original research that found these amazing results. Her team originated the "Donor Centered Fundraising" philosophy, a paradigm shift that changes the emphasis away from the organization's needs and instead focuses on helping the donor create an impact.
Penelope Burk shared this data on board member thank you calls at an AFP International Conference from her research:
Donors received a thank you phone call from a board member within 24 hours of receiving the gift.
The next time they were solicited, they gave 39% more than the other donors who did not receive a call.
After 14 months, those called were giving 42% more.
4. How to Implement Board Member Thank You Calls.
Some board members may offer to make calls, but not follow through. So you will want only those who are enthusiastic and committed to sign up for this project.
First, share the data with board members about the financial results from making prompt, personal thank you calls to donors. Be sure everyone understands the "why" of the project and the upside positive potential from making these calls promptly.
Have one or two board members take charge of the project. Enlist a small committee. Be sure to coordinate closely with your staff.
Make sure the committee members all understand that prompt timing is essential.
Give each committee member specific phone calls to make. Don't send out a whole list to the entire committee and hope that someone will make the calls.
Have each board member report back weekly on the results of their calls.
One organization we know asked the board members to post their thank you call results on a shared Google document. That way each board member could see who was making their calls. Word had it that a competition took hold and each board member tried to outdo the others.
The busiest person on the board – a busy lawyer – made sure his calls were as up to date – or more up to date – as all the others. Now that is productive and friendly competition!
A Success Story of How Board Members Can Help Increase Donations:
Here's an example from our own history:
One of our consulting clients, a local Rape Crisis Center, was staging their annual auction. One of our friends attended with us, and apparently purchased a lot of items at the auction.
The next day I was sitting in my office, when our friend called.
Excitedly, he said, "You won't believe what just happened!"

"I'm speechless," he continued. "I just got a phone call from a board member of the Rape Crisis Center thanking me for . . . for . . . for being the largest donor at the auction last night!"

"I just can't believe it," he gushed. "I've given money all over the country and I've NEVER gotten a call from a board member."
We could just feel him beaming all the way over the phone. He was absolutely thrilled.
The next year, he asked us "Is the Rape Crisis Center having their auction this fall? I haven't gotten an invitation yet?"
That year, he bought an entire table and hosted the president of the largest foundation in North Carolina at his table. I think the Rape Crisis Center has him for life now, because they gave him such special treatment.
Bottom Line: Board Members Can Increase Donations to Their Organizations – Simply by Saying Thank You.
A little effort goes a long way – remember that and remind your board. A simple acknowledgement phone call could be just the thing your donor needs to become a loyal lifelong major donor.
As always, it is a pleasure to share our weekly news and insights with you.
If your organization is planning a capital campaign or launching a major gifts program – we can help. Send an email to coaching@gailperry.com if you'd like to schedule a free strategy call with us.
https://gailperrygroup.com/wp-content/uploads/2021/05/521-blog-post.jpg
788
940
Gail Perry
https://gailperrygroup.com/wp-content/uploads/2022/09/Gail-Perry-Group-2.svg
Gail Perry
2021-05-21 00:32:16
2022-07-10 12:16:30
How Board Members Can Help Increase Donations by 39%