Build a Culture of Philanthropy & Redefine "Fundraising"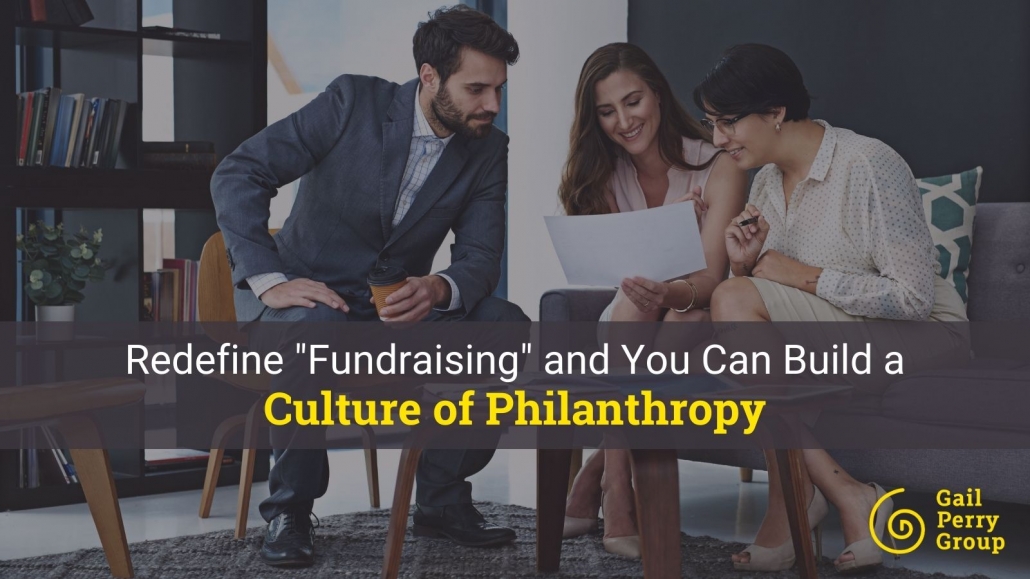 As we all know, a culture of philanthropy lays the foundation for excellent fundraising results. So the true question to ask is: Does your institution have a true culture of philanthropy?
Diving deeper, the real question is:
Is there really full support for fundraising across your entire organization?
All the way from your board members to program staffers?
Often, we find many fundraising teams are not getting full support from their institutions. They are forced to operate in a silo – walled off from other departments. A sense of camaraderie between colleagues is missing.
When fundraising operates in a vacuum, results will be less successful. You'll never reach your true financial potential in this type of environment.
If you want to reach your ultimate revenue goals you must have broad support for fundraising across your entire organization.
So how do we build broad-based organizational support for fundraising – a true culture of philanthropy?
1. Building a culture of philanthropy: it's an Attitude Thing
We find that non-fundraisers tend to think of fundraising as only one activity: "asking for money."
What's more, it's not understood that smart fundraising requires much, much more than just the act of asking.
If your colleagues and leaders get stuck on the issue of asking, they might default to thinking that fundraising is distasteful.  As a result, they certainly don't want to get involved.
Your colleagues may think if you ask them to get involved in "fundraising," then you'll ask them to solicit, which they very likely will avoid.
So, you are dealing with an attitude thing – people's thoughts and their feelings.
If you want to create change – remember meet people where they are. Your job is to slowly start to land different ideas in their heads. 
2. Redefine "Fundraising" into Something Broader and Bigger Called "Philanthropy"
The idea of "fundraising" carries with it ideas like sales, money, asking, soliciting and hitting people up.
The term "fundraising" can put people off.
Yet, on the other hand, the idea of "philanthropy" feels grand and lovely. It carries with it a sense of nobility and community.
The term "philanthropy" can attract people. It makes them want to get involved.
Don't forget: When you redefine fundraising into the more lofty concept of philanthropy, you open people to new ideas and new possibilities.
Jeanne Tedrow, CEO of Passage Home , (now head of the NC Center for Nonprofits) told us, "Philanthropy just feels different when you are talking to your board and volunteers – they are not so scared to get involved." 
3. To Build a Culture of Philanthropy, Start by Asking Everyone to Help Thank Donors
Thanking donors is an easy job. It's enjoyable and satisfying, and it's the right thing to do.
Why not ask colleagues across the organization about creative ways to thank your donors?  This can be interesting and fun, while introducing the idea that donors are important, wonderful people.
When you make it about honoring the awesome people who make your work possible – then it's not about "fundraising." Instead- it's about philanthropy.
We find board members often really enjoy saying thank you. It's the perfect place to get them started in fundraising. Try a thankathon to launch your next annual campaign.
Focus your board members on thanking and suddenly you just might have enthusiastic board members on the fundraising train.
Sue Acree of Literacy Connections summed this up during an Insiders webinar:"Focus on the donors and the money will follow."
4. Find Ways for Everyone to Engage with Your Lovely Donors
Just think how much fun you could have if you got the entire organization actively engaging with, and celebrating your donors.
You may be asking: how can you engage donors with your mission? Here are a few ideas:
Give them tours.
Invite them to panel discussions.
Introduce them to program staffers. Bring your key "subject matter expert" program heads to meet donors. Donors always love to meet your program colleagues who are carrying out your mission.
Ask donors to volunteer. Ask them what they think of the work.
Share stories and more stories about your organization's work. Donors love to hear often about how they are making a difference through YOU.
As Meg Revelle from Arts Together shared after an INSIDERS webinar:

"At our board meeting, we brainstormed all the ways we could help engage donors. Each Board member left with at least one idea to implement. They chose what excited them and they wanted to do – and it was such fun!"
Bottom Line: Creating a Culture of Philanthropy
If you want to create a culture of philanthropy at your organization, make it easy and make it enjoyable for everyone. You'll find broader support across your organization once more colleagues participate.
As Suzie Acree said, "This is changing my thinking….I am gaining a new perspective on donors that makes it more fun, for not only me, but my staff and board!"
As always, it is a pleasure to share our weekly news and insights with you. 
If your organization is planning a capital campaign or launching a major gifts program – we can help. We're with our clients every step of the way, inspiring their teams and board, building confidence, driving action and measuring success. Send an email to coaching@gailperry.com if you'd like to schedule a strategy or consulting call with us.
https://gailperrygroup.com/wp-content/uploads/2021/04/430-FB.jpg
788
940
Gail Perry
https://gailperrygroup.com/wp-content/uploads/2022/09/Gail-Perry-Group-2.svg
Gail Perry
2021-04-29 23:15:38
2023-05-08 20:41:14
Build a Culture of Philanthropy & Redefine "Fundraising"