Capital Campaign Consultants: What Do They Do?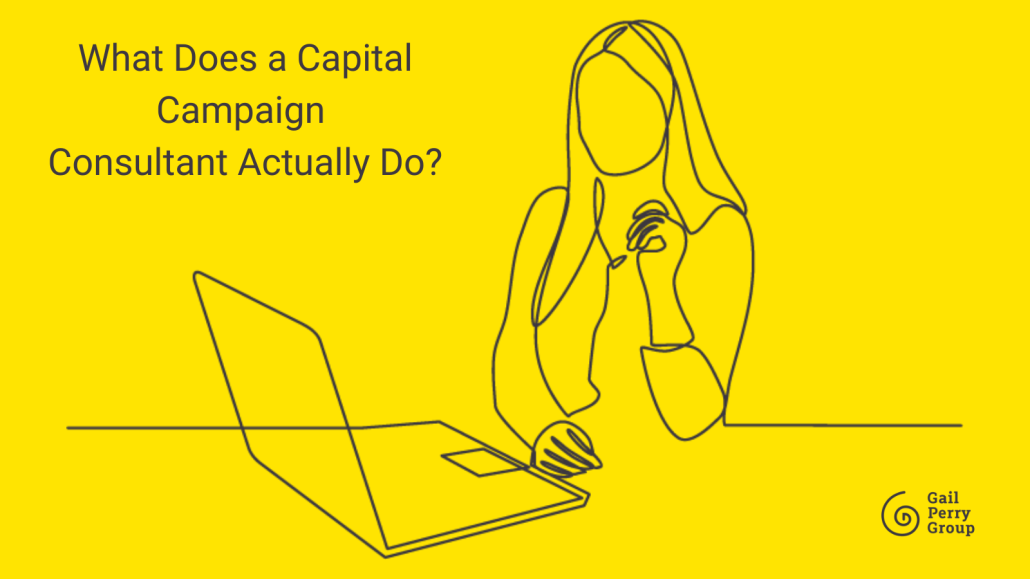 In the world of nonprofit fundraising, capital campaign consultants play a crucial role helping organizations plan, execute, and manage high-dollar capital campaigns.
As we all know, capital campaigns are major fundraising efforts designed to raise more money than ever before. They fund specific projects, such as buildings and renovations, building endowments, or expanding program funding.
Capital campaigns can be quite risky because the organization is staking itself out publicly, announcing its plan and campaign goal to the community.
As seasoned consultants guiding the entire process, we help lower the risk factor.
Capital Campaign Consultants Play Strategic, Technical and Psychological Roles.
Our role as consultants typically includes strategic and technical issues such as feasibility studies, donor identification and campaign plans.
In addition, we also play an important leadership role in "softer areas." A valued and trusted consultant can create confidence, help everyone maintain an abundant mindset and develop alignment about the strategy going forward.
Above all, our most important value is creating the all-important Capital Campaign Roadmap and Strategy. What needs to happen when, where do we focus, who needs to be involved, and how do we move forward?
This is when years of experience pay off, saving the client organization vast amounts of time and energy.
The role of a capital campaign consultant typically includes the following strategic and technical areas:
1.Campaign Strategy and Planning: The most important job consultants perform is to develop a comprehensive campaign strategy, outlining goals, target fundraising amounts, and timelines. This is your Campaign Road Map.
We work closely with the organization's leadership to create a detailed plan for HOW the campaign will be executed.
2. Feasibility Studies: Consultants often conduct donor feasibility studies to gauge the potential success of the campaign.
This involves assessing the nonprofit's donor major gift potential, conducting interviews with key donors and stakeholders, and analyzing the organization's internal capacity to raise the desired funds.
3. Case Development: Consultants often help craft campaign messages. In addition, they can help develop a compelling case for support that effectively communicates the project's importance, impact, and benefits.
4. Prospect Identification and Cultivation: Capital campaign consultants help identify potential major donors and develop cultivation strategies to engage them. We often coach the staff team to move forward into Discovery, and Gift Conversations.
5. Campaign Leadership and Training: We offer seasoned, experienced guidance to campaign leaders, staff, and volunteers.
Even more, we provide professional skills training on effective fundraising techniques, donor discovery and engagement, campaign solicitations.
6. Campaign Execution and Management: The consultant works closely with the nonprofit's team to execute the campaign, monitor progress, and adjust strategies as needed. This includes tracking fundraising progress, analyzing results, and making necessary refinements.
7. Reporting and Communication: Consultants help create regular Campaign Progress Reports for internal stakeholders and donors. We set up tracking and reporting systems to manage the donor pipeline, solicitation progress and campaign results.
Capital campaign consultants also give the campaign and its leaders an important psychological boost.
"I feel better because you are here."
A board member said this to us last week.
1. Removing the guesswork of the campaign. Consultants assure everyone that things are on track and that the strategy will bring success.
2. Lowering stress and anxiety. Overall, campaign consultants help everyone feel more at ease, that a seasoned pro is helping to direct and advise the campaign.
Consultants help foster an abundance mindset to help everyone optimistic and enthusiastic.
3. Managing expectations of the board, staff, donors and the C-Suite. Consultants help everyone understand what to expect when, and not to get ahead of the campaign strategy.
4. Trusted advisor and coach. Consultants often walk their clients off the ledge, help them solve thorny challenges, and work through interpersonal issues within the leadership or campaign team.
We help stakeholders feel more confident and at ease with the campaign process.
5. Help establish accountability. A capital campaign consultant will help keep everyone accountable to do the things they said they would do.
6. Create alignment. It's vitally important that the entire board and leadership team agree on the correct path forward. A campaign consultant's facilitation skills help align everyone on the strategy so that they all "fly like geese."
For example, consultants help to protect the campaign team from interference from board leaders' "ideas of the day."
7. Provide political cover. Consultants can take the heat for difficult decisions such as staff changes or new policies.
We can protect the staff team from difficult organizational dynamics or decisions. Consultants can take the blame for a decision or a new policy that may be controversial with some people. No problem!
Bottom Line: Capital campaign consultants can help the organization maximize its fundraising potential, and achieve ambitious goals.
Don't forget we are happy to arrange a free campaign strategy call if you are in the process of planning a capital campaign. Just email us at coaching@gailperry.com.

Gail Perry Group
https://gailperrygroup.com/wp-content/uploads/2023/08/Blank-What-Does-a-Capital-Campaign-Consultant-Actually-Do.png
900
1600
Jenn Shefcik
https://gailperrygroup.com/wp-content/uploads/2022/09/Gail-Perry-Group-2.svg
Jenn Shefcik
2023-08-10 17:08:09
2023-08-20 12:29:34
Capital Campaign Consultants: What Do They Do?