Create a "Friendmaking" Committee of Board Members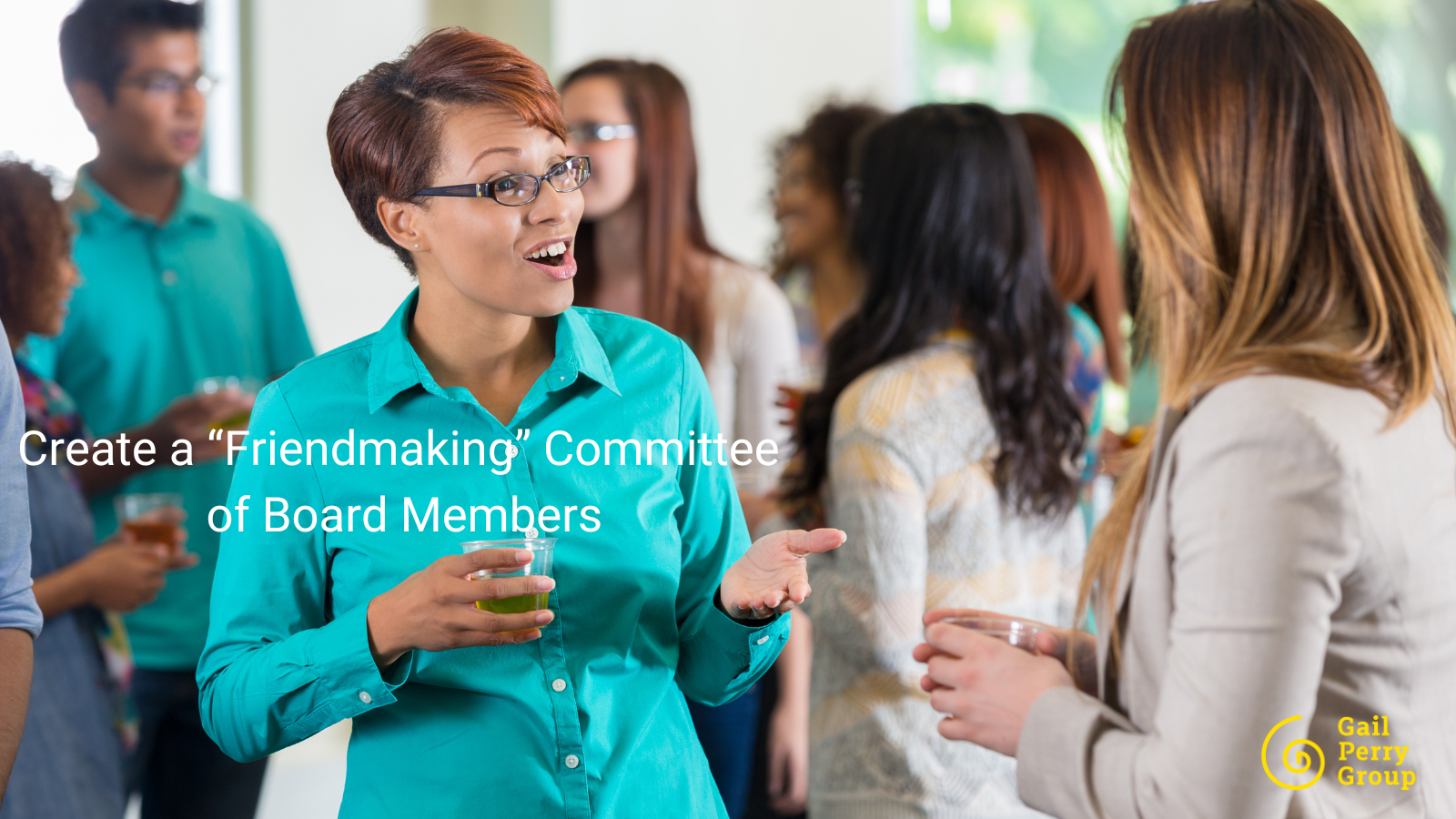 Do you want to get your board members actively making friends for your organization?
Wouldn't it be wonderful if you could form a "Friendmaking Committee" of board members who'd be out there opening doors and hosting small friendmaking events? One of the best roles board members can play is in the area of friendmaking – making new friends and bringing current donors closer to the cause.
We're particularly big on putting board members to work thanking and engaging with current donors.
We want them to treat current donors like our friends – or even family – so the donors will keep giving, stay with your organization and become even more enthusiastic advocates of your cause.
With donor retention rates abysmally low, we can't think of a more important initiative!
Here's how you can pull off a Friendmaking Commmittee.
Here's a story of a smart gung-ho board – the CSAAC Foundation (Community Services for Autistic Adults and Children) in Maryland.
The board was full of energetic folks who were ready to challenge themselves and take the organization – and the board – to a whole new level.  In our recent board retreat, we discussed developing additional revenue sources to fund the CSAAC mission.
Focus on current donors – and love them a lot.
The board members were particularly intrigued with the idea of focusing on their current donor base.
They felt sure that there was much more financial potential among current donors – but the donors would need more TLC in order to want to give more.
And they wanted to reduce the dreaded loss of donors through attrition (which is happening more and more in this economy.)
So the board members decided to set up a  Friendmaking Committee to perform the following jobs:

Job #1: Organize thank you calls to donors.
When we told the board members how much more money donors gave after they received a quick thank you call from a board member, the CSAAC trustees were ready to dive in.
Here are the statistics, just in case you didn't know them:
When donors received a thank you phone call from a board member with in 24 hours of receiving the gift, they gave 39% more than the other donors who did not receive a call.
Fundraising pioneer Penelope Burk performed the original research that found these amazing results.
The CSAAC board members decided to take this on as a priority, because it was easy, enjoyable and a no-brainer.
Job #2: Organize a thankathon before the fall solicitation.
The CSAAC board members were really intrigued with the idea of warming up donors before the fall fundraising campaign.
They figured that a pre-solicitation "thank you for all your support" phone call could be a strategic tool – to prep their donors BEFORE the end of calendar year annual solicitations. (This idea is from fundraising guru Mal Warwick.)
So they are going to plan a mass thank-a-thon. They may bring in all the board members, volunteers, staff or other wonderful donors to make phone calls.
They got it when we reminded them that donors love to be appreciated – any time.
Job #3: Organize a "We Want You Back" campaign to lapsed donors.
The board members also decided to tackle their lapsed donors.
When we suggested that it was much easier and cheaper to lure lapsed donors back than it was to secure brand new donors, the light bulbs went off.
So, they decided to organize an effort to invite lapsed donors back into the fold. It was a bit like a "we miss you, we love you, we want you back" campaign.
At this point, they haven't decided whether to have a "call-a-thon" or a party for their lost donor friends, but they'll figure it out.
The Symphony's "friendmaking" plan to tackle lapsed donors.
We also worked with the Corpus Christi Symphony board and they latched on to this idea too.
Two weeks after our retreat together, the board members independently organized a friendmaking committee to phone call lapsed donors.
Can you imagine your board members tackling this without you prodding them?
What a success it would be!
Job #4: Make their communications to donors more friendly.
The CSAAC board members on the Friendmaking Committee realized that they needed to work harder to make "friends" out of their donors.
So they decided to step back and look at what donors were hearing from CSAAC:
Are the donors getting personalized communications?
Is CSAAC telling its donors how their money is spent?
Is CSAAC sharing good news about its results and outcomes – complete with heartwarming stories?
Are donors being invited to events? Tours? Parties?
Job #5: Host small friendmaking events.
Another great friendmaking job for board members is hosting small social events like porch parties.
Porch parties are small gatherings with no ask. They're designed to help you get to know your donors.
Why not engage donors by helping them get to know you better? Why not invite donors in to meet organizational leaders?
Hosting small donor events is a perfect role for socially-minded board members.
Bottom Line: Try a Friendmaking Committee of the board.
You can do this too – use the tools on our site to open these discussions with your board – or bring us in for a board retreat.
Who knows how much more money CSAAC – and the Corpus Christi Symphony – can raise now that the board members are on board?
And who knows how much happier their donors are?
https://gailperrygroup.com/wp-content/uploads/2011/08/blank.png
900
1600
Gail Perry
https://gailperrygroup.com/wp-content/uploads/2022/09/Gail-Perry-Group-2.svg
Gail Perry
2023-08-18 01:38:00
2023-08-18 09:18:16
Create a "Friendmaking" Committee of Board Members