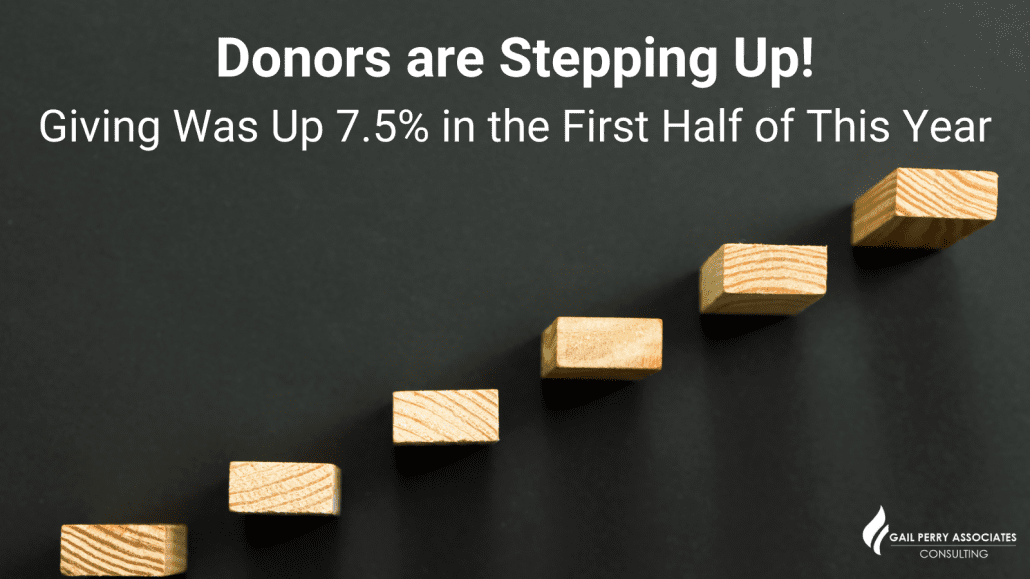 Remember April, when we were all clenching our teeth and thinking "Oh wow, this is not the year for fundraising. How will we get through it?"
Well, it turns out recent data proves that 2020 is actually a great year for fundraising.
So if you were one of those organizations who didn't hold back and kept at your fundraising in the spring – Good Job!
Why 2020 is a Good Year for Fundraising
The Chronicle of Philanthropy recently reported that giving was up 7.5% in the first half of 2020 based on results from the widely respected Fundraising Effectiveness Project (AFP, 2020). This project works with over 25,000 nonprofits and donor software providers to track and identify quarterly gain/loss findings for the nonprofit sector.
And what's more, it wasn't just the wealthy who were behind the rise. The Chronicle of Philanthropy reported gifts of $250 or less rose 19.2%, accounting for a big part of the growth (COP, 2020).
This means that donors are pouring out contributions to their favorite nonprofits – right now. This also means that your steadfast supporters are feeling generous – and they want to help.
And, there's more good news in this report:
Major gifts are up by 6.4% compared to this time last year. And mid-level gifts are up even more – by 8.1%!
"the number of mid-level gifts ($250 – $999) and major gifts ($1,000 or more) saw year-over-year increases of 8.1% and 6.4%, respectively, compared to 2019 data." (AFP, 2020)
Wow. That is wild.
What Does This Mean?
The fact that giving increased 7.5% over 2019's first half is a huge indicator that donors are motivated and feeling generous. The giving climate for the 2020 year-end giving season is projected to be robust.
All of the signals indicate that giving is still quite solid as we move into autumn. And even with all the noise surrounding the election and the pandemic, loyal donors are stepping up for the nonprofits they support.
This is certainly a great time to be out there, in front of your donors. Remind them about the impact your organization creates, and invite them to contribute.
Why are we seeing so much generosity now?
For some time, we've thought that donors are simply more motivated these days, especially as we watch new gifts flowing into the capital campaigns we counsel.
Our interviews and focus groups with donors have solidified this thought, and it seems data is now showing this trend as well.
1. Donors want to do something positive
With all the disruption of 2020, not least of all the pandemic, donors want to take action and do something positive for their community, and the world.
They are motivated to bring forward kindness and compassion. When they are aware of the needs, especially regarding causes they care about – they want to respond.
While many have been terribly impacted, both physically and financially, many other major and mid-level donors were less affected and are still quite well-off financially. For many, they want to reach out and help others who have been less fortunate, through supporting nonprofits.
2. The stock market is up, which is good for year-end
The US stock market took a hit, but now it continues to soar. Donors with investment portfolios are feeling flush. In our opinion, when donors feel financially secure, they tend to be more generous. TIP: remind your donors they can donate appreciated stocks!
Even when the stock market was low, many major donors did not feel the hit and were still donating. On top of that – major donors may have more to donate in 2020 because any traveling or larger outings were most likely cancelled.
Bottom Line: 2020 has Shown To Be an Enormous Opportunity for Fundraising – Backed by Data
I hope you have been making the most of this generosity this year. And if you haven't, it's not too late to start!
As always, it is a pleasure to share our weekly news and insights with you.
If you are planning a capital campaign and would like to learn about our unique Capital Campaigns by the Numbers approach, let us know. You can also join our INSIDERS community for more fundraising training and content. We would love to have you!
Hope you have a wonderful weekend.
https://gailperrygroup.com/wp-content/uploads/2020/10/blog-image-1-1-1.png
900
1600
Gail Perry
https://gailperrygroup.com/wp-content/uploads/2022/09/Gail-Perry-Group-2.svg
Gail Perry
2020-10-16 00:49:31
2023-07-17 02:14:04
Donors are Stepping Up! Giving Was Up 7.5% in the First Half of This Year