Creating a Donor-Centered Case Statement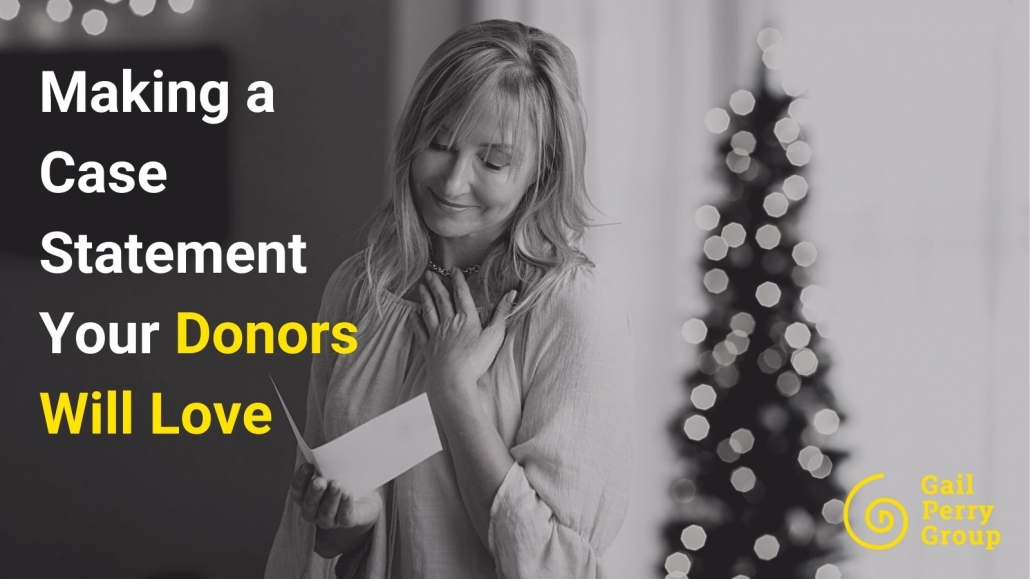 Just how difficult is it to create a donor-centered case statement? One that your donors will love?
It's challenging, no doubt. Our clients ask us often to help draft vision statements for feasibility studies and case statements for their capital campaigns.
Since this seems to be a challenge for organizations large and small, we wanted to share some expert guidance in this post.
What's Wrong with Many Case Statements
Often, there's too much bragging about how great the organization is, and not enough exciting copy about the vision and the future. Too many cases are missing the important stuff – what they want to accomplish. How they want to change the world.
The other day, I pulled out some notes from the late great Jerry Panas on developing a case statement. It's pure gold.
You may or may not remember Jerry Panas, but he was a mentor for me, and a fundraiser/consultant extraordinaire. He wrote numerous books, and I always liked his natty dressing style, down to the cufflinks.
Here are Jerry Panas' suggestions for developing your case, along with our own suggestions as a guide as well.
How to Create a Donor-Centered Case Statement that Your Donors Will Love
1. The case statement opening. Your first paragraph should seize the reader, and mesmerize them to think about how they feel about your work.
It should say to your readers: "Let me take you by the hand . . .. there is something very special I want to share with you that is going on at our organization."
We suggest: Open with your vision of a better world. Describe, in glowing terms, what it will be like at the end of your campaign. What will you be accomplishing? How will the world be a better place? What is the vision of possibility that you are offering to your donor?
2. Instead talk about the important investments needed to make this happen. Use words like dividends and impact.
We suggest: Never talk about what you "need." Never say "we need your help." You can say the kids need your help, or the (patients/students, dancers, animals) need help. Not your organization needs help.
3. Tone. Be friendly, not highbrow, if you want to create a donor-centered case statement.
Our take: We are tired of seeing lofty, complex, formal writing. Today, fundraising writing has changed. The best writing is more informal. No policy-speak allowed. No lofty metaphors that are hard to understand.
4. Unique Factor. Be sure to show how you are uniquely positioned to meet this urgent need head on – no one else does what you do. Try to burn yourselves into the donors' hearts and minds.
We suggest: Help your donor understand that your organization uniquely has the capacity and power to make this happen.
5. Urgency. It's not about your organization, or your track record of accomplishments. It's about the urgent need out there that you will address.
Enforce the urgency: use the word "now" often. Be dramatic, emotional. Answer the question, "Why Now? Why this project?"
We suggest: If your case doesn't give solid reasons for why we need to act now, then you are creating a weaker document. You are missing a key opportunity to galvanize your supporters.
6. Images. Use lots of images. Photographs should make the reader see and feel the results of your work.
Our take: We like to use photographs that evoke emotion. Your pictures can convey your work sometimes better than words can. Use close ups of faces. Images with bright colors "land" better in people's minds.
7. Excitement. Close it out with repeated dreams, passion, wonder and celebration.
We suggest: Your case statement should play on the emotional side of why this is important. Help people feel the possibility of a better future – one that they can help create. Your passion and excitement for the work should show all through the document.
Bottom Line: Creating a Donor-Centered Case Statement
Use these tips to guide your writing. You'll create something magical that will inspire donors to open their hearts and help your cause right now.
As always, it is a pleasure to share our weekly insights with you as we cover important fundraising strategies.
If your organization is planning a capital campaign or launching a major gifts program – we can help. Send an email to coaching@gailperry.com if you'd like to schedule a free strategy call with us.
https://gailperrygroup.com/wp-content/uploads/2021/08/Making-a-Case-Your-Donors-Will-Love-1.jpg
900
1600
Gail Perry
https://gailperrygroup.com/wp-content/uploads/2022/09/Gail-Perry-Group-2.svg
Gail Perry
2021-08-06 01:11:32
2022-07-21 14:06:10
Creating a Donor-Centered Case Statement