Secret Sauce for Year-End Fundraising: Your Multi-Channel Donors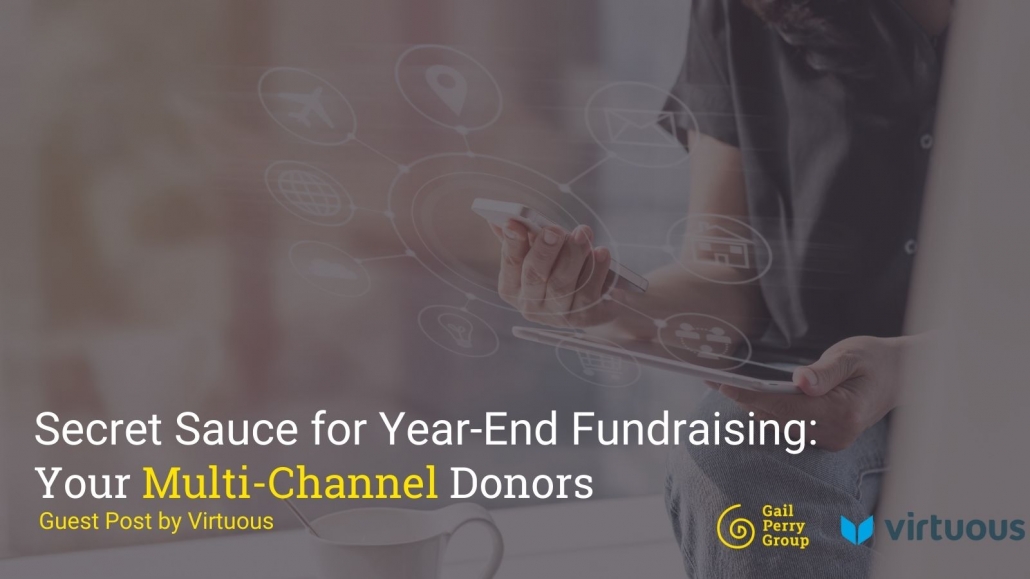 Today we have a guest post on multi-channel donors from our partners at Virtuous, our favorite CRM source. (We think their software is top notch.)
Would you like to increase your revenue this fall? How about keeping donor retention high?
If your answer is yes, then check out these special strategies to connect and engage with a very special group of donors – your multi-channel donors.
Who is a Multi-Channel Donor?
They are those wonderful supporters who give both online and via direct mail. They are so passionate that they respond to many of your solicitations – those in the mail and those in their inbox.
Research shows that these donors have 3x the value of donors who only give via one channel – either offline or online. Even better, their retention rate is much higher.
Above all, these are important donors to foster – and to retain. In your year-end campaign, you'll want to create specific strategies to keep these donors close – and giving.
It Comes Down to Communications
Clearly you want to reach out to these donors with relevant, engaging communications. It's so important to keep them informed and excited about your impact on the world.
But the problem is – do you communicate with them online or in the mail? And how do you do it without running your team ragged?
Here's a plan:
1. Collect the right contact information.
In order to communicate on multiple channels, you need full contact information for your donors.
Be sure to collect email addresses from offline givers. Add a field to your reply device so they can share it with you. 
If you don't want to clutter your online donation form with too many options, consider following up their gift by asking them to share their communication preferences and additional contact information. 
Collecting contact information in tandem with preferences also gives you insight into how donors want to connect with you, so you can tailor your outreach to them. 
2. Use marketing automation. 
There's a limit to how much of a cohesive and multi-channel communications strategy you can implement without help from marketing automation. The necessary kind of ongoing communication flows that are orchestrated across channels are pretty hard to manage on your own.
For example, you can create an automated new donor welcome series that incorporates both online and offline touches. For instance, a donor might:
[Day 1] Receive a welcome email immediately after giving online
[Day 3] Be sent a link to a thank you video that demonstrates impact
[Day 7] Receive a thank you phone call
[Day 14] Get a thank you letter in the mail
[Day 30] Receive an email about monthly giving
Automation is a tool, not a robot that runs your fundraising. Each communication piece, and the overall strategy, are still created by human fundraisers.
This communication can be warm, donor-centric, and personal. It's just sent automatically, based on criteria you choose.
3. Watch your donor's online responses. 
Listening is an important part of the fundraising process. If you're sending messages that bore your donors, they'll tune you out.
Instead, begin with listening.
What kinds of messages do donors respond to? 
Which channels are they most active or engaged with? 
Do they watch every video, but delete every email unopened? 
Do they visit one section of your website, but ignore others? 
This is important information that can help you create targeted, relevant communications across every channel.
4. Cultivate a multi-channel mindset.
Your donors probably don't think of themselves as "online" or "offline" donors. They most likely just think of themselves as donors.
So you don't want to treat your donors online one way and offline another way. It's confusing. Aim to have a consistent relationship and conversation with donors no matter where they engage with you.
Instead of thinking about on-and-offline marketing activities separately, start to consider how they can work together:
Could you send a postcard recruiting peer-to-peer online fundraisers? 
Target Facebook ads to your direct mail list? 
Send thank you texts when you receive offline gifts? 
Think of your communications as an ecosystem, instead of separate lists. 
5. Test, review, adapt.
The research is compelling, and we know that multi-channel communications can create value. However, like any new marketing strategy, you'll still need to adjust and test your multi-channel efforts.
Take an experimental approach–which channels are donors most engaged with?
What kinds of communications are resonating and driving responses? 
Where should you communicate more? 
Where could you do less? 
Are groups of donors emerging with similar preferences, and should you create donor segments so you can speak even more directly to those donors? 
Schedule time to review your multi-channel strategy and make adjustments in light of the data you find.
Take Your Donors on a Journey Across Channels
A multi-channel donor communication strategy isn't just about getting out your message on-and-offline. It's about taking your donor on a single, consistent journey with your organization.
Check out Virtuous' e-book The Donor Journey Explained: How to Cultivate Deep Donor Relationships at Scale for more advice on crafting the kind of donor journey that builds connections and loyalty,
https://gailperrygroup.com/wp-content/uploads/2021/07/730-blog-1.jpg
900
1600
Anne Guillen
https://gailperrygroup.com/wp-content/uploads/2022/09/Gail-Perry-Group-2.svg
Anne Guillen
2021-07-30 00:52:09
2021-07-30 00:59:36
Secret Sauce for Year-End Fundraising: Your Multi-Channel Donors