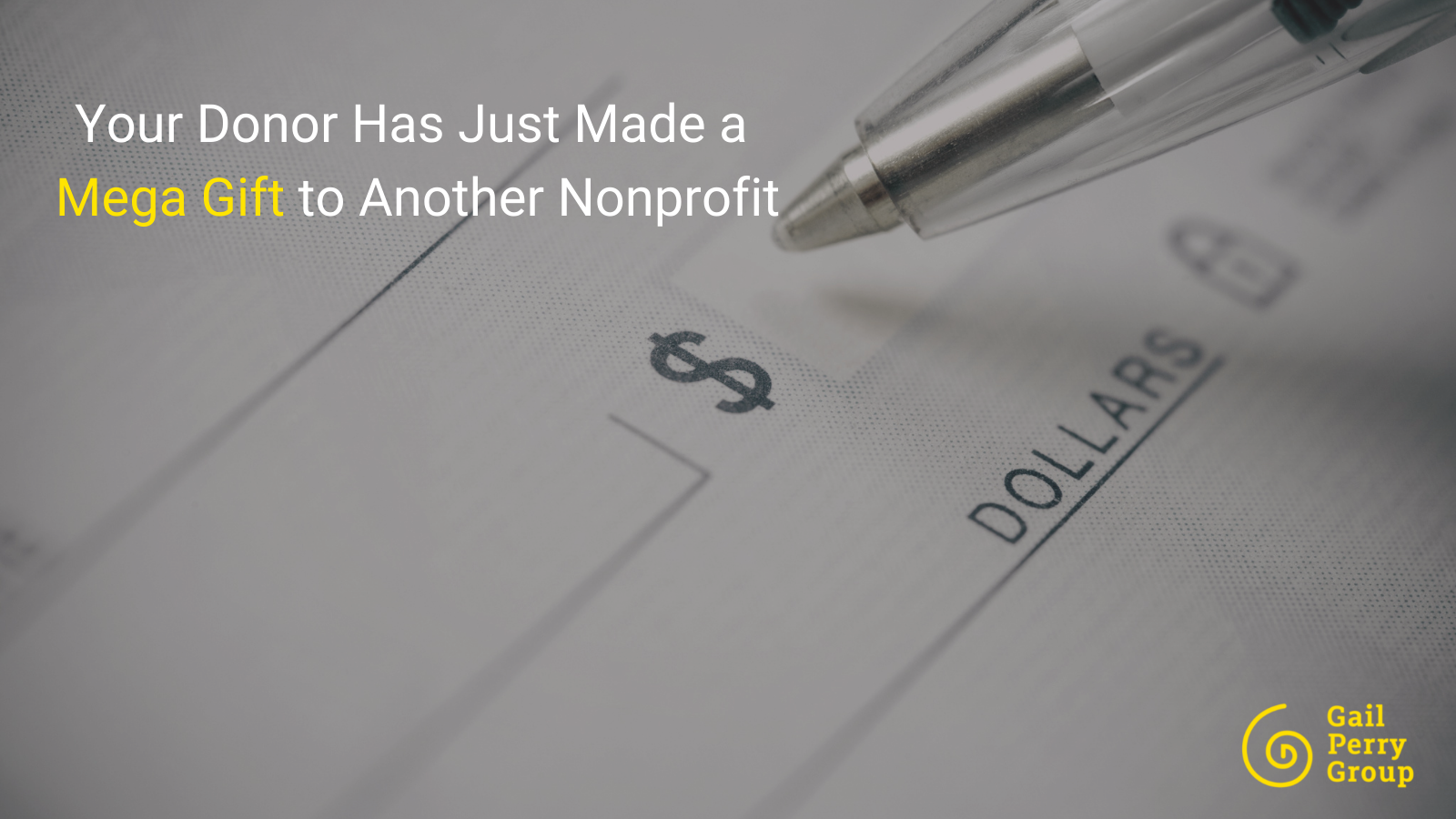 Oh dear, what could be worse? You wake up one morning and find out one of your donors has just made a mega gift to a similar nonprofit right down the street.
What a disappointment! There's serious consternation in the halls of the development office. How shocking! 
The CEO calls in the fundraising team to demand an answer: what happened? And the staff team feels awful. They knew this donor, so how did they let such an opportunity slip through their hands? 
But the fact is, no one really knows what exactly happened or why.  When a donor makes a gift to another similar organization, clearly the staff team dropped the ball.
But it may not have been their fault. It may have been how the team was managed.
Here are five reasons this terrible situation can occurr:
    1. The staff was wasting time by doing tasks other than fundraising. 
The staff team may have been pulled away from their frontline work with donors to support an event or a gala. There may have been an important "all hands on deck" situation, and as a result, major gift officers ended up neglecting many promising major donors. They simply missed the mega gift opportunity. 
This nonprofit did not understand the opportunity cost of devoting highly trained major gift staffers to event logistics!
On the other hand, the organization down the street that received the mega gift protected its major gift officers from extraneous duties. They kept their MGO's focused on their important frontline work of nurturing donor relationships. 
    2. Staff was wasting time by chasing the wrong opportunities. 
They missed this donor because they were focusing on the wrong donor prospects. 
There are many reasons this can happen. We have seen many MGO portfolios saddled with "suspects" who were not prospects. As a result, the MGO's are spending their valuable time making discovery calls with suspects, who are not particularly interested. 
The wrong donor prospects may also be lower-level annual fund donors who are certainly willing to meet with MGOs, but simply do not have the wealth capacity to make a major gift. 
We've seen many a major gift officer waste time with lower-level prospects who are fun to meet with but who will never make a major gift. 
The organization down the street that received the mega gift made sure that all the prospects assigned to MGO's were really prospects with potential. This organization was devoted to smart data analytics. 
This team also spent the time needed to thoughtfully evaluate hundreds of possible prospects, so they could give their trained MGO's the right donor prospects.
   3. 

Staffers may have too many prospects in their portfolios and were spread too thin.
Staffers may have been assigned too many donor prospects in their portfolios. In these cases, it becomes simply impossible for a major gift officer to nurture everyone. 
To be realistic, a major gift officer can really only lavish quality time on around 60-70 prospects. The problem is that most portfolio assignments range much larger – in the 100-150 area. 
There are just not enough hours in the day for a major gift officer to properly nurture that many donors – some donors have to be put on a backburner.
The organization down the street made sure that MGO portfolios were appropriately sized. Their staff team was able to devote appropriate time to nurture important donors. So the donor who made the mega gift was able to receive the thoughtful attention she wanted.  
  4.  The gift officers did not know how to have a direct conversation with this particular donor. 
They missed the signals that this special donor was thinking about a major gift. It could have been that staffers did not have the tools or skills to literally ask the donor what she was thinking about doing. 
The organization down the street, on the other hand, had trained its team to be able to ask important timing questions. These MGOs knew how to ask the mega-donor about her own philanthropic vision, what she was considering and when she wanted to make the gift. 
 5. The gift officer could have been under pressure to make mega gift asks too quickly. 
This particular donor may have felt rushed by the leaders and fundraisers for the organization. She may have felt that all they wanted was her money and that she was being treated like an ATM. As a result, she felt put off by them and turned to the other organization down the street. 
This nonprofit, on the other hand, was treating her thoughtfully, and taking its time. The team was creative enough to bring her a gift opportunity that matched her personal vision for a better world and they secured a wonderful, transformational mega gift.
Bottom Line: If you want to close mega gifts, make sure you have a properly managed, trained, and organized major gift program. Don't let this happen to you! 
As always, it is a pleasure to share our weekly insights with you as we cover important fundraising strategies. 
If your organization is planning a capital campaign or expanding your major gifts program – we can help. Send an email to coaching@gailperry.com if you'd like to schedule a free strategy call with us.