Skip the Ask and Make It a "Gift Conversation"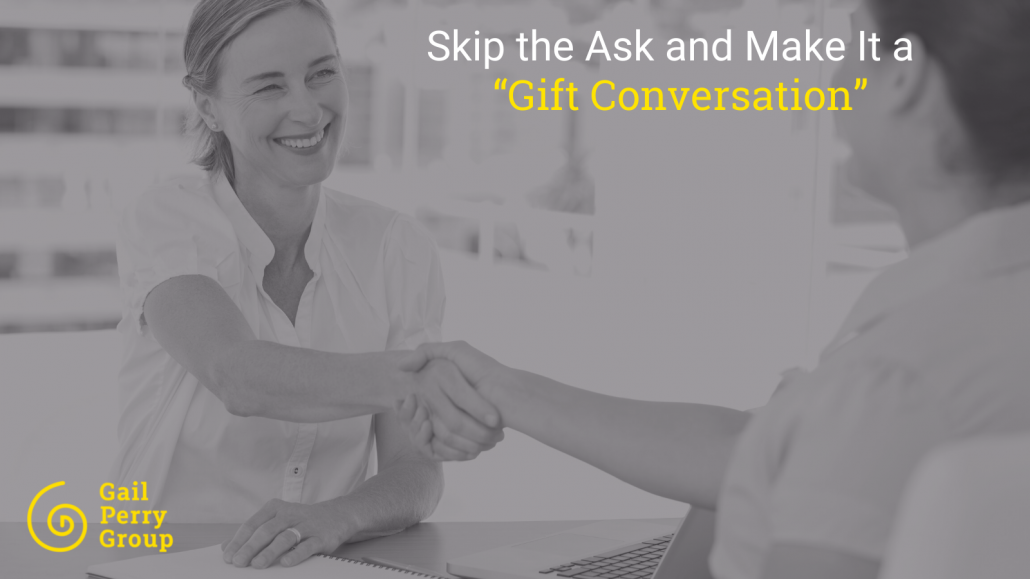 There you are—a major gift fundraiser, sitting in front of a potential donor. You've memorized your talking points and are about to make a Big Ask.
It's the moment of truth and you're feeling tense because so much hinges on the outcome. Funding for your project is at stake.
You've got a script that you hope will open your donor's heart – and wallet. Even more, you think you have the right amount to ask for. But you are probably just guessing how your donor will react to the Ask.
What's wrong with this scene?
You're set up to make a "pitch"—to talk at the donor in a one-way conversation.
It's far too formal and presumptuous. You're assuming that you know everything about the donor – her motives, her timing, how much she wants to give.
Hello? Where is the donor in this process?
Ditch the Ask. Have a Gift Conversation Instead
We believe there is a much better way to stage a successful ask – by slowing down and engaging the donor in a conversation. Here's our suggested approach:
Focus on What Your Donor Wants to Do – Not What You Want to Do
A traditional Ask is all about money. But a Gift Conversation is about helping a donor see the possibilities.
In a gift conversation, you help the donor envision how she can make a difference in the world, not calculate how she can give away $25,000.
The conversation should be about where she is, not where you are. About what she wants to do, not your own agenda.
We recently saw an anonymous quote that sums it up: To inspire people, don't show them your superpowers. Show them theirs.
Invest the Time.
This approach requires you to invest time in understanding a donor's personal values, what she believes in, what she's most passionate about. A donor's passion can be powerful enough to trigger a $1 million gift.
When you use our gift conversation approach, you end up with a happy donor who is thrilled to make a gift, not someone who feels "hit up" or manipulated.
Don't Put Your Donor in a Box
When you make a specific Ask, you box the donor into a certain figure. With a gift conversation, you don't limit the potential size of the gift.
Even if you have done tons of research, you never really know how much a donor may be willing to give – especially if she is passionate.
With a traditional Ask, you could even end up with a smaller gift than if you helped the donor live in a space of possibility and vision.
How to Kick Off a Gift Conversation
With a few well-placed questions, you can help your donor imagine how she can make a significant impact and then walk through the door to make a gift.
Here are a few simple ways to start a gift conversation.
"Could you see yourself getting more involved in our work?"
This is one of our favorite qualification questions. Your donor might be sharing her excitement about your work, and you sense the door opening for a gift conversation.
Ask this simple question, and you'll find out immediately whether the prospect might want to discuss a gift. And maybe even when she would decide.
"Would you like to know how you can help this project?"
This is such an easy question to pose. There your donor is, carrying on about her interest in your mission. You can simply ask, "Would you like to know how you could help?"
"Have you ever thought about doing more?"
A prospect may have never thought about making a gift. So, it's your job to bring it up. You are simply inquiring about the person's interest in getting more involved.
We love this question, too, because it helps you qualify whether your prospect might become a donor.
Help Your Donor Feel in Charge
Note that these questions have you asking your donor for permission to discuss this topic. Does the donor want to go in this direction or not? This is how you make a donor feel that she's in charge of the gift process.
The beauty of engaging in conversations is that sometimes the donor comes up with the idea of making a gift before you even ask.
This is a particularly good question for board members to ask their contacts. A board member may invite a friend to an event. A great follow-up question is: "Could you see yourself supporting this project?"
It's an easy thing to say, and it's not at all pushy. If the answer is "yes," you have a green light to pursue a Gift Conversation.
Bottom Line on the Gift Conversation: Skip the Ask—have a conversation instead.
You're likely to end up with a happier donor who comes through with a bigger gift than you anticipated.
As always, it is a pleasure to share our weekly insights with you as we cover important fundraising strategies.
If your organization is planning a capital campaign or expanding your major gifts program – we can help. Send an email to coaching@gailperry.com if you'd like to schedule a free strategy call with us.
https://gailperrygroup.com/wp-content/uploads/2021/11/BLANK-Skip-the-Ask-and-Make-It-a-Gift-Conversation.png
900
1600
Jenn Shefcik
https://gailperrygroup.com/wp-content/uploads/2022/09/Gail-Perry-Group-2.svg
Jenn Shefcik
2021-11-04 18:28:03
2023-02-01 17:29:11
Skip the Ask and Make It a "Gift Conversation"