Want to Develop a Culture of Philanthropy? Take This Simple Quiz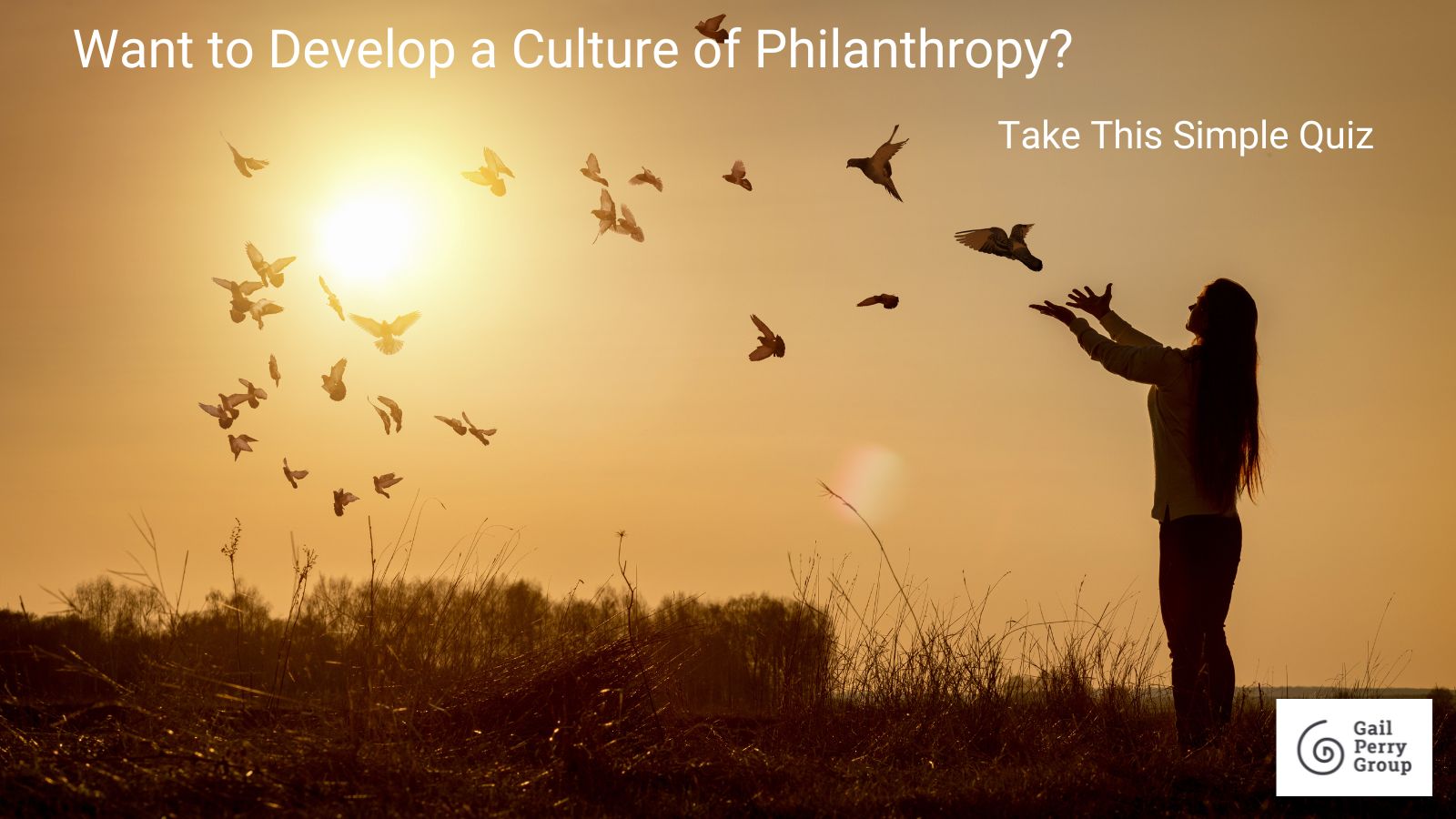 Many organizations seek to develop a culture of philanthropy. So you might ask, why would this be so important?
Consider the internal culture of your organization. What's it like? How do people "feel" about fundraising? What are their attitudes about fund development?
Clearly, if everyone in the organization is willing to embrace and support fundraising as an important function, you'll see much stronger fundraising results.
Wouldn't it be wonderful to have organization-wide support for fundraising? Wouldn't it be terrific if everyone in your organization joined in the effort to develop and engage supporters for your cause?
But how do we get there?
What Exactly IS a Culture of Philanthropy?
A culture of philanthropy is an attitude and a mindset shift.
It means that everyone in the organization supports fundraising and agrees it's an important priority.
The Evelyn and Walter Haas Jr. Fund Haas, Jr Foundation issued a fascinating report a few years ago that shook the fundraising world: "Beyond Fundraising: What Does It Mean to Build a Culture of Philanthropy?"
To help your organization make the shift, here's a simple test that is pulled right off the Haas Jr. Beyond Fundraising Report. Thanks to the authors for allowing me to quote from the report; I'm adding my own editorial comments.
1. Shared Responsibility for Development
"Fundraising isn't just one person's job or the job of one department. Everyone—staff, executive director, constituents, board and volunteers—shares responsibility for fund development." (Haas, Jr. report)
Does everyone in your organization agree that fundraising is important?
Does everyone promote and support all fundraising initiatives and projects?
Does everyone share a sense of responsibility for fundraising success?
Does everyone participate at some level in fundraising- whether it's talking with donors, building relationships, sharing stories, networking, spreading the word, or making connections as ambassadors and advocates?
Is fundraising seen as something that everyone does, not just your development staff alone?
Do your marketing, finance and program areas also support and value fundraising?
Do your CEO and your board members all embrace and support fundraising? Do they participate when needed?
Is fundraising seen as a broader activity than just "getting money" – it's seen as developing relationships with supporters?
2. Fundraising is integrated and aligned with your mission.
"Fund development is a valued and mission-aligned component of the organization's overall work, rather than a standalone function." (Haas, Jr. report)
The activities of fundraising are not walled off in a silo – instead, everyone promotes and participates in philanthropy?
Fundraising staff are considered "equal and valued partners" in the organization.
Fundraising is respected as an important, vital, and even happy function that you are proud of.
Fundraising is adequately funded and planned for and staffed with enough resources to do this important work.
Fundraising is prioritized when the organization is distributing resources.
3. Focus on Fundraising as Engagement
"Fund development is no longer separated from engagement. This reflects the fact that people today are connecting with nonprofits via multiple channels (e.g., social media, volunteering, blogs, meet ups, petitions) and engaging with them in multiple ways (e.g., as donors, volunteers, board members, constituents)." (Haas, Jr. report)
Your organization appreciates that engaging stakeholders and supporters is an important function/goal?
Your organization:

sees fundraising as a means to engage supporters?
offers opportunities for donors and supporters to engage?
Your organization combines fundraising and engagement into one larger function – including communications, marketing, fundraising and even programming?
You look for ways to fuse activism and fundraising?
Your organization agrees that it owes your donors great service, great communications and opportunities to engage?
Your organization looks for ways to bring the entire community together to "engage with the mission in authentic and meaningful ways?"
4. Strong Donor Relationships will help develop a culture of philanthropy.
"Donors are seen as authentic partners in the work, not simply as targets or dollar signs. These organizations establish systems to build strong – relationships and support donors' connection to the work." (Haas, Jr. report)
Your organization values the overall relationship with donors – not just the short term money/gift. Fundraising is about relationships – not transactions.
Your organization honors your donors by asking for more than just money – – you also ask for their help, their support, their ideas, their "skills, time, networks and talents?"
Your organization values donor retention over donor acquisition?
Your organization communicates your results and overall impact to your donors and supporters?
Your organization offers donors personalized attention?
Your organization values listening to donors?
You have a culture of terrific post-gift customer service to donors?
BOTTOM LINE – So you want to develop a culture of philanthropy?
Then how'd your organization score on this test? Lots of yesses, or lots of maybe's and sort-of's?
It's ok. Everything is a work in progress.
But just look at your potential!
What might your organization be able to do for the people you serve, if you can develop a culture of philanthropy?
https://gailperrygroup.com/wp-content/uploads/2023/03/blank-Want-to-Develop-a-Culture-of-Philanthropy.jpg
900
1600
Gail Perry
https://gailperrygroup.com/wp-content/uploads/2022/09/Gail-Perry-Group-2.svg
Gail Perry
2023-03-09 20:31:57
2023-07-11 08:30:58
Want to Develop a Culture of Philanthropy? Take This Simple Quiz