Using a Feasibility Study to Close Major Gifts – Without an Ask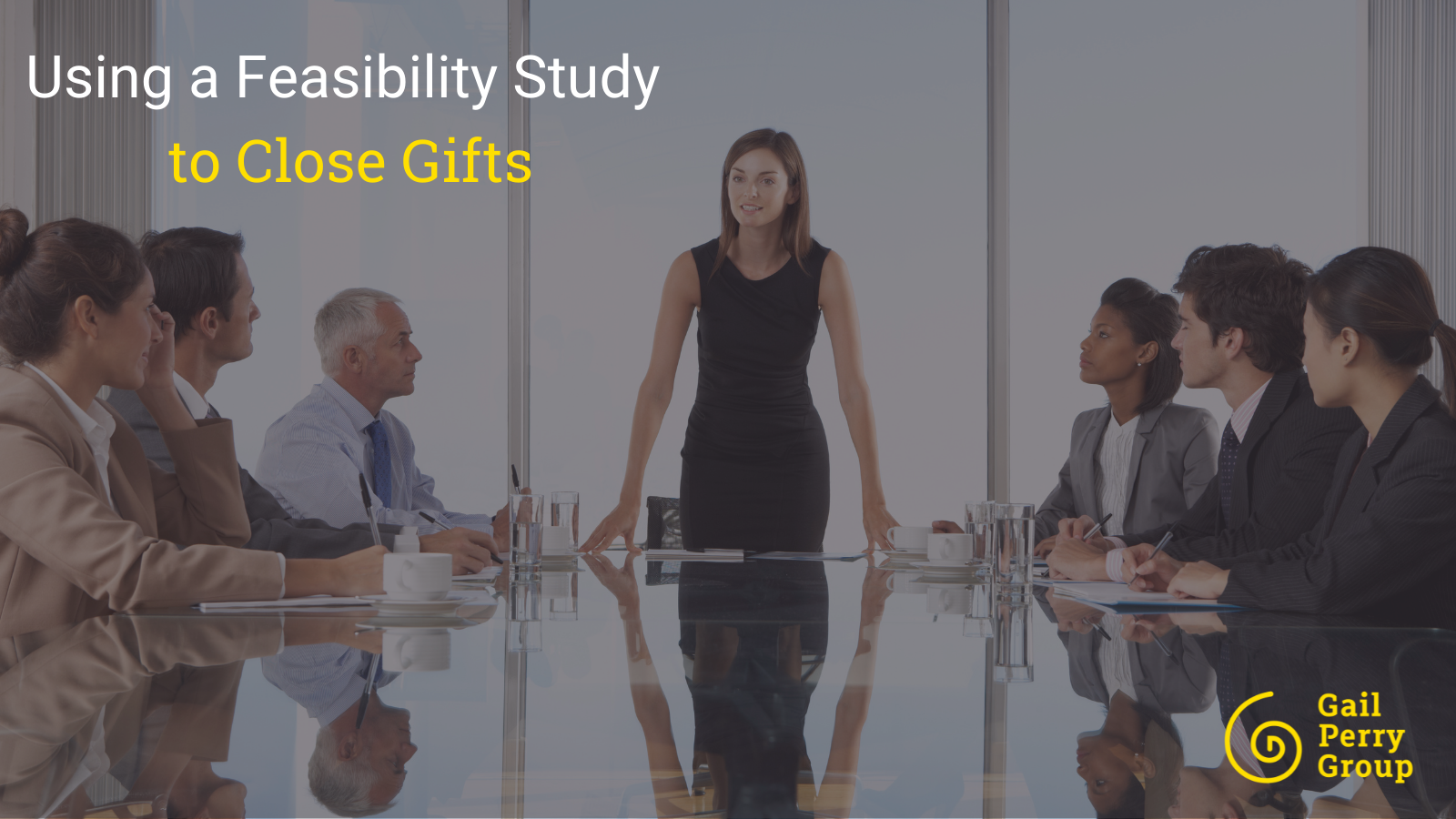 What do you really want out of a feasibility study? Most nonprofit leaders just want to know how much they can raise. They want the feasibility study to tell them: is the campaign a go – or, is it a no go?
But are those the right questions to ask? Especially when you are considering investing a significant amount of time and money in the study alone?
With all that investment, wouldn't you like to get more than just Yes or No?
Wouldn't it be wonderful if you actually closed gifts, major gifts, lead gifts? What if you even found your campaign chair as a result of the study?
What Can an Expertly Crafted Feasibility Study Accomplish?
A great feasibility study can open your donors' hearts and minds to all the wonderful possibilities your project might create. Even more, a great study allows your donors to get invested in how you might accomplish even more than you ever dreamed of.
Great feasibility studies can deeply engage your donors, warm them up about a potential gift, and encourage them to get involved on the ground floor. As a result, you can accomplish so very much – and move your campaign right along.
Include a Private Presentation to the Donors.
Here's an opportunity not to be missed. What about staging a separate presentation of the Study Report just for the donors themselves?
You'll find that the donors are quite curious about the results of the study. Moreover, they will actually show up at this presentation, because they're intrigued. What's best, is that they are starting to think about the possibilities of your campaign.
It's a magic moment: there, in one room, are your potential lead donors, all discussing YOUR potential campaign with each other. What a special opportunity – all the VIP donors together, and you can just feel the energy.
It's the ineffable power of "who is in the room." Momentum for your campaign is growing, right before your eyes.
You will be there too, working the room, engaging with the donors to deepen your own personal relationships with these important philanthropists.
One-on-One Follow-up with Each Donor
We encourage our clients to personally call each donor who was interviewed.
Their job: thank the donor for participating, and ask the donor:
"What were your impressions of the feasibility study conversation?"
When you do this, you have a special opening to chat with your prospective donor about the entire campaign effort.
What will you get? Your donor will tell you what they think. Of your project. Of your campaign's potential. About possible strategies to reach your goal.
They may share their own questions or concerns about your proposed campaign. The consultant interview prodded them to start thinking of all of this, and now you can pick up the momentum with the donor – and move things forward.
You can have a deep discovery call with the lead donors whose gifts can make or break your campaign. This strategy helps you gauge their enthusiasm –and find the pathway to a gift.
Using the Study to Literally Close Gifts
As savvy consultants, we can gauge which donors are so enthusiastic that they might be ready for a Gift Conversation. So, at the end of a study, we identify those super engaged donors who seem ready to move right along.
Our clients are simply getting in touch with these donors, and asking the golden question:
"Is this a good time to discuss your support of our campaign?"
This simple question is literally causing donors to OFFER GIFTS without being asked.
We have one client who closed a six-figure gift the first time she asked this question. She was so floored that she phoned us immediately to celebrate.
Later she closed a gift in the mid-six figures. Without ever asking. With no formal ask.
This Golden Question is golden for many reasons:
It's polite, because it asks for permission.
It's donor-centered, because the donor feels in charge of the next step.
It's not a pitch in any way, shape, or form.
The donor feels like they are a partner in the giving adventure, not the recipient of a carefully staged, awkward, scripted ask.
Bottom Line: You really can use an expert feasibility study to close major gifts.
We can help you with an expert feasibility study if you'd like. Just email us at gail.p@gailperry.com and we'll talk about your campaign plans.
As always, it is a pleasure to share our weekly insights with you as we cover important fundraising strategies.
If your organization is planning a capital campaign or launching a major gifts program – we can help. Send an email to coaching@gailperry.com if you'd like to schedule a free strategy call with us.
https://gailperrygroup.com/wp-content/uploads/2021/09/Using-a-Feasibility-Study-to-Close-Gifts-1.png
900
1600
Gail Perry
https://gailperrygroup.com/wp-content/uploads/2022/09/Gail-Perry-Group-2.svg
Gail Perry
2021-09-16 20:20:22
2023-07-17 02:01:02
Using a Feasibility Study to Close Major Gifts – Without an Ask