Messaging in the New Landscape: Why Simple Storytelling is Not Enough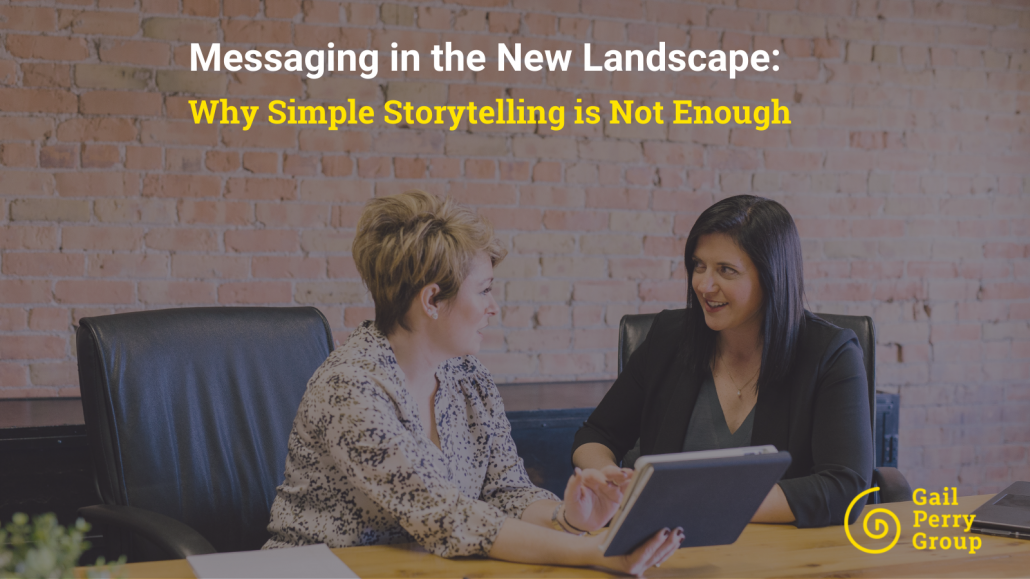 A funny thing started happening with donors last spring. Remember last year when the world changed on us all?
The pandemic suddenly ended all fundraising events, meetings and VIP gatherings. Clearly, fundraising was going to have to shift immediately.
To make matters worse, "pandemic panic" was starting to break out among nonprofit leaders around the globe. People were worried about meeting their fundraising goals and, even worse, their entire operating budgets.
Of course, everybody wondered what to do.
To help you be successful in this new landscape, Beth Ann Locke and I want to invite you to a complimentary webinar on October 5, 2021:
Closing Gifts in the New Fundraising Landscape: How to Ace Your Year-End Goals.
You can find out more and register here.
We'll be sharing winning tactics for your year-end fundraising so you can appeal to today's donors. Join us!
Back to our story, all the panicking fundraisers out there asked us a mission-critical messaging question:
Should we really tell our donors what was going on financially?
Here's a happy story: one of our Major Gifts Intensive members wrote us because she was desperately worried about her organization's budget – even its survival. All the earned income that she was counting on had disappeared. What to do?
Here was our advice, and it turned out to be golden.
New Messaging Tactic: A Key Supporter Mailing List
We told her to pull a list of around 20 important donors and supporters of her organization. And we suggested that she simply send an email now and then to this group, sharing a personal update on how things were going.
So, Elizabeth, our client, composed her list, included a few board members on it, and started sending monthly personal updates to this group.
Her goal was to keep these key supporters close and make them feel special – like insiders. There was no ask in any of her communications.
Results from the New Messaging: A $40,000 Gift With No Ask
Elizabeth called us one day, hardly able to contain her excitement. She couldn't believe it! One of the donors on her list, out of the blue, had just sent a $40,000 unrestricted gift. Without an ask.
"We Love Your Transparency and Communication"
The donor simply said that he and his wife appreciated her work and "loved her transparency and communication." They responded to her authenticity and liked that she was in touch with them often.
She had succeeded because she made these donors feel special.
Elizabeth and her team ended the fiscal year, well over budget. She shared with us, "our transparency with donors and trustees is the reason why we've done so well."
A $1 Million Gift, With No Ask!
In August, Elizabeth had more good news to share:
"We had another donor stop by the office today – out of the blue. She told me that she has put together a planned gift for our organization – of $250,000 per year for the next four years.This was all because of how we have handled everything during the pandemic and the exciting projects we have planned!

I cried, she cried. This is incredible and will be a game changer for our organization. Ladies, this is largely because of the Gail Perry Team!! Count us in for the Insiders and all the training you have in the hopper. I'm more grateful to you all than you know."
What are your takeaways? Here are our three secrets of messaging in the new landscape – what you need to do now:
Messaging Tip 1: Do You Sound Authentic?
You need to sound authentic – be sure that your communication does not sound stilted or institutional. No nonprofit jargon. No lofty mission-statement language. No acronyms. Please, no big words, long paragraphs, or complex ideas.
If so, you fail the 2021 "authenticity" test.
Messaging Tip 2: Are You Being Transparent About the Money?
When you're talking about money, you need to be completely transparent about what's going on financially at your institution. However, that does not mean a sense of desperation or whining.
It does mean being businesslike and frank. The best part of this is that when you are transparent, then the donor understands specifically how they can help. And that is a win!
Elizabeth said: "You CAN talk to donors about your financial position."
Messaging Tip 3: Just How Friendly Do You Seem?
Do you sound genuinely friendly? Like a nice person who cares a lot about this organization – and the donor?
Is your letter or email personal and warm? Being friendly means your communication can't come from the institution itself. Instead, it needs to come from an individual.
Bottom Line: Messaging needs to be different in the new fundraising landscape.
Join our free webinar on October 5, to discover even more practical tips on reaching today's donors and creating no-ask gifts.
As always, it is a pleasure to share our weekly insights with you as we cover important fundraising strategies.
If your organization is planning a capital campaign or launching a major gifts program – we can help. Send an email to coaching@gailperry.com if you'd like to schedule a free strategy call with us.
https://gailperrygroup.com/wp-content/uploads/2021/09/with-out-words-1.png
900
1600
Gail Perry
https://gailperrygroup.com/wp-content/uploads/2022/09/Gail-Perry-Group-2.svg
Gail Perry
2021-09-23 23:04:15
2021-11-10 21:59:14
Messaging in the New Landscape: Why Simple Storytelling is Not Enough