ARP Brings Public Funding Opportunities Like Never Before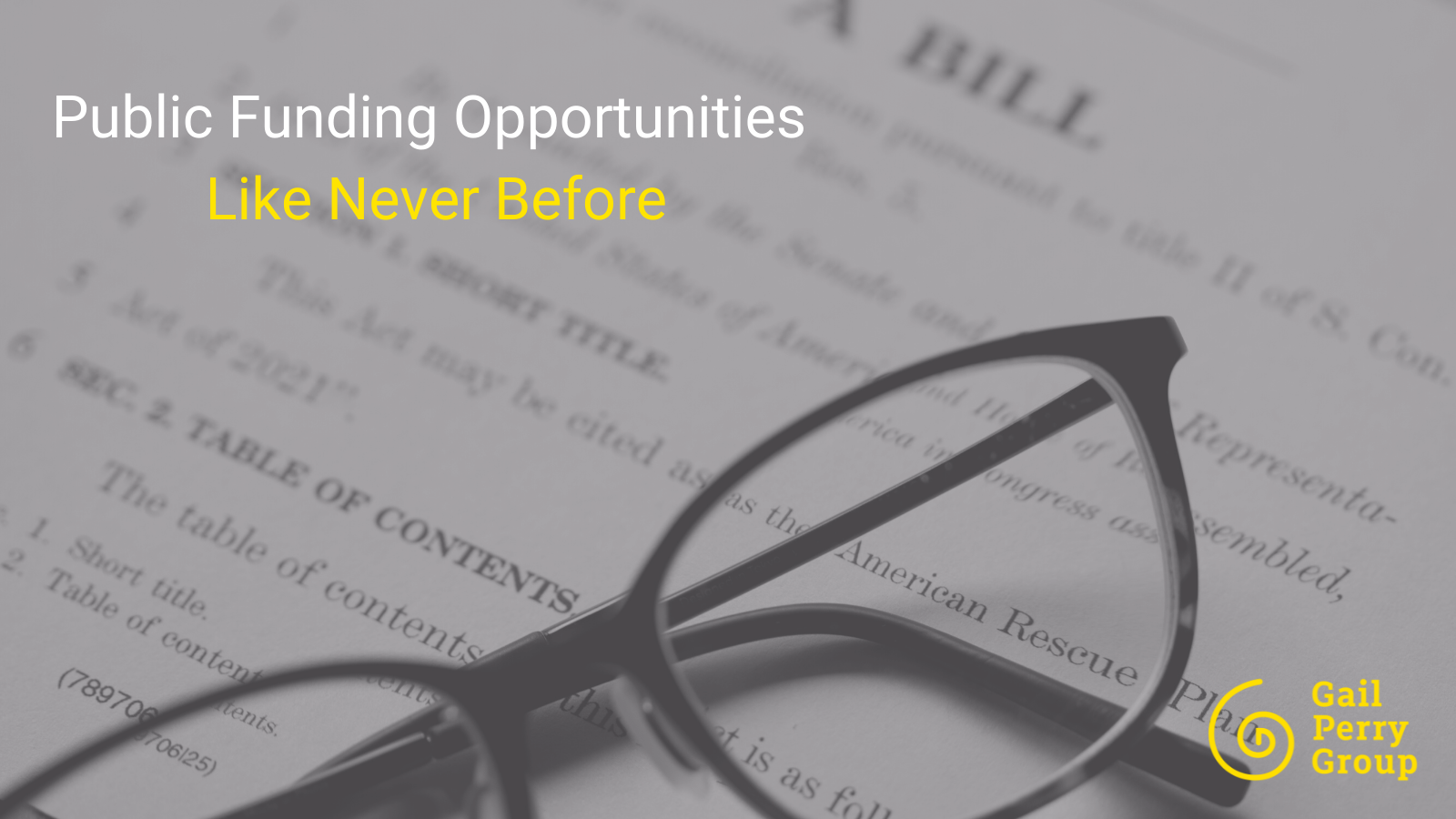 Today we are highlighting the special public funding opportunity from the American Rescue Plan Act (ARP). You may know that the ARP, passed by Congress earlier this year, provides funds to help communities recover from the pandemic.
This $1.9 trillion stimulus package includes substantial aid – billions of dollars – to state and local governments. Best of all, some of this aid can support nonprofit initiatives.
Did you know that public funds, such as government grants, allocations, and contracts play a huge role in funding nonprofits? Public monies are the second largest revenue source for nonprofits, behind earned income.
This is why you always want to develop friendly relationships with your local elected officials.
Here are specific opportunities that are available to your institution or nonprofit from the ARP. Disclaimer: Please know that I am not a legal expert; there is a lot of discussion about this topic, and I am providing this information based on my own research.
The information I am sharing is from the National Council of Nonprofits and also the NC Center for Nonprofits, so you are welcome to verify it.
Timing of the ARP funding payments.
The funds will be distributed in two payments, with the first distribution going out within 60 days of the law's enactment. The second payment will go out a year after the first. In addition, this is an injection of one-time funds, not a continuous funding stream.
Who controls the ARP funding decisions?
Some monies will be distributed directly to local governments, bypassing state authorities.
The ARP provides $130.2 billion to local governments:
$65.1 billion for counties
$45.6 billion for metropolitan cities
19.5 billion for towns with fewer than 50,000 people
$4.5 billion to US territories
$20 billion to tribal governments
What does the ARP funding statute say exactly?
ARP provides aid to help communities "respond to the COVID-19 emergency and address its economic effects, including through aid to households, small businesses, nonprofits, and industries such as tourism and hospitality."
Additionally, ARP provides funding for programs, services, activities, and projects that will directly aid a local government's citizens, community groups, businesses, nonprofits, and other entities.
As always, there are varying interpretations of federal and state law, and your local authorities may decide to use the funding in specific ways that do not fit your organization's work.
Where are the opportunities for nonprofits?
Charitable nonprofits can utilize provisions of this new law that are designed to help their organizations and the people they serve.
As an example, you can seek funding for strategic and sustainable initiatives that will support your broader community.
What types of projects could be a fit for this funding?
Local governments have wide-ranging authority to provide "programs concerned with employment, economic development, crime prevention, child care, health, drug abuse, education, and welfare needs of persons of low and moderate income."
According to my research, this can include education, child care, child abuse, student aid, arts and humanities projects via the NEA and NEH, homelessness, community development, libraries, disproportionally impacted communities, seniors and minorities, housing support, and social and mental health programs which could include parks and trails.
The NC Center for Nonprofits suggests that the funds can cover challenges that nonprofits are facing during the pandemic – revenue loss, closure of operations, loss of volunteers, direct costs in making changes due to COVID. In addition, many nonprofits experienced increased demand for services to meet community needs during the pandemic.
How to approach your local officials
Do your research on the ARP funding. Of course, do your homework before you reach out.
Investigate the process that local officials are using to decide on the uses of the funds. Some cities are asking for citizen input.
You'll especially want to find out who makes the decisions and when the decisions will be made.
To create a positive result, join with others in the community who may have a stake in how these funds are spent.
Identify your own priorities and narrow your focus. In addition, be clear about the benefits that your proposed project will bring to the community.
Try to build community support for your request. For example, you might want to ask your stakeholders to reach out and speak up.
Ask your elected officials if they see a fit between your organization's work and the ARP funding.
Have Advice Visits with your local elected officials and their staff teams. In some cases, it might be appropriate to bring your most well-known board members.
Thanks to the excellent NC Center for Nonprofits for some of the recommended steps you should take that are listed above.
Bottom Line: There is a lot of money sloshing around locally for nonprofits.
So make sure you take advantage of the special opportunity that ARP brings.
As always, it is a pleasure to share our weekly insights with you as we cover important fundraising strategies.
If your organization is planning a capital campaign or launching a major gifts program – we can help. Send an email to coaching@gailperry.com if you'd like to schedule a free strategy call with us.
https://gailperrygroup.com/wp-content/uploads/2021/09/Public-Funding-Opportunities-like-Never-Before-2.png
900
1600
Gail Perry
https://gailperrygroup.com/wp-content/uploads/2022/09/Gail-Perry-Group-2.svg
Gail Perry
2021-09-09 20:17:23
2023-09-16 11:55:51
ARP Brings Public Funding Opportunities Like Never Before