Takeaways from #AFPFC in New Orleans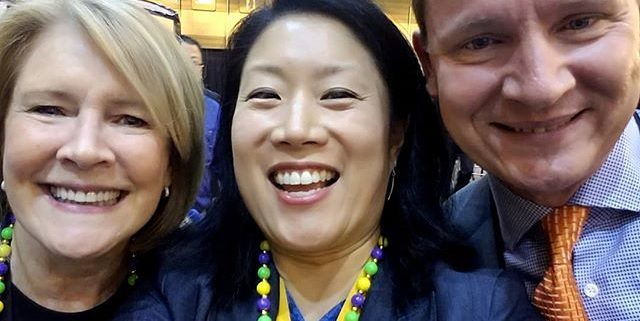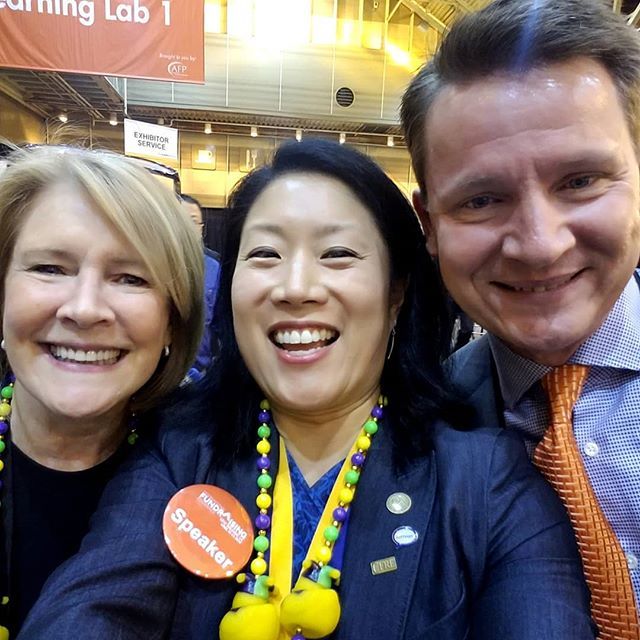 This week's AFP International Conference in New Orleans (#AFPFC) was full of smart ideas and great learning. That's our new CEO Mike Geiger above with fellow #AFPeep Alice Ferris and me.
Here's my annual wrap-up of key takeaways and ideas from the conference.
This is a great time to re-examine your fundraising strategies.
See if you can sharpen up the little things that make such a big difference to your donors- and to your bottom line.
I always love Penelope Burk's sessions at #AFPFC.
Here are my favorite gems from her presentation (you can see why I love her!):
"Profit in fundraising is the only thing that matters.

"Great thank you letters cause donors to instantly make a gift.

"Your thank you letter is the first step you take in getting another gift.

"Today, 65% of donors are not renewing their gifts.

"New donors are very precious!

"It takes free thinking to be successful; it's easy to get beaten down in this profession.

"Single biggest driver of donor loyalty is their satisfaction with their donor experience.
I asked my #afpeep friends what their key takeaways were from #AFPFC:
Myrna Medina:  "Do the uncomfortable.
Scott Fortnum: "Proximity is important.
Leah Eustace: "Stories are your superpower.
Mary Frances Colley From the Authentic Leadership Pre-Conference Workshop: "Culture eats strategy for breakfast!"
John McIlquham, of @NonProfitTimes  said there was a change in the exhibit hall:  "More travel, incentive companies, bigger software companies and everything is going digital."
The exhibitor @FrontStream asked us all to write our stories of how we got into nonprofit work.
Then they turned our stories into pictures. I'm the "would be" ballerina!
If you look at this picture closely, it is incredibly moving to see everyone's background stories.
One of the cool things about the @AFPIHQ was visual storytelling. How'd we get our start? My story? I slipped, fell and slid across the kitchen straight into Fundraising! See my "wet floor" sign below #AFPFC #afpeeps #fabulouslyfundraising pic.twitter.com/eg8HmnCk3e

— Kishshana Palmer (@funddiva) April 18, 2018
Here are some favorite ideas and tweets from #AFPFC:
What if you think of your donor thank you letters as a token of your love & appreciation instead of a receipt for their gift? What would you do differently? #donorlove #afpfc

— Lori L. Jacobwith (@LJacobwith) April 17, 2018
"There isn't one big thing to improve your fundraising programme. There's lots of little things." – @johnlepp #afpfc

— Simon Scriver CFRE (@ToastFundraiser) April 17, 2018
Women represent more than 70% of the fundraising profession, but only hold 1/3 of top positions. #afpfc #fundraising pic.twitter.com/Kpsxo3Pv4q

— Sanford Institute of Philanthropy at MCCCD (@sanfordmaricopa) April 15, 2018
Emotion leads to action.
Logic leads to conclusions.

As a #nonprofit, you need people to take action. Instead of appealing to them logically, focus on appealing to their emotions. #afpfc

— qgiv (@qgiv) April 15, 2018
RT @JoshHirsch1: Have a donor-shaped hole in every piece of communciation you send. A donor should be able to say, "I can go do that. I can be there." via @StevenScreen #AFPFCstorytelling #AFPFC pic.twitter.com/0hMzRbkv2g

— AydaS CFRE (@AydaSC) April 18, 2018
Top take-a-way #afpfc? We must care for ourselves (and teams) as well as we care for others. Equity. Dignity. Safety. Inclusion. Awareness. Boundaries. Love. Gratitude. https://t.co/Lc54IShNxO

— Tammy Zonker (@TammyZonker) April 18, 2018
Use stories, not stats. Write at a grade 6 level. Focus on emotions. (That's where we really decide to give!) #AFPFC #storytelling @LeahEustace pic.twitter.com/mBS2c6l668

— Beth Ann Locke (@FundraiserBeth) April 17, 2018
#AFPFC I'm front and center for @GailPerrync who is my fundraising role model. If only I had a Southern accent! pic.twitter.com/mLiaUIPSg3

— Becca Ginns (@BGatSIRF) April 16, 2018
Your case for suport should answer 3 questions. Why us? Why now? Why should I care? @LeahEustace #AFPFC

— Jennifer (@jenniferjane7) April 15, 2018
A 10% improvement in retention can DOUBLE the lifetime value of your donor database. #afpfc #retention pic.twitter.com/iRYnJp9CyO

— Sanford Institute of Philanthropy at MCCCD (@sanfordmaricopa) April 17, 2018
Getting a meeting with a donor is 85% of securing a gift. via @jerrypanas cc @LJacobwith @StillDewan #AFPImprov #AFPFC pic.twitter.com/4HQbCQNexn

— Josh Hirsch ??? (@JoshHirsch1) April 16, 2018
Handwritten thank-you notes and a call on a donor's anniversary of giving equalled a 30% donor retention rate and a 50% lift in a donor's lifetime value. #afpfc

— qgiv (@qgiv) April 17, 2018
The most dangerous phrase in fundraising is "we've always done it this way." #afpfc

— Rickesh Lakhani (@ConstantChanges) April 16, 2018
When a donor rings in to change their address, 7x more likely to become a major donor/make a planned gift. (Donors who care enough to stay in touch with charity feel more connected.) #afpfc

— Meredith Niles (@meredithniles) April 16, 2018
"I'm not a fundraiser because I want to raise funds. I'm a fundraiser because I want to change the world." – @darylupsall #afpfc

— Sanford Institute of Philanthropy at MCCCD (@sanfordmaricopa) April 17, 2018
"If Fundraising is not at the table when the budget is created, none of the reporting matters because I, the fundraiser, have the details and information you, the finance director, need in order to craft accurate planning and forecasting." PREACH, @cherian_koshy!! #AFPFC

— T. Clay Buck, CFRE (@tclaybuck) April 16, 2018
10.15 – room R08, come learn how to make sure your donors are thinking about giving???#afpfc pic.twitter.com/nd0GIzdjfZ

— Beate Sørum (@BeateSorum) April 17, 2018
"I will renew my support for Charity X if/when _______________" – Great simple lapsed donor survey question from @agentsofgood as mentioned by @StevenShattuck #afpfc

— Simon Scriver CFRE (@ToastFundraiser) April 16, 2018
Great thought: if we didn't know how much a donor gave, we'd be forced to give a great experience to everyone! #afpfc

— Craig Linton (@frdetective) April 16, 2018
Think this was the most popular slide from my presentation at #afpfc with @KimberleyBlease pic.twitter.com/pHJrFlH52M

— Mark Phillips (@Markyphillips) April 17, 2018
Your organization's donors are heroes. Using the word partner is not motivating. via @StevenScreen #AFPFCstorytelling #AFPFC pic.twitter.com/LJUzKp0Fue

— Josh Hirsch ??? (@JoshHirsch1) April 15, 2018
Ask with thoughtfulness.
Thank with love.

Measure what matters most — your beautiful donors.

And do your work with love.

(And go follow @agentsofgood for ideas, wisdom, inspiration, and examples that might make you cry)#afpfc

— qgiv (@qgiv) April 17, 2018
EXPRESS GRATITUDE. Honestly, when is our sector gonna understand the power of gratitude and appreciation?! @TammyZonker #donortrust #afpfc data from @PenelopeBurk pic.twitter.com/hZa5qJHuTP

— Beth Ann Locke (@FundraiserBeth) April 15, 2018
Want to boost your direct mail open rate? Make your envelopes look as interesting or personal as possible. #afpfc

— qgiv (@qgiv) April 17, 2018
Overall trend is that % of donors who have been able to make a major gift is increasing. #afpfc

— Meredith Niles (@meredithniles) April 16, 2018
The world only changes when good people are willing to do uncomfortable and inconvenient things. #BryanStevenson #afpfc pic.twitter.com/HxgmLteBFW

— Sarah Willey (@SarahNicole838) April 17, 2018
Your organization's "dependency quotient" is the level of dependency you have on your top donors. What happens if you lose your top donor? Your top 5? You must be able to diversify enough that losing one or several major donors won't be devastating. #afpfc

— qgiv (@qgiv) April 16, 2018
Speaker at #afpfc: Who's the best voice to tell your charity's story? Probably not your executive director.

— Heather Joslyn (@joslynChronicle) April 17, 2018
https://gailperrygroup.com/wp-content/uploads/2018/04/mike-geiger-ferris-and-me.jpg
640
640
Gail Perry
https://gailperrygroup.com/wp-content/uploads/2022/09/Gail-Perry-Group-2.svg
Gail Perry
2018-04-20 10:01:23
2018-04-20 10:09:09
Takeaways from #AFPFC in New Orleans