Top 10 Tips to Make More Money, Have More Fun at Your Fundraising Event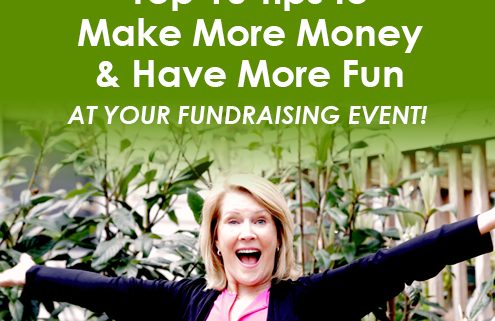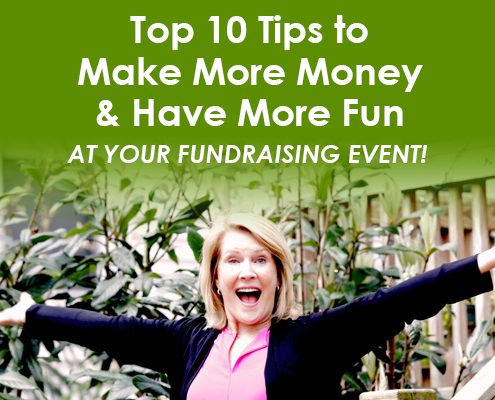 Fundraising event tips are here!
May is Party Month here at Fired-Up Fundraising. Today I'm sharing how to make more money and have more fun with YOUR own fundraising events.
We all have events, so let's make them fun and also highly profitable.
First: what's the difference between an "event" and a "party?"
An "event" is when you throw a bunch of people in the room, give them something to eat or drink, and hope they survive. Yikes!
A "party" is when you actually CARE about the experience your guests are having. You try to make it fun for everyone.
So be sure to focus on the quality of the party experience for your guests.
Fundraising Event Tips for BEFORE THE PARTY
Here is where your plan can make or break you.
1. Put together a fun, diverse committee.
Your committee is your "social branding" for the party.
People will attend because they are close to your organization OR they know someone on the committee. Plaster your invitation with committee members' names.
Get different professions, ages and types on your committee. Pull from different communities around your town, different religions and social networks.
And be sure committee meetings are FUN!
2. Get your sponsorships.
Your #1 factor in making more money is your sponsorships. That's where the real profit will be for your event.
And it takes plenty of lead time to properly approach the right sponsors, and close the deal.
If you are not allowing enough lead time, then you won't have time to close the sponsorships you need.
Organize a sponsorship committee, set a sponsorship goal, allocate out your sponsorship prospects and get those calls made. AND then followup and followup again.
3. Give VIP's special encouragement to come.
You probably want certain VIP's to attend your event, but they may be reluctant to attend. Why? Maybe they don't have have an escort. Or don't like driving at night.
Want them to come? Then call them up and say:
"I have someone special I want you to meet at our party.
"I have a terrific table for you that you will enjoy.
"Our "party van" will come pick you up.
I love the idea of a party van picking up important guests. The N.C. Museum of Art once used a corporate jet to travel around the state and pick up key guests for a special event.
You make not have access to a jet but I bet you could get hold of a van, or even your own car. Make it extra fun for your VIP's and make them feel special.
Fundraising Event Tips: AT THE EVENT
1. Right sized venue.
Be sure your room is not too big. If you have a large room that swallows your crowd, all the energy in the room will go "poof!"
I'd rather have a room that's too small than have one that's too big.
When the room is crowded with people, it feels like something is really happening.
2. Turn down the lights.
Nothing is worse that bright lights glaring above – they ruin the atmosphere of a party quickly.
Turn the darn lights down and create a sense of mood and atmosphere.
At our age we all look better in lower light anyway. :)
3. Abundant food and drink.
Never, never be the event that ran out of food or drink.
Have the food tables look abundant.
Your fare doesn't have to be fancy at all, but it needs to be ample, and look attractive.
4. Cute young people.
Don't forget that the older folks love to be able to meet and chat with young folks.
Its fun to have the young folks who can give the party extra glamour.
5. Welcoming attitude.
This might be the most important thing of all: how people are welcomed and treated when they are at the party.
Give your BOARD MEMBERS the job of being hosts. They are supposed to welcome people and talk to wallflowers.
When people come in the door, greet them like you are SO GLAD they are here.
6. Try a Raffle.
You can add significant money to the bottom line with a raffle, and it adds to the fun of the evening.
One year I was co-chair of an auction and we decided to have a raffle at the last minute. Two volunteers took it on, got some nice jewelry donated, and went off selling raffle tickets.
Boy was I surprised when that last-minute idea brought in significant cash!
7. Next Year's Chair.
Enlist next year's chair at this year's event.
They will be feeling happy and will be in the middle of success and glitz.
It's the best possible time to get a "yes." Give it a try!
Fundraising Event Tips for AFTER THE EVENT
Call your sponsors, top purchasers of auction items, lead volunteers and major donors and THANK THEM.
Be sure to line up your thank you phone callers BEFORE the event, of course.
Debrief with your committee. Discuss what worked and what you might want to do differently next year.
Bottom Line: Fundraising Event Tips
These fundraising event tips can make all the difference to your guests, and your profit. Give them a try.
Want to make more money out of your next event?
Then come on and join my May webinar series: Creating Highly Profitable Fundraising Events.
We have 4 webinars all focusing on different ways to MAX OUT your fundraising bottom line:
how to nail big money sponsorships,
how to stage a mega "fund a need" at your auction
how to stage a high profit auction and
how to max out your ROI.
If you are having an event any time soon, bring your volunteers and listen in. Even if you can't attend live, you will get all the recordings plus a written transcript of each class.
If you think this can help you raise TONS more money with your event, then click here now to find out more and register!
WHAT ARE YOUR TIPS FOR A FAB HIGH DOLLAR EVENT?
Share them with us here!
https://gailperrygroup.com/wp-content/uploads/2018/04/4-27-18-blog-image.jpg
400
495
Gail Perry
https://gailperrygroup.com/wp-content/uploads/2022/09/Gail-Perry-Group-2.svg
Gail Perry
2018-04-27 09:00:15
2023-07-17 02:17:58
Top 10 Tips to Make More Money, Have More Fun at Your Fundraising Event