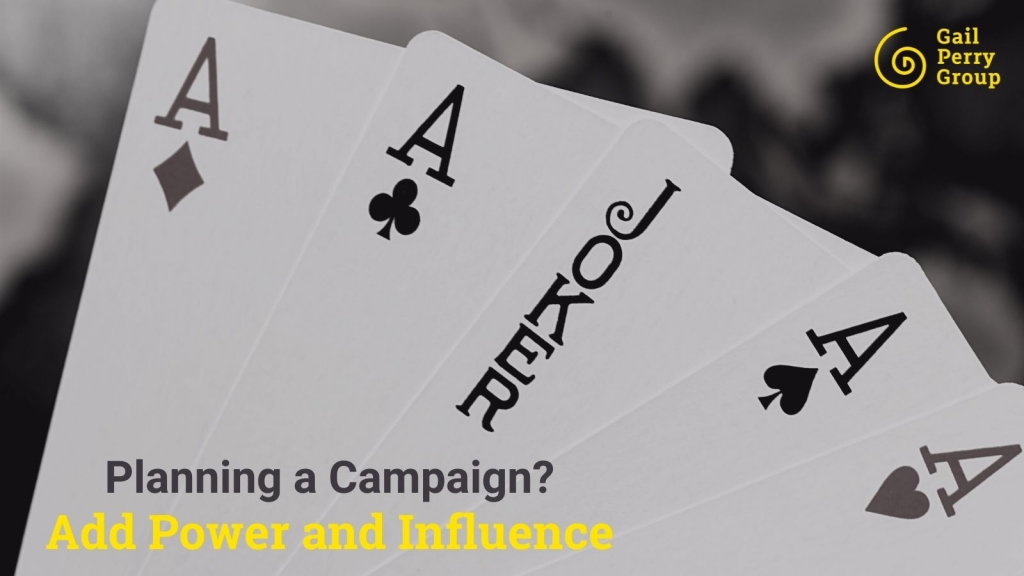 We were helping one of our clients work through a challenge yesterday.
Our client, a national organization, is planning a $300 million capital campaign. The problem is, the organization's board is not composed of "heavy hitters" so to speak, who hold power and influence.
The organization has a lot going for it. Its mission is solid and its impact is proven. But its leadership doesn't have the connections they need to raise hundreds of millions.
Our recommended solution: we are guiding them through a deliberate networking process to bring in individuals who have power, connections and influence with funders.
Do You Have Enough People of Power and Influence Standing Behind Your Institution?
Every successful capital campaign needs powerful individuals who add credibility to the campaign. Their most important function is to help open doors to important donors – which can significantly shorten the time it takes to close a major gift.
For example, some key individuals can make a phone call, and quickly give you an open door to an important funding source. Or you have may a specific need: with one email, a key leader can suddenly access the resources to make it happen.
What You Get: Instant Leverage
Early in the game, we advise our clients to identify significant leaders of influence in their sphere and pull them in closer. As we all know, one key, well-connected individual can often draw three powerful leaders in.
When they lend their authority and back your work, their own credibility increases the standing of your organization. It builds confidence in your mission.
It's like they are giving their seal of approval to your initiative. Again, they can help you dramatically shorten the time it takes to forge significant relationships with funding sources. You can raise serious money much faster.
What You Get: Shortened Timelines
When you have the benefit of the right door-opener, then you don't have to painstakingly build a trusting relationship from scratch with a donor. Instead, your "key influencer" can help you move right into a Gift Conversation with the donor. This saves you and your team so very much time and effort.
They add a backdrop of visibility and prominence so that doors to donors will fling open early in the game. Key funders will say, sure, I've heard about this and I'm happy to discuss your project with you.
In two of our capital campaigns, we've helped our clients network their way to a former governor of their state. Imagine how helpful a former governor could be to a campaign – he or she can be a key influencer of many companies, foundations, families, and even government funding sources. It's a win-win all around.
Planning a Capital Campaign? Stack the Deck with Power and Influence
This is one of our key campaign planning strategies that we incorporate in our campaign planning studies. Who are the leaders who can help your campaign the most?
We advise all our clients – early in the game – to set themselves up for success. Add the right well-connected, influential volunteer leaders as soon as possible. As we mentioned, they'll bolster the prominence and visibility of the pending campaign, and make things so much easier by offering access to major and lead donors.
The Right Timing Can Build Momentum
How, and in what order, do you enlist your key influencers? It's important to understand the whole landscape and lay out a careful sequence of priority steps.
Who is the first person you can enlist? If you can get a certain individual on board now, then who will they attract? What relationships can they leverage?
This is why the early campaign ramp up activities are absolutely critical. The right sequence of key people joining, one by one, to back your project can create that magic campaign ingredient we call momentum.
For example:
One wonderful individual joins on, and they say "have you talked to this person?"

You say, "I barely know them."

Then your key influencer says, "I can fix that."
You just moved from game space one to game space five.
Building Your Board Prior to a Major Campaign
If you are even thinking about a capital campaign in the next few years, you need to immediately start building connections with potential board members of influence and standing in your community.
Your board will play a key role in the campaign. While you are working to recruit top volunteer leaders for the campaign, your board can help create the confidence and momentum needed to help attract those special individuals.
For example, achieving 100% giving participation by the board early can send a strong message to potential leaders that your board and organization are committed to the success of the campaign.
One of our campaign clients did just this. When they went to recruit their campaign chair, they were able to use the board's early campaign commitment to successfully recruit their desired campaign chair.
It's never too early to stack your board with people who can not only make major campaign gifts, but also bring other donors with them.
Bottom Line: Who Do You Need to Add to Your Team to Increase Power and Influence?
Is it time for you to reestablish key relationships? Who are your former board members, key funders or supporters who might have drifted away?
Can you seek out advice visits early while your campaign is still an idea? Can you engage them early in campaign planning?
Remember, stacking your deck with people of power and influence can shorten your capital campaign timeline, help you secure lead gifts faster, and give your campaign prominence in your community. It's a smart strategy.
https://gailperrygroup.com/wp-content/uploads/2021/05/514-blog-post.jpg
788
940
Gail Perry
https://gailperrygroup.com/wp-content/uploads/2022/09/Gail-Perry-Group-2.svg
Gail Perry
2021-05-14 01:16:31
2023-03-01 14:30:55
Planning a Campaign? Add Power and Influence