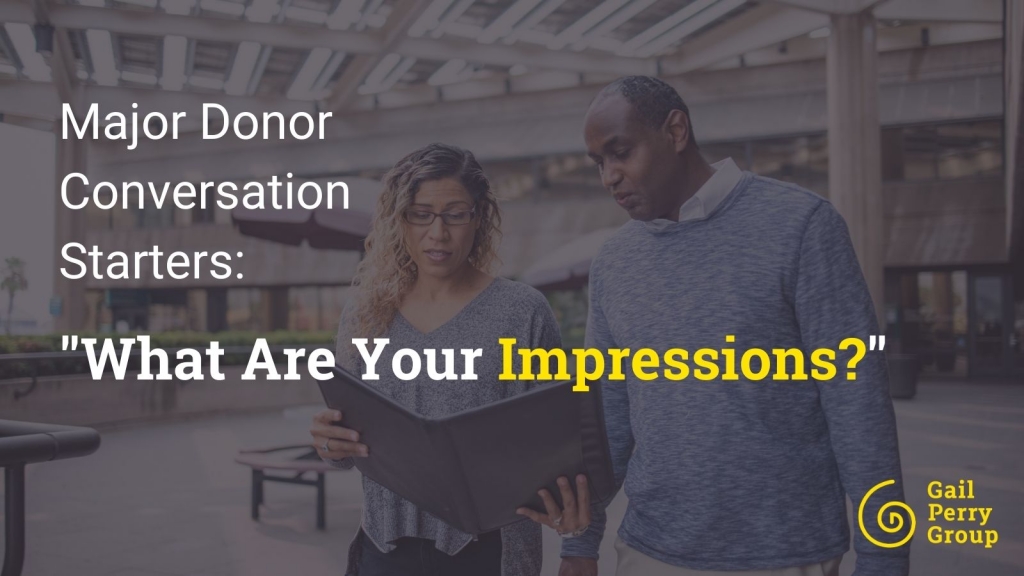 People often ask us: "What do I talk about when I meet with donors? How will I start a conversation? What questions should I ask?
We have a very simple approach to starting conversations with donors.
We like to probe, so we know immediately where the donor stands and what is on their mind. Our favorite "Golden Question" is:
"What are your impressions of . . . ?"
This open-ended question often brings forth interesting results. Not only that, we've raised lots of money by asking this question.
This phrase creates an easy, gentle opening to find out what's going on with your donor. It's completely donor-centered, and focused on them.
Moreover, this question helps you find out pretty immediately what your donor is thinking; about your presentation, your cause, your event, your plans, or even your organization's vision.
This question is a golden formula to help open your donor's heart to your cause.
Why?
Because it generates the donor's own thinking about your issue. For example, it encourages them to ponder your presentation and react to it.
Asking for their feedback and thinking helps them digest your material, and think more deeply about it. They are no longer passive in the conversation – instead, they are active participants.
Above all we want to know what is on THEIR mind, what they think and how they feel about it.
Your job is to ask, and then listen carefully.
Your donor is not going to get excited about your cause just by listening to you doing all the talking. Don't forget the fundraiser's Kiss of Death – talking too much!
Your wonderful, generous, well-meaning donor needs time to mull over what you've said. They need to "stew" in the urgent need or bold vision you've just presented.
It's certainly a much deeper conversation than if you had just presented, thanked them and left.
Get the donor talking to YOU – not the other way around.
Remember, it's always all about the donor. When we are in a face-to-face meeting, we often forget this. Too many nonprofit CEOs, fundraisers and even board members think they have to be great salespeople and make a great pitch.
That's not true.
What you need to do is simply focus on the donor – and listen to them. Your goal is to draw out the donor and get them engaged with you about your cause.
It's really amazing what you can find out – but you have to ask. And you won't do that if you're doing all the talking.
Examples – Put the Golden Question to use:
1. At the close of a visit with a donor: "What are your impressions?"
Once, we had an Advice Visit regarding a big capital campaign with a potential donor. At the end of our visit, we asked "What are your impressions of our ideas?"
He shared some deep reservations about our project.
Thankfully, we were able to quickly address the issues that were holding him back. He then moved forward to become a substantial donor, and it was a huge win for our campaign.
2. Cultivating a major prospect: "What are your impressions?"
Gail was once walking out of a facility tour with a major donor, who was a candidate for the leadership gift for our capital campaign. She asked him: What were your impressions of the tour?"
Well, after 5 minutes of conversation – he became so enthusiastic and engaged that he literally invited her to bring forward a $5ook proposal.
Now, that's cultivation.
3. After a pitch: "What are your impressions?"
We often make presentations to potential clients in order to help them stage successful capital campaigns or build profitable major gift programs.
We always ask, as we wrap up, about their impressions of our presentation. And we get terrific feedback regarding what they are thinking.
4. When we are training or presenting: "What are your impressions?"
In our Fired-Up Fundraising workshops with board members, we want to help them ponder and digest the material we are discussing.
So we model the Golden Question, frequently asking them "what are your impressions of these ideas?" It gets them to mull over and reflect on the discussion, and ultimately walk away with much more than if we had simply presented and left.
5. After a formal presentation: "What are your impressions?"
One of our clients, a Vice Chancellor at a major university, recently made a big presentation to the Board of Visitors. When she was finished she asked her boss, the Chancellor, about his reaction to her ideas.
She asked him, "What were your impressions of my presentation?" As a result, she received positive feedback from her boss.
Bottom Line: Ask "What Are Your Impressions?"
The Golden Question can give you wonderful information about your donors, colleagues, board members, even family. It really works in all settings to set you up for success in your relationships.
As always, it is a pleasure to share our weekly news and insights with you.
If your organization is planning a capital campaign or launching a major gifts program – we can help. We're with our clients every step of the way, inspiring their teams and board, building confidence, driving action and measuring success. Send an email to coaching@gailperry.com if you'd like to schedule a strategy or consulting call with us.
https://gailperrygroup.com/wp-content/uploads/2021/04/42-blog-post.jpg
788
940
Gail Perry
https://gailperrygroup.com/wp-content/uploads/2022/09/Gail-Perry-Group-2.svg
Gail Perry
2021-04-01 11:10:23
2023-07-17 02:08:45
Major Donor Conversation Starters: "What Are Your Impressions?"