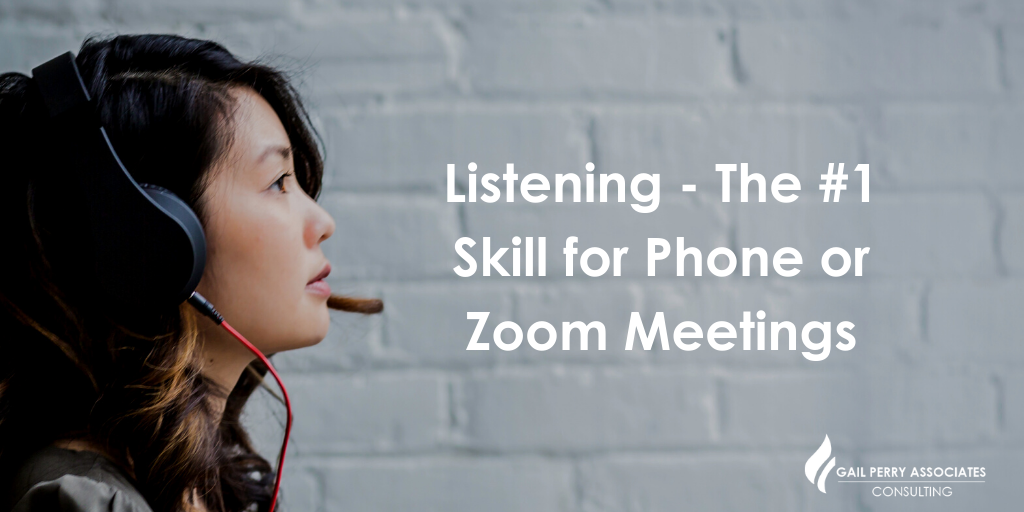 Everyone needs to sharpen their listening skills for fundraising in the new virtual environment.
Dealing with donors is more difficult these days. Many of us can't get in front of our donors – so we are on zoom or on the phone.
Everyone is asking us: How do we handle a virtual virtual visit? What do we say?
It can be tough. Just imagine: there you are, chatting with a donor on zoom or on the phone – hoping to build rapport.
You're trying to connect emotionally with the donor.
But underneath, you may be struggling with what to say.
And that's the problem.
Just remember this: It's more important to LISTEN than it is to speak.
You may know that Kathryn Gamble and I are teaching a new course on Raising Major Gifts in Virtual Times.
In our second module yesterday, we reminded over 200 participants to work on their listening skills.
When they are in a virtual meeting with a donor, their job is NOT to make a presentation.
Instead, their job is to bring the donor out.
This is a sea change in strategy.
In the past, too many people worried about what to say. They worried that the donor would ask a question they could not answer. They fretted that they'd run out of conversation topics.
Our advice is: turn around and head the other way. Stop talking!
You need to listen far, far more than speaking.
Consider this: What's your real goal in any donor conversation?
It's NOT to convince them of something. You are not trying impress them with your knowledge. And you certainly don't want to blather on and on, do you?
Your real goal in any donor visit is to find out as much as you can about your donor. There's so much you want to find out:
Why did they give?
What turns them on about your organization's work?
Why they are so generous?
What they are trying to accomplish with their philanthropy?
If you are doing the talking, then you are not discovering anything. You might as well turn in the towel right now.
You are doing donor reconnaissance anyway.
Your job is to hold yourself back. To ask questions. To pull out the donor's story.
How can you possibly ask for a gift if you don't understand your donor's timing, her motivations, her values, what she believes in?
No matter what, your ask will be very weak if you don't know these important factors that drive her giving decisions.
Stop talking: You're not trying to "sell" her anything.
Too many fundraisers think they need a presentation that will wow their donor.
Nothing could be more incorrect!
You want a two-way conversation. You want to hear about what's important to her.
Why is she interested in your cause?
What does she think your organization should be focusing on?
What does she think about this particular challenge you are facing?
Your donor doesn't want to listen to a presentation.
She's not interested in listening to you go on and on about how great your organization is and what exciting work you are doing.
Your donor's not really interested in listening to anyone. She actually expects to do the talking herself.
Why? Because she's a VIP. This lady is used to people seeking her advice, and hearing HER point of view.
She's used to people calling on her to pay homage.
Remember, nobody hardly listens anymore. It is a gift to someone to listen to them. You honor your donor by sitting at her feet, listening.
This is how a relationship is formed.
Listening skills are fundamental for virtual major gift fundraising.
We've been working hard on this with our Raise Major Gifts in Virtual Times participants. Everyone needs help with listening skills.
And it's such a difficult concept to master. Because too many of us default to talking.
BOTTOM LINE: Listening Skills for Virtual Visits
Take the easy way out with your donors by becoming an expert in listening. You'll learn so much more about your generous benefactors. And you'll raise much more money – even virtually!
https://gailperrygroup.com/wp-content/uploads/2020/07/Capture.png
839
840
Gail Perry
https://gailperrygroup.com/wp-content/uploads/2022/09/Gail-Perry-Group-2.svg
Gail Perry
2020-07-17 09:00:45
2023-09-16 11:56:28
Listening – The #1 Skill for Virtual Phone or Zoom Meetings