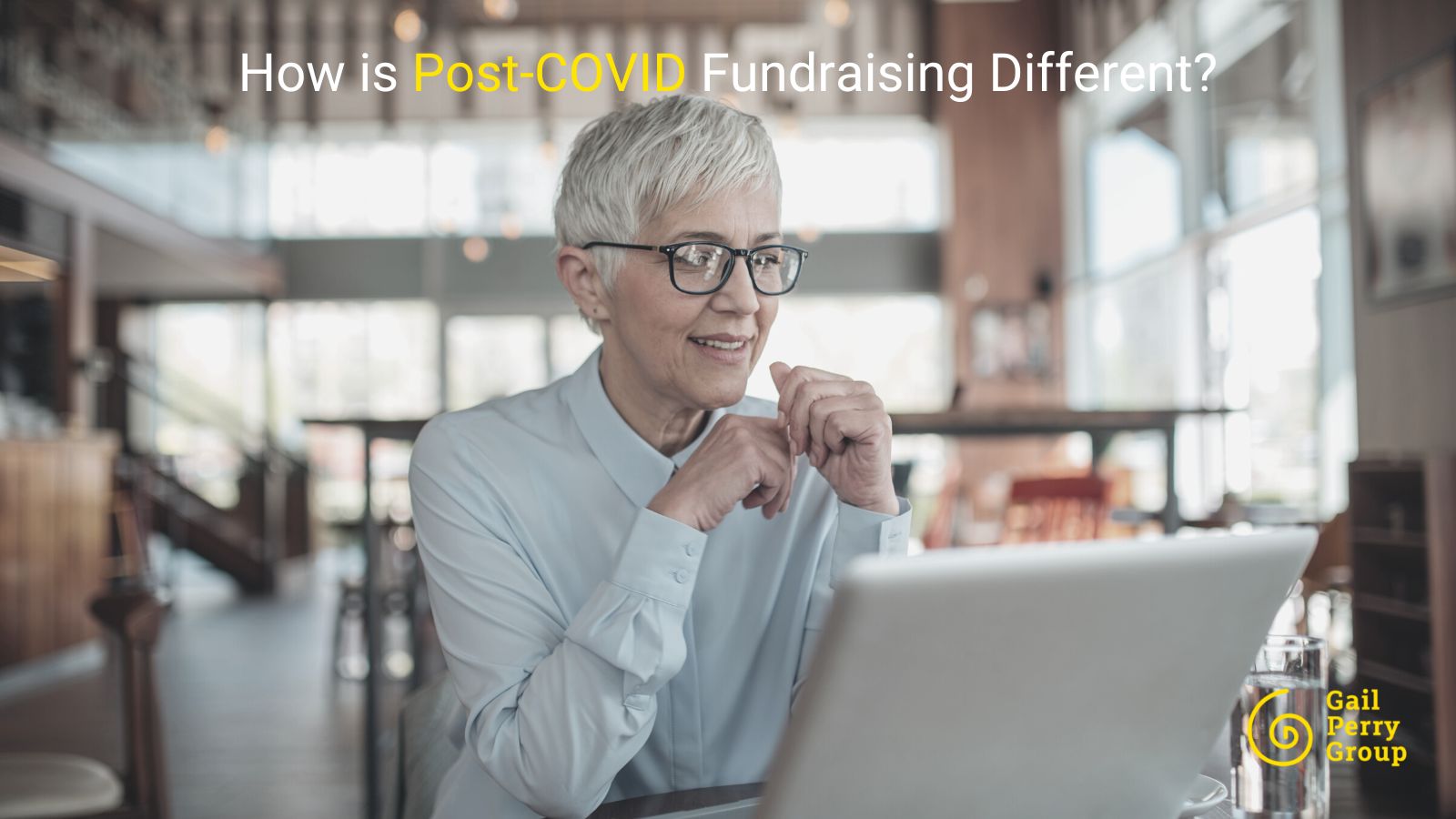 It was just over two years ago that our fundraising world seemed to come to a roaring halt with the onset of the pandemic.  No one was prepared.  The questions and SOS calls poured in.
How do you raise major gifts without donor visits?

Should we pause our campaign?

What about our events?  How do we make up those losses?
Fast forward to today. 
We learned a lot in those early pandemic days.  One important key learning is that the nonprofit community is resilient.  
We mastered zoom, picked up the phone, and became more authentic and transparent in our communication with donors.  
So, what did we learn from the past two-plus years that is useful to the post-Covid fundraising era?
We're hosting a free webinar next week that you won't want to miss. "How to Jumpstart Your Capital Campaign and Achieve Early Success Today."

We will share how the capital campaigns we're guiding now – in the post-COVID fundraising era, are triggering mega donors to unlock early gifts. Find out more here.
Post-Covid Fundraising Gives Us More Options
The new hybrid approach – in-person and virtual – is here to stay.  Donors are equally comfortable with the virtual environment.  
This gives us options for meeting with donors that create efficiencies and positive outcomes.  
Gone are the days when your donor or board member who spends summers at the coast is unavailable for months.  Zoom provides you and them with the option to stay in touch and keep moving the relationship forward.  
The bottom line is we have more options for meeting with our donors.  And donors like having these options that allow them to meet with their favorite nonprofit from the comfort of their favorite armchair. 
Post-Covid Fundraising – Donors' Philanthropic Priorities Have Shifted
Donors responded to needs made more urgent by the pandemic such as food insecurity, affordable housing, and social justice issues.  Many nonprofits experienced record fundraising results during the second half of 2020 and 2021.  
Donors who were at home seeing long food lines and other critical needs reported on news outlets responded with contributions.  Their motivation – to help others in need.
The challenge for these organizations was – could they hang on to these donors?  How much to invest in retention?  Would these donors shift back to their previous philanthropic priorities or not?
Fast forward to today and we are seeing donor retention numbers down.  People are going back to a more pre-pandemic life.  Donors are focusing on organizations they have traditionally supported.  
One takeaway from this experience is that each organization must understand what motivates their specific donors to give.
Donors who understand the need and how your organization is impacting that need will give to your organization.  That was clearly demonstrated during the pandemic when donors were seeing needs demonstrated on nightly news programs.  
This means you should invest in good donor communications and donor loyalty strategies.  Are you telling the story of your organizations impact in clear and understandable ways?  Are you helping your donors feel connected to the work? 
Major Donor Fundraising Has Changed
Entertaining donors has never been particularly effective in moving donors to make a gift commitment.  During the pandemic, clearly, there was no entertaining at all! 
Many of our regular fundraising tools such as coffees, lunches, and other entertainments, were simply not possible.
Frankly, we thought this downturn in socializing with donors was an opportunity – a silver lining of sorts. 
Direct Conversations with Donors.
As we shifted to the new pandemic environment, we begin teaching our clients a new approach – how to have a Direct Conversation with a donor.   
To move the donor relationship forward to a gift commitment requires:
understanding what motivates the donor

what they value

 

what is important to them is how they seek to help others through their philanthropy
Direct Conversations focused directly on the donor and learning more about them.  The beauty of Direct Conversation is that you can have it in person, on the phone, or on Zoom.  
You can have a Direct Conversation anytime and anywhere.
No longer tied to face-to-face coffees and lunches, we have the freedom to get to the point quickly and support the donor's desire to help.  The donor is happier, and we are more successful with our major gift fundraising.
Feasibly Studies for Capital Campaigns Have Changed
We experienced very successful campaign planning and campaign execution during the pandemic.  As we move into a post-pandemic era, the changes described above are impacting feasibility studies and campaigns as well.
The virtual options are here to stay in post-COVID fundraising.
We see the majority of feasibility study interview participants opting for a Zoom meeting over in-person.  The ease of scheduling and accessibility makes it easier for your donor to say yes to an interview.  
And the donors are perfectly willing to have a frank discussion with us over zoom. Nothing has changed in the nature of the feasibility study interview.
We will likely be unpacking our learnings from the pandemic for some time.  And we will likely see further changes as we learn more.  
Bottom Line on Post-COVID Fundraising – change can be a good thing.  
Adapting to new ways of doing things can result in better fundraising results, improved donor relationships, and successful campaigns.
Don't forget our open free webinar next week – "How to Jumpstart Your Capital Campaign and Achieve Early Success Today."
We will share how the capital campaigns we're guiding now are triggering mega-donors to unlock early gifts – especially in the post-COVID era.
We look forward to seeing you!
As always, it is a pleasure to share our weekly insights with you as we cover important fundraising strategies.  If your organization is planning a capital campaign or expanding your major gifts program – we can help. Send an email to coaching@gailperry.com if you'd like to schedule a free strategy call with us.