Porch Party Power: Feedback and Key Takeaways from the Porch Party Webinar.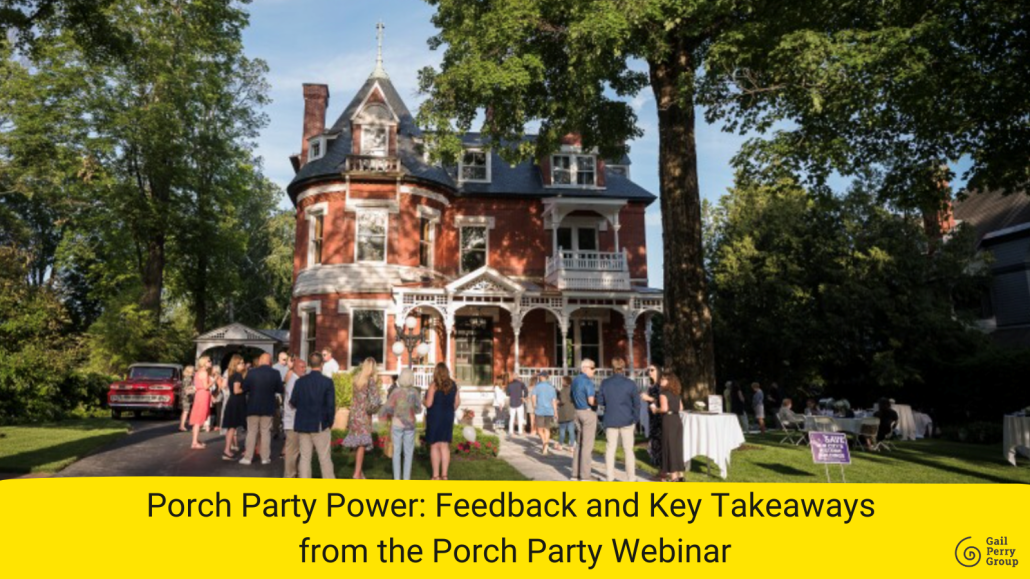 There was lots of enthusiasm at our Porch Party webinar yesterday. Thanks to all our readers who took the time out of their busy schedules to join and get inspired.
Beth Ann Locke and I shared our formula for an easy friendmaking social event designed to open doors to key donors and create new friends and supporters for your cause.
At the Porch Party webinar, we discussed the "why" of these types of parties and how they can positively impact donor engagement and retention. And how Porch Parties and small, intimate events can boost relationships and fundraising.
But don't take it from me – hear what the attendees shared in yesterday's lively chat stream!
Porch Party Webinar: Highlights and Key Takeaways!
From Denise –
"Love the 'Make Friends First' motto of the Porch Party Movement!"

From Natalie –
"Loving the idea of a donor appreciation gathering. And all the other reasons for staging a Porch Party."
Why have a Porch Party social event?
From Brittany (a board member) –
"Love that we are Friendraising NOT Fundraising!"
From Elika –
"I love being reminded that it doesn't need to be a direct ask and we can really build the relationships and do more 'showing' not 'telling.'"

From Elizabeth –
"I really want to do these! Our galas take so much energy, time, and effort. These feel more personal!"

From Ginny –
"This is DOABLE. Not too complicated, compared to other events."
Comments regarding the Role of Board Members
From Laura –
"Love this as a way to engage my board members to help!"

From Christian –
I love all of the ideas on utilizing Board Members – and I definitely relate to them tending to be more internally focused on the organization. I'm excited to think through how we can remind them of their external role as ambassadors!"
From Tina –
"Love assigning the board members to greet specific people at the event."
From Lisa (a board member)–
"This Board Member loves putting Board Members as hosts and at the FRONT of the event… if the Board doesn't best represent the entity…. who does"??"
From Jennifer –
"I am so excited to share this information with my E.D. and the Board!"
Our Best Practices for Inviting

From Theresa –
"Great advice: Invite x3 the number you hope will attend."

From Valencia –
"Love the name tags tip! It encourages everyone to talk to each other."

We Noted the Program Must Be Short

From Kristin –
"Loved, keep it short, no longer than 12-15 minutes."
From Valencia –
"Love that. Focus on the why this work is important instead of what we do."

From Lorie –
"My takeaway is – don't go too long on the presentation and make it exciting."

From Deborah –
"Prepare the host and use an emcee if there's a talker who tends to talk too long."

From Debbie –
"Love calling it 'Remarks' instead of a 'Program'."
Our Tips for Working the Room Were Popular
From Jasmine –
"I loved the advice on how to work the room!"

From Laura –
"Equip introvert hosts with helpful questions to ask as they greet guests."

From Heather –
"This really landed for me: The attitude of your host can make or break your
event."
Advice on Following Up After the Event
From Ashleigh –
"I like the idea of "triaging" the guest list and following up with the top people first."

From Megan –
"Love the ideas of a Follow Up Card with a QR Code!"

Some final comments:
From Paula –
"Thanks for the advice on how to handle the expenses of the event!
From Elsa
"Thank you, ladies, for this very informative and engaging webinar. I'm a newbie at fundraising so I really like the friend-raising approach.

From Lisa
"This was incredibly helpful and insightful. Thank you."
From Heather –
"My favorite is the reminder to include JOY in our work." and "Perfect, and thank you very much for this opportunity to learn a new twist on donor engagement.
Bottom Line: Takeaways from the Porch Party Webinar.
Creating small, intimate events is a superb way to reach new friends, share the impact of your cause, and engage supporters.
Missed the live webinar?
No problem – sign up for the Porch Party Newsletter by Monday and get the Porch Party Webinar "after party" right into your inbox on Tuesday!
Then stay tuned for more advice each week to ensure you the event no one will want to miss!
https://gailperrygroup.com/wp-content/uploads/2023/06/B-Porch-Party-Power-Feedback-and-Key-Takeaways-from-the-Porch-Party-Webinar-e1686834964509.png
900
1600
Gail Perry
https://gailperrygroup.com/wp-content/uploads/2022/09/Gail-Perry-Group-2.svg
Gail Perry
2023-06-08 20:48:29
2023-06-15 09:26:15
Porch Party Power: Feedback and Key Takeaways from the Porch Party Webinar.