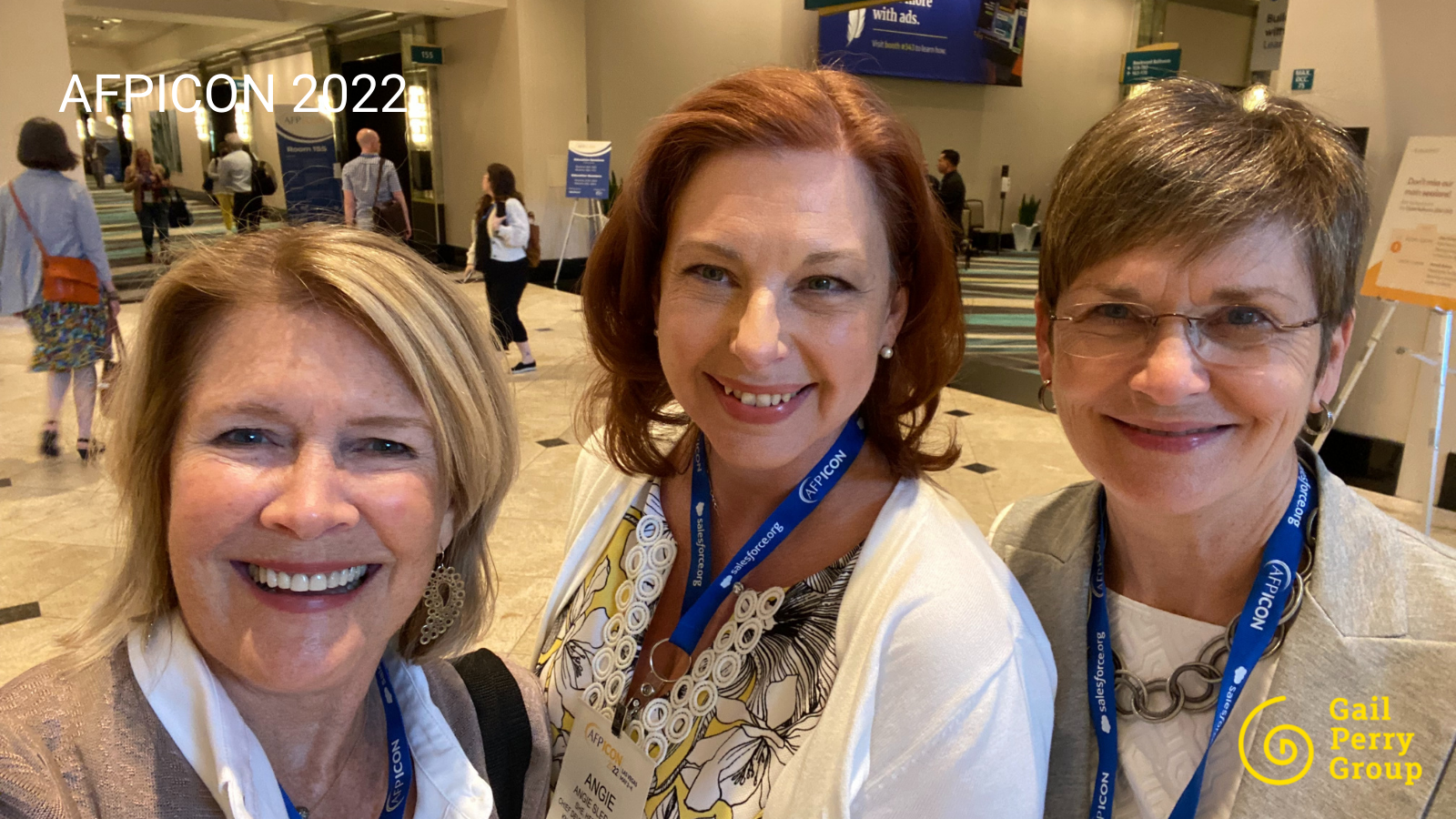 Today we are sharing some of our top takeaways from AFP's big international fundraising conference known as ICON. 
We enjoyed hearing from the smartest people in our sector who shared their best thinking – everything from big data to boards, to the major gift ask, to the latest fundraising trends. 
Beth Ann Locke, Kathryn Gamble, and I all put our heads together to create this shortlist for you. 
    Big Tech Growth for the Nonprofit Sector is Accelerating
We were impressed with the explosion of sophisticated AI (Artificial Intelligence) tech support for fundraising. 
One of the big questions we all discussed regarding AI was regarding privacy and ethical use of information.  We are all asking, how do nonprofits harness big tech for good?  Is the sector prepared?  
Are nonprofits making the right investments – not just in purchasing software, services, and more – but also investing in training, support, and security?
This means that not only the nonprofit staff must gain technological acumen, but the governing boards must also be educated about the types of policies and plans that need to be in place to ameliorate risk for the organizations they govern.  
These are BIG issues and AFP has a role in leading these conversations.
    Ditch the Development Committee of Your Board!
We are seeing fundraisers express more frustration than ever with their volunteer board members. 
In one session, Kathryn mentioned that we should close down the Development Committee on every board. 
It really hit a nerve!  It was like opening a floodgate – the frustrations poured forth.  Both executive directors and fundraisers spoke to the challenges and difficulty of getting anything productive from having a development committee of the board.  
The big question here is what is the role of the board in revenue generation?  What is the role of the development officer in working with the board?  
You Really Can Listen Your Way to the Gift
"When you meet with a donor, you're not there to sell the gift, you're there to listen to the donor and hear their story and FIND the gift." 
Selling doesn't work for today's donors. But if you listen to your donor's story, you'll find out exactly what she wants to accomplish. And you'll find the gift. 
     Krishan Mehta, AVP for Engagement, Toronto Metropolitan University. 
Donors Outside the US and Canada Require Different Approaches
If you're a fundraiser working with donors/ prospects from differing cultural backgrounds, you need to understand:
The culture of philanthropy is expressed differently than in the US and Canada

First-generation immigrants are more likely to be giving back (donations and otherwise) to their home country.

if you are working with donors from South Asia (or really many countries from outside the US) WhatsApp is a fantastic platform for engagement. There is no limit to the size of videos and photos, so you can set up a chain with your committed donors and quickly share impact reports, pics from events, and other news. Great for thanking, asking, and inviting!
      Panel Presentation: "From New Delhi to New York, from Mumbai to Montreal: Indian Immigrants and Philanthropy"
Put Board Members' "Why" On Your Website
Rather than just have board member photos bios on your website, have their photo and immediately underneath their "Why" of why they are on the board and working to solve these problems. Then have a very succinct bio."
     Sam Laprade: "What Every Board Member Wants Every Fundraiser to Know" 
Use Data Analytics to Drill Down and Focus on the Right Donors
We love data! Data analytics will help you save time and raise more money. 
Looking at your donors through the lens of data helps in three ways: 
   

Find the right donors 

   

Find new hidden donors 

   

Set priorities based on your most likely prospects 
      Clay Buck, CFRE and Alex Quinn: "Donors ARE Data: Creating a Donor-Centered Fundraising Operation"  
  "Donor Communications is About Engaging and Building Relationships – Not Counting 'Likes'." 
If you are able to connect your mailing lists with the donor list, you'll be able to offer a more tailored "newsletter" experience.
So, think about segmenting your newsletters – with similar content but slightly different messaging for annual donors, mid-level and for your major donors.
      Ephraim Gopin: "Out of Oz: Which Online Data Helps to Build Relationships…and Which to Simply Stop Tracking" 
    Women Are More Likely to Make a Bequest than Men
Married couples give more than single people. Even more, marriage has a positive effect on men's giving. 
Overall, women also give more than men and give more frequently than men. The newest research shows that 61% of couples make giving decisions together – so be sure to include spouses when you make a donor visit!
Jacqueline Ackerman, MA, Jeannie Sager, MA, Women's Philanthropy Institute at the Indiana University Lilly Family School of Philanthropy. 
As always, it is a pleasure to share our weekly insights with you as we cover important fundraising strategies. 
If your organization is planning a capital campaign or expanding your major gifts program – we can help. Send an email to coaching@gailperry.com if you'd like to schedule a free strategy call with us.