Major Gift Success Only Happens With These Two Systems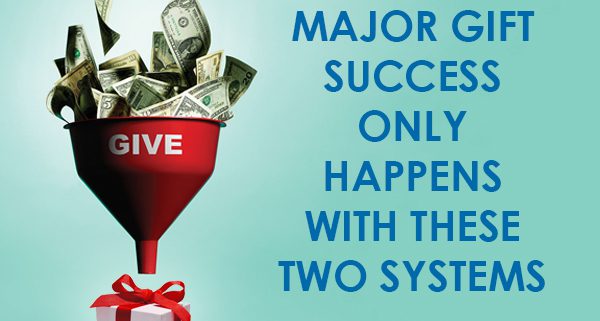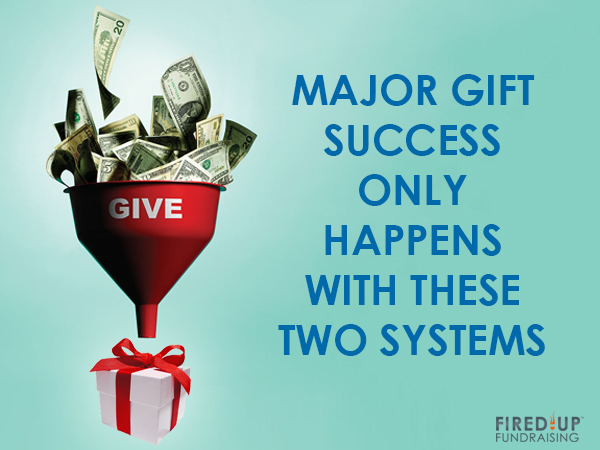 Is everyone in your organization focusing on major gifts success?
I hope you are!
Because if you want to be successful, there are the two systems you must, must have.
Just about every organization that achieves major gifts success uses these two tools.
These two tools help you organize and set your priorities. Without these, you are lost – seriously lost:
1. A Major Gift Priority Prospect List:
This system maintains your master list of the wonderful prospects you have for major gifts.
Listed here are the people/foundations/businesses where you will focus your time and attention.
A rating system helps you evaluate and manage your prospects on the list.
2. A Monthly Strategy Meeting:
This system is a set, pre-planned monthly meeting to review your Major Gift Prospect List.
You'll gather with colleagues or volunteers to evaluate where your prospects stand, discuss new prospects, and set next steps and "moves."
Major Gifts Success: WHY Do You Need a Priority Prospect List?
Let's see – let me count the ways!
Your prospect list is your chief organizing tool for everything you do.
And without this essential chart – you, my friend, will probably become lost. Quickly even.
It helps you set priorities for your time.
Your prospect list is the one place where you can see all your potential donors.
Because here, right in black in white, is your assessment of their potential.
It helps you make decisions about who to focus on when.
It tells you how much money is really in play.
I like to know what my giving pipeline looks like.
Your pipeline is an essential tool for measuring your fundraising potential. It's telling you what potential gifts from lovely donor prospects might be out there.
You just can't do without it if you want major gift success.
It takes the fuzziness out of the major gift fundraising.
Too often, board members, colleagues and CEO's don't understand what's really involved in major gift fundraising.
But the Priority Prospect List is something that everyone can understand.
You have a chart that tells everyone who, what, how much and hopefully when.
It shows your leaders specifically who is being approached and what their hoped-for potential might be.
It's your game plan.
Your Priority Prospect List lays out – in black and white, what you have to work with.
When you have an up-do-date Prospect List, you have a clear road map for the next 6-9 months.
This list is your entire upcoming body of work.
What potential! What wonderful, lovely people to get to know!
You can get excited about the possibilities there, right before your eyes.
Let's all sing a Love Song to our Major Gift Prospect Lists!
Creating Your Priority Prospect List for Major Gifts Success
Here are the fields you need on your Prospect List chart:
Prospect name,

Giving history,

Relationship with your organization (linkage),

Their giving capacity (ability),

Their level of interest in your organization (interest)

A large space for comments and notes
Linkage, Ability and Interest are usually referred to as "LAI" by many fundraising shops.
These codes help describe your potential donor's relationship to your nonprofit. This is how you evaluate your prospects!
Let's talk about these ratings:
Linkage:
How is your prospect is related to your organization?
What's her connection?

Is she a former board member for example?

A volunteer?

A friend of a board member, perhaps?

Has she attended an event recently?

Was she a large donor in the past?
We like to know the Linkage because it gives us information about how to reach your prospect.
Are they accessible to us or are they a long shot, out of reach?
Ability:
Of course this a hugely important indicator.
Because we always want to have an idea about their ability to give.
We like to base the rating for "ability" on what their actual giving capacity might be.
Not necessarily what they might give to our project or cause.
Interest:
Can you tell how interested your prospect is in your organization?
Are they passionate, or are they lukewarm?
If they have been involved in the past, then they are at least warmed up.
And if they are not particularly interested, it will take serious time to try to develop a future major gift.
How do you decide on a prospect's ratings?
We hear this question often.
How do you really evaluate your prospect's level of interest, giving capacity and/or their relationship to your organization?
Well, this is where reconnaissance comes in! That's what prospect research is all about.
Use your wealth screening data. What does it say about their capacity?
Look around, and ask around. What nonprofits they are giving to?
Who do we know who knows them? How can we reach them?
You need to constantly evaluate them for their giving ability and their interest level.
BOTTOM LINE for Major Gifts Success:
If you want to raise major gifts, start by creating and refining your Priority Prospect List.
https://gailperrygroup.com/wp-content/uploads/2016/11/11-4-16-Image-Feature.jpg
450
600
Gail Perry
https://gailperrygroup.com/wp-content/uploads/2022/09/Gail-Perry-Group-2.svg
Gail Perry
2016-11-04 07:39:28
2023-07-11 09:40:30
Major Gift Success Only Happens With These Two Systems