How to Engage Board Members in Major Gift Fundraising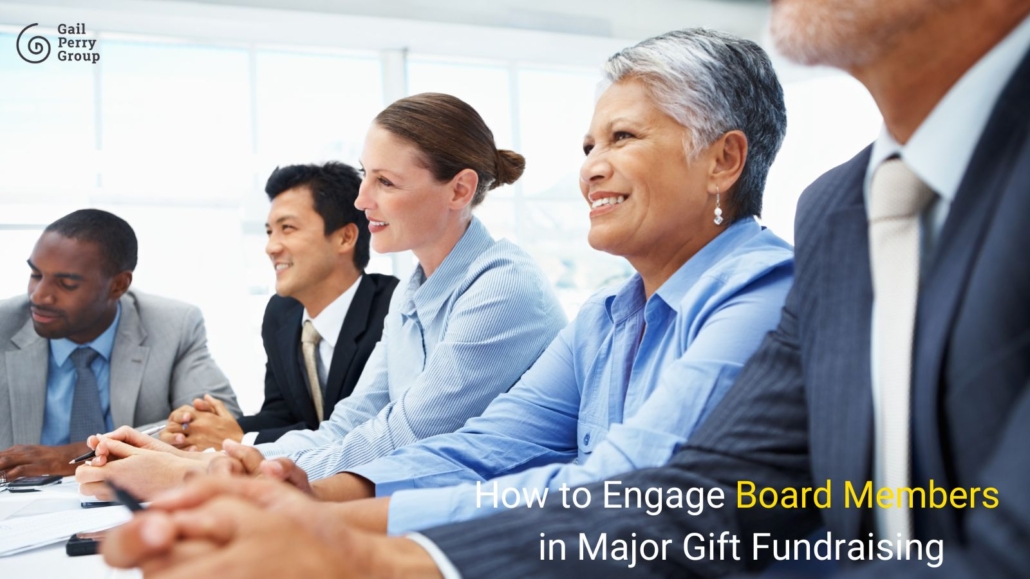 There are so many ways we can engage board members in major gift fundraising.
The challenge is, exactly, deciding the best roles for them to play. Where, within your fundraising program, can they lend their weight and help the most?
Board members, being the highest authorities of your organization, can add clout to all aspects of your fundraising program. We find that donors feel honored when a board member calls or emails to thank them. And, donors are often more willing to respond when a board member reaches out in any way.
In many cases, board members can be very helpful with major donors, as long as they understand our approach and don't try to rush the ask.
Challenges with board members.
Unfortunately, many board members shy away from fundraising, especially with major donors.
It's because they tend to be quite nervous, or even terrified, about "asking." Just ask them how they feel about fundraising, and they will tell you! "Anything but fundraising" they will say.
Take heart – there are many roles board members can play to support fundraising where they feel comfortable. Follow these proven steps and you just may see new energy and enthusiasm for fundraising – we promise!
Most of all: educate your board on the major gift fundraising philosophy and approach.
We find that when you can educate board members about how major gift fundraising really works, then often they are happy to help.
Moreover, we also find that most board members are smart people and typically are quite interested to learn the more sophisticated high-dollar fundraising approaches. So, if you have board members who are open, and interested in learning, then you have something to work with.
We think board members can shine when they host no-ask porch parties or door-opener events. In addition, they are wonderful when it comes to stewarding and thanking major donors.
Remember, the first gift from a major donor is probably not the largest. When board members step in to thank a major donor for their partnership, they make the donor feel important and honored, and they set the stage for a long, productive relationship with the donor.
In our Major Gifts Intensive next year, we'll be doing a special workshop to educate and engage board members in the major gift process, to help them understand our strategy, and teach them the high-level skills they need to help appropriately.
How to Engage Board Members in Major Gift Fundraising
First of all, you have to acknowledge some realities about how many board members feel and where they are coming from. If you can introduce them to fundraising projects while also acknowledging how they feel about it all, then you'll be more successful. And everyone will be happier.
1. Yes, board members are often reluctant to help in fundraising.
Why are they so reluctant? It's because they don't understand the process.
Board members often make up myths that fundraising is about selling and being pushy. As a result, they back away from fundraising because they are afraid they'll be asked to "hit up" their friends.
Why not acknowledge reality, and understand their very real feelings and attitudes? It's all ok – it's just human nature. No one wants to take advantage of a friend's relationship.
Just show board members that it is not all about the money – instead it's all about the donor's excitement and commitment to your work.
Takeaway: Be realistic. Acknowledge their feelings, and meet them where they are.
2. Many board members think that major gift fundraising equals "asking for money."
They think of fundraising as a transaction. Like selling something. This is a huge issue, particularly when you want to engage your board members in more delicate relationship-oriented major gift fundraising.
Above all, you must educate them about the slow process for major gifts, and how our approach is never, ever transactional.
You can educate your board members to understand that our process with major donors is focused on developing an overall happy relationship – NOT on the ask.
Takeaway: If you want to engage board members in fundraising for major gifts, don't ask them to solicit – quite yet!
3. Could this be an issue? Board members could be disengaged and a bit bored in general.
We say unequivocally, that if your board is generally feeling BORED, you're not going to have any enthusiasm or energy to work with in the fundraising arena.
One step further – if you have boring board meetings, then you'll have bored board members.
If you want to engage your board in fundraising, you have to start by giving them a terrific experience as board members. They will reward you by getting more involved and working where you need them. And everyone will be happier!
Takeaway: Give board members an interesting experience of simply serving on the board.
4. Most board members don't understand how major gift fundraising works.
As we mentioned above, most board members don't understand that major gift fundraising is a long-term process and that there are many steps in cultivating a donor's interest in your cause.
They don't know that soliciting is only one small moment in a long cycle of cultivation and stewardship. What's more, they are usually not familiar with our data, research, and proven methodologies.
Your board members are smart people. You'll probably find that they are actually interested to learn new ideas.
Takeaway: If you want to engage board members in fundraising, give them training and education in how fundraising really works.
5. Many board members think that fundraising is not fun.
Most of all, many board volunteers who are inexperienced in fundraising back off because they think it's distasteful.
But those of us who are experienced major gift fundraisers know that fundraising is full of enjoyable social occasions. And having thoughtful talks with donors one-on-one is fun too!
Board members can get involved in the other parts of the major gift fundraising cycle – identifying donors, and hosting donor tours, coffees, and cultivation events.
Give them positive social experiences with donors. If you are heavy-handed about all this, they'll probably run for the door! :)
Takeaway: If you want to engage board members in major gift fundraising – you need to lighten up. Make it easy and enjoyable for them.
Bottom Line: Want to engage board members in major gift fundraising?
Bring them to our Major Gifts Intensive coaching program – and they will start losing their fear – and many of them will find ways to help out.
They'll end up helping fundraising in all sorts of ways – finding new major gift prospects, hosting door opener events, hosting screening sessions, and volunteering to help make new contacts.
With that kind of help, you can change the world!
As always, it is a pleasure to share our weekly insights with you as we cover essential fundraising strategies. If your organization is planning a capital campaign or expanding your major gifts program – we can help. Email coaching@gailperry.com if you'd like to schedule a free strategy call with us.
https://gailperrygroup.com/wp-content/uploads/2022/12/Untitled-design-2.jpg
900
1600
Jenn Shefcik
https://gailperrygroup.com/wp-content/uploads/2022/09/Gail-Perry-Group-2.svg
Jenn Shefcik
2022-12-08 20:33:42
2023-02-14 15:58:47
How to Engage Board Members in Major Gift Fundraising