The New Paradigm: From "Fundraising" to "Philanthropy"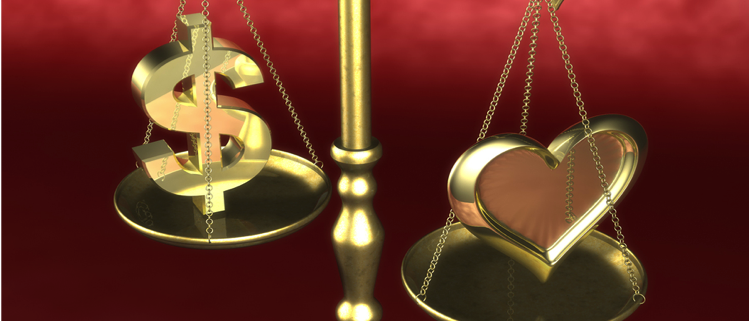 There's a new way of thinking coming along – one that is shaping the future of fundraising.
It's a move AWAY from the narrow idea of simple "fundraising" that focuses on "money."
It's a move TOWARD a much broader, more holistic notion of "philanthropy."
It's a special land. It's where fundraising is valued, considered an important part of an organization's mission.
It's where donors are engaged and honored as true partners in the organization's work.
It's really all about philanthropy.
Check out this important new report, "Beyond Fundraising: What Does It Mean to Build a Culture of Philanthropy?" recently issued by the Evelyn and Walter Haas, Jr. Fund.
It starts where the widely discussed "Underdeveloped" report left off.
If you remember — "Underdeveloped" hit the sector and created an explosion a few years ago. (My take here.)
The "Beyond Fundraising" report makes it plain and simple.
It calls for a fundamental change in how nonprofits approach fundraising. That is, if you really want to be successful.
Cynthia Gibson, author of the Hass, Jr. report, says that simply adopting new fundraising tools and techniques may not be enough.
She says it's really the lack of a culture of philanthropy that is holding nonprofits back from fundraising success.
It's when organizations cling to short-term thinking. Where they view money as "dirty." Where fundraising has a secondary status inside the organization.
The old attitudes about transactional fundraising are dying.
The old attitudes about fundraising as a transaction (hope this one is long gone!) are no longer applicable to today's world.
21st century organizations are taking the broader view. They want to make the largest impact, create true social change, and solve huge problems.
To do that, they realize they need deeply engaged, active supporters who will take action – and give money.
Engaged supporters will create that magic holy grail for every nonprofit –a sustainable funding base.
They will fund the organization's work over and over, because they feel very close to the cause.
Tragic loss of our donors
And this brings us to the issue of donor retention – which is the tragic, rapid loss of donors to our organizations.
And why do donors leave? Because we don't care enough to give them great post-gift experiences and customer service.
And why do we forget the post-gift relationship?
Because our mindset is still focused on the old way of doing things.
It's all about the money, "get the money and run," and my least favorite: "donors as ATM's."
Here's the rub:
Many fundraising staffers understand that the paradigm is changing.
Staffers know that when everyone in the organization embraces fundraising and plays a supportive role, then fundraising flourishes and money flows in from happy supporters.
The old way of thinking does not build sustainable funding.
It makes fundraising so much more difficult!
But your board and your CEO may still hold on to old attitudes.
I bet many of them still embrace a narrow of fundraising – it's all about "money."
Some boards and CEO's still view fundraising as "dirty" or as a necessary evil. It goes without saying that these attitudes impede and even BLOCK good fundraising.
When board members don't understand fundraising –
how its done,
what the best practices are,
what attitudes and values create fundraising success,
then they aren't able to make the best decisions.
It's important that your board members get educated on 21st Century fundraising. (that's one of my specialities!)
Sometimes organizational leaders don't realize that donors are expecting more and wanting more from organizations they support.
What many board members and CEO's don't realize:
that donors' expectations of customer service and effective communications are based in the amazing customer experience they get from private sector businesses like Amazon.
that relegating fundraising to the far corners of the organization – isolated off in a silo somewhere – will not create success.
that rapidly shifting cultural trends are forcing nonprofits to reexamine their old ways of raising money.
The New Paradigm and "Philanthropy"- Your Takeaway
Let's educate everyone in the organization – from the board members – to the CEO – to the fundraising staff – to the important back office administrative staffers – on the new paradigm.
Let's turn "fundraising" into a deeper, more all-encompassing idea -"philanthropy."
Let's bring fundraising into the center of the organization. Where it is honored and funded as a vital part of the mission.
Let's ask everyone in the organization to take on a role that supports fundraising and honors donors. Every single person in the organization can help acknowledge donors as a friendly ambassador.
BOTTOM LINE
Where does YOUR organization stand in the shift from "fundraising" to "philanthropy?"
What do YOU think of the new Haas, Jr. report?
Leave a comment and let me know!
https://gailperrygroup.com/wp-content/uploads/2016/04/scales-w-love-and-.png
681
750
Gail Perry
https://gailperrygroup.com/wp-content/uploads/2022/09/Gail-Perry-Group-2.svg
Gail Perry
2016-04-08 10:19:45
2023-07-11 10:52:17
The New Paradigm: From "Fundraising" to "Philanthropy"