The Pandemic and Fundraising: What to Expect and How to Prepare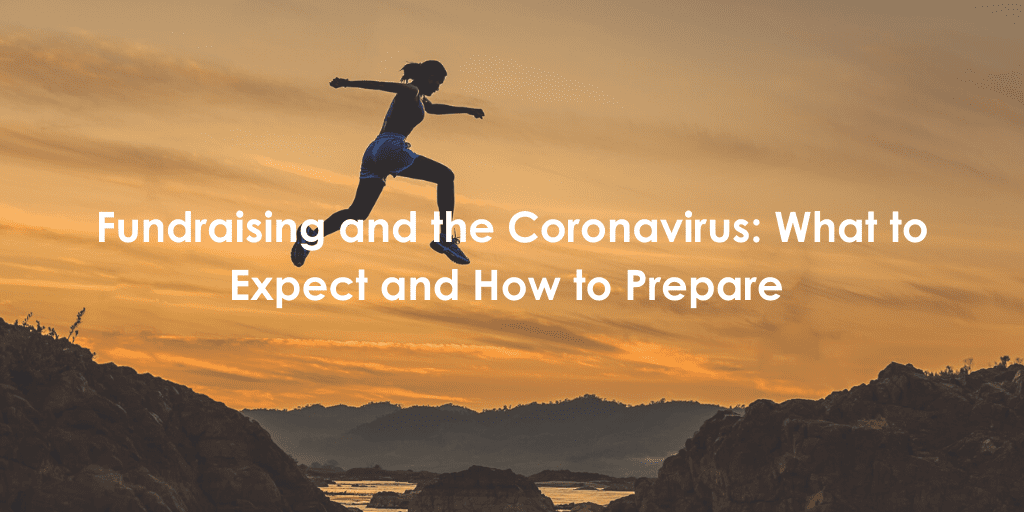 Note, this article was written in March 2020!
One of the major issues on everyone's mind today is the coronavirus outbreak. Many people are worried and uncertain about what to expect.
Smart nonprofits are concerned how all this uncertainty will impact fundraising. Nervous donors are looking at the stock market. Many people are feeling anxious.
Today, I am sharing a guide for what to do and say right now. You're getting questions from board members, and your donors may be a bit uneasy. You may be wondering whether to cancel events.
Here's what to expect from major donors and capital campaign prospects:
Expect Some Major Donors to Hold Off for Now.
The feedback I'm getting is that many major donors seem to be hedging their bets.
It's hard to believe, but things changed quickly from last week to this week:
I know of one fundraiser who was able to close a $100k gift last Monday from a cheerful, generous donor. But the very next day, when she approached another donor, that person said,
"Not now, ask me later."
What had happened? The US stock market took a deep dive. And the coronavirus outbreak started to shake economic confidence.
One of our clients had a similar experience:
Last week, we helped them approach a donor for a lead gift for their capital campaign. The donor was very engaged and quite well-qualified. It could have been the perfect moment.  But the donor said,
"You have our support, but now is not a good time. "
When the stock market is volatile, many major donors tend to hold off. We saw that clearly in the last recession.
The coronavirus outbreak adds even more uncertainty to the mix. Don't be surprised when your major donors are backing off, and let's hope it is temporary! Be easy with them, as of course, you should.
Many Major Donors Do Give in Times of Uncertainty.
Take heart. All may not be lost.
In the past recession, many nonprofits forged right ahead with their capital campaigns, without stopping.
Kathryn Gamble, our lead consultant, headed up a mega campaign for the NC Museum of Art when the Great Recession hit.
The museum raised $10 million prior to the recession. The next year, in 2008, they were actually able to raise $4 million, even in the midst of a very serious economic downturn.
How to Prepare: Never Stop!
Our byline is "Never, ever stop!" Just because you are delaying some donor asks, doesn't mean you let them go. Not at all!
Take advantage of the time to continue to bring your donors closer and closer. Get to know them better. Ask about their families, their experiences, their passionate interests.
Take deeper interest in them personally. Give them more attention. Can you add anything interesting to their lives over the next few months?
Taking the long approach always will result in a closer relationship, and . . . ultimately a far deeper commitment from the donor.
Who knows, in the long run, it can really work in your favor. Instead of asking, change your strategy.
Instead, focus on nurturing the overall donor relationship. When your donors are more engaged, they will almost always give more.
SO . . . playing the long run game, and delaying your ask might be your best possible overall strategy.
The Gift of Time
It could be that we will all cut back on travel and large gatherings. You may be staying at home more. If that happens, consider the lovely gift of extra time.
We never seem to have enough time. Now, perhaps you will. You have time to strategize, clean off your desk, get organized, and focus and refresh your approaches.
If there is a big slowdown of work because of the coronavirus, take advantage of this time and use it for some benefit to you and your fundraising.
Don't forget that you can have great conversations over the phone.  You can use digital platforms to have small group gatherings and even board meetings. Never, ever stop!
Don't forget to think creatively about how to stay in touch with your key supporters.
Bottom Line: Coronavirus and Fundraising
Use this time to deepen relationships with your major donors. Never, ever stop!
https://gailperrygroup.com/wp-content/uploads/2020/03/Copy-of-Copy-of-Untitled-Design.png
1080
1080
Gail Perry
https://gailperrygroup.com/wp-content/uploads/2022/09/Gail-Perry-Group-2.svg
Gail Perry
2020-03-06 09:05:38
2023-09-16 12:07:58
The Pandemic and Fundraising: What to Expect and How to Prepare