Capital Campaign Pre-Planning: What to do Before Hiring a Consultant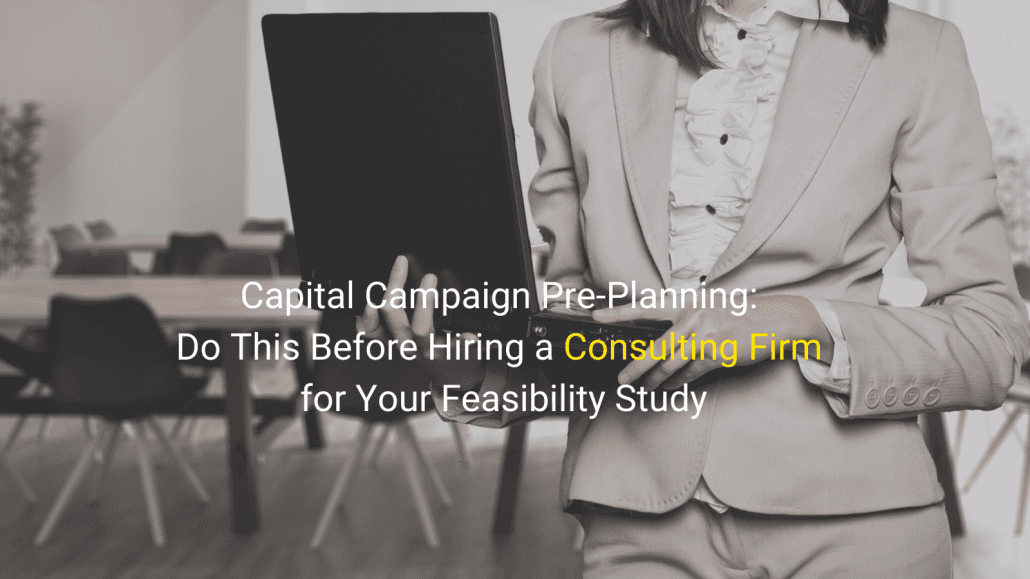 How important is capital campaign pre-planning?
We see many organizations that want to move forward quickly to launch a capital campaign. They are excited about their vision and are ready to dive straight away into a feasibility study.
It's great to be excited and enthusiastic because those qualities can generate momentum.
But you'll also want to get as organized as you can, prior to your study. You can lay the groundwork for a successful study even before you start the search for a reputable campaign consulting firm.
Today, we'll share a step-by-step readiness plan to help you get prepared for a successful feasibility study. This plan will help you get the most out of your study.
1. Capital campaign pre-planning: Clarify your projects and what you want to raise money for.
This sounds obvious, doesn't it? But it's not.
Donors will have many questions about your proposed projects. They will ask detailed questions about the need for a new building, an expansion, or an endowment – whatever you are hoping to fund in the capital campaign.
You'll need to think through all possible aspects of your project so you and your consulting team can answer these questions. It's important to outline all possible costs – and implications – of a potential capital project.
For a new building: Donors will ask about operating and maintenance costs of new building. Donors will ask where the building will go, how large it will be, parking, costs of construction and land, and costs of upfitting the new facility. They will ask to see visuals of the proposed building.
Above all, they will want to know WHY the building is needed. Not only do you need to explain the project in detail, but you also need to lay out a clear justification for this investment.
For major programmatic expansions that you want to fund in the campaign, the most important question your donors will ask is WHY do you need it, including:
How will it expand your work?
What costs will be incurred?
Who will be served and why is your organization the one to do the work?
Why not some other organization? Donors will ask about competition and other agencies that do similar work. They will ask about possible collaborations with similar organizations.
2. Get a rough idea of your campaign dollar goal.
Once you have firmed up the projects to be funded in the capital campaign, then it's time to cost everything out.
Each funding objective needs a cost number, or at least a financial range.
When your consulting team presents this information to your donors in the Feasibility Study, you'll want to demonstrate that you've researched each aspect of your plan.
Thinking things through now will help you and your team show up as business-like, thoughtful and deliberate. And of course, these qualities will help to build donors' trust in your potential campaign – and generate their investment.
Then it's time to estimate a capital campaign goal. The simple approach is to put numbers next to each funding objective and add it all up.
We recommend that you and your team start with a tentative "working goal" for the campaign that you use as a preliminary figure. The working goal can go up or down, depending on the results of the feasibility study,
3. Campaign pre-planning: Get your board on board.
Before you start interviewing potential consultants for a feasibility study, make sure your board is well-informed about the prospects and potential for your campaign.
That means that you will have to work with board members both independently and together during your planning process.
It's important to get some opinion leaders behind your proposed projects and the potential campaign early in the game because they can be an indispensable asset.
We want to see the full board in agreement about what's before them. Ideally, your board members will be:
Enthusiastic and optimistic about the potential for your campaign.
100% behind the expansion or capital investment plan.
Educated about how capital campaigns work – the strategy and process that creates successful campaigns.
Educated about how much campaigns cost, because the money is not going to just walk in the door without a significant investment of time, energy, and resources.
Understanding what their role will be during the campaign.
4. Involve your most important donors in your capital campaign pre-planning discussions.
During these beginning steps in your planning, it's essential to engage your top donors in conversations about your proposed project.
Consider making a list of ten to twenty top donors – the ones who are most likely to make the top gifts to your capital . Then develop a plan to involve each of these donors in the planning process.
This can range from taking a donor to lunch to let her know what you're working on, or asking the donors for their advice and input on your proposed plan.
You can also ask some donors to serve on a pre-campaign planning committee. If one of your top donors is involved in real estate, you might even ask their advice on aspects of purchasing or constructing the new new building.
You get the idea. Don't keep your most important donors at arm's length through the planning process. Instead, use your planning phase to draw them in.
The pre-planning phase is a wonderfully exciting time to involve these important donor prospects.
Feasibility Studies Can Be a Waste of Money, if . . .
Remember, a feasibility study interviews donors to determine their level of interest in supporting your new, bigger vision and proposed plan.
It's best when you can give them something meaty and exciting that they can react to. If the consultant finds too many potential donors who are not engaged or informed, then these donors might respond,
"I don't know enough about this organization or project give you an opinion."
When that happens, then your feasibility study will not yield any helpful information.
It's disappointing to us consultants, too, when we interview potential donors who are simply not familiar with the project and not close to the organization. There is nothing to talk about!
Moral of the story: Engage your donors early and often!
Bottom Line: Capital Campaign Pre-Planning: What to do before you hire a consultant.
Start your work early on the campaign by taking these steps, and you'll save time and money and have your campaign on the early road to success.
You are laying the groundwork so that the full campaign can roll out successfully with early lead gifts and key volunteers stepping up to help.
https://gailperrygroup.com/wp-content/uploads/2022/07/Capital-Campaign-Pre-Planning-Do-This-Before-Hiring-a-Consulting-Firm-for-Your-Feasibility-Study-2.png
900
1600
Gail Perry
https://gailperrygroup.com/wp-content/uploads/2022/09/Gail-Perry-Group-2.svg
Gail Perry
2022-07-07 22:10:00
2023-07-17 02:33:37
Capital Campaign Pre-Planning: What to do Before Hiring a Consultant