Want to Build Robust Major Gifts for 2020? 5 Steps to Take Right Now!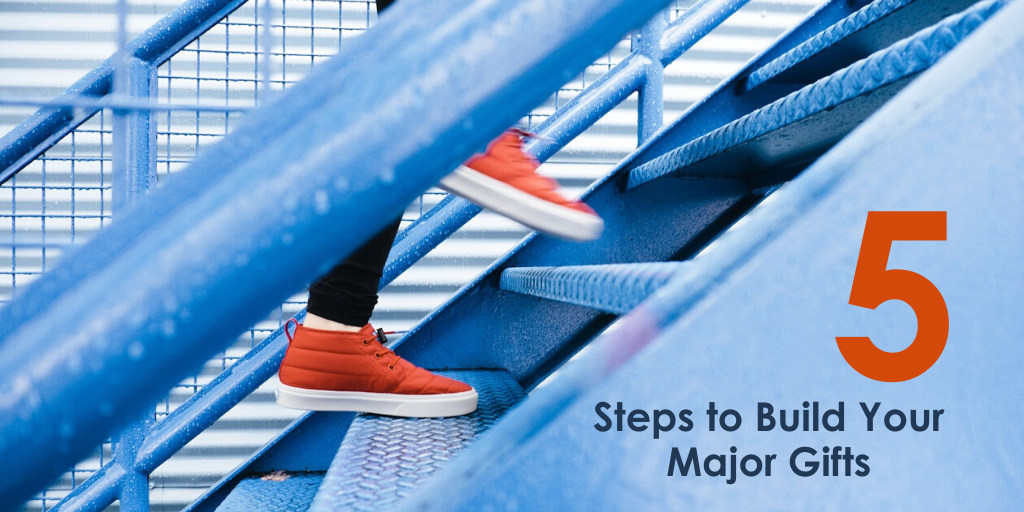 Do you and your team want to build your major gift program? Are you happy with your performance in the major gift arena?
More and more nonprofits are realizing that they simply must have a robust major gift program.
Why? Donor trends for one: We are seeing that smaller donors are decreasing across the board – in every charity sector.
However, mid-level and major donors are stepping in with larger and larger gifts. Major gift fundraising is where the action – and the funding is – these days.
Those gifts are not going to just walk in the door without an organized, structured approach.
We wanted to help organizations with the tools, training, and structure to implement a successful major gifts effort.
If you and your team are ready to expand your major gift fundraising, check out the Major Gifts Intensive, and we'll see if it's a good fit for you.
We are already filling up for this year, so don't delay.
Here are 5 building blocks for a successful major gift program for your organization.
1. Get your people on board with an organization-wide commitment.
Your entire nonprofit needs to support fundraising and your donors.
If you have everyone's support and all hands on deck, miracles just might occur!
Everybody will need to be engaged, or at least supportive of this most important and urgent effort.
Your CEO will make spending time with major donors and prospects a priority.
The program staff will be willing to chat with donors when needed.
To build major gifts, your most of board members need to also embrace the initiative. They can help by opening doors, hosting tours, making introductions, and engaging with donors.
2. To build major gifts, you need enough resources to do the job.
As I said earlier, those huge major gifts just don't walk in the door.
It takes a serious investment of time to develop stellar relationships – to engage with donors, get to know them, see what they are interested in, follow-up, create a proposal they will like, follow-up again, and close an investment-level gift.
Then you start the cycle again.
You need:
Enough people and staff resources to do the work. Plus an adequate budget for travel, lunches, dinners, even events honoring donors.
The CFO supports investments in major gift fundraising.
Front line fundraisers are freed up from too many admin meetings so they can get out of the office.
Time with donors becomes a priority for everyone in the organization.
3. You need to embrace the major gift strategy and mindset.
Like everything else in life, all success starts in your mind.
You've got to get your head straight. The people involved with major donors need to share a positive, forward-thinking, can-do mentality.
You need:
An abundance mindset. You see the glass as half full. You see plenty of money out there for your organization.
A bias toward action rather than too much deliberation.
Fearlessness, when it comes to approaching potential supporters. You don't chicken out!
People in your organization will believe that the pie keeps getting bigger for everyone. They won't descend into competitive or negative thinking. Naysayers are banished.
4. You need to master the Discovery Process.
One of the most important skill sets in major gift fundraising is the Discovery Process.
To be successful, you need a rigorous approach to qualifying and vetting a portfolio of major donor prospects.
How do you qualify? The best prospect research is in person, in front of your donors, finding out how interested they really are.
That's how you can determine that your donor is, in fact, an interested, qualified prospect. Or not!
In our Major Gift Roadmap, we teach a structured approach to the Prospect Discovery Process. Let's make sure you're focusing on the right people – not the wrong ones, who are basically not interested or wealthy enough to make a major gift.
5. More than anything, you need systems and a structure.
Without systems, nothing is really possible. There's no way to track your activity. Without structure, major gift fundraising seems "fuzzy." To vague and uncertain.
We teach two systems that every single major gift program much have in place to be successful:
1. Major Donor Prospect Portfolios.
Which donors are important enough to make it into your portfolio?
You'll want to thoughtfully organize your portfolio, putting a higher priority on your most likely donor prospects. Then you'll rate each person by their financial capacity and interest level.
Then, you have a format and structure for planning your moves, strategies, and contacts with your most loyal donors.
2. A Monthly (or Bi-Monthly) Prospect Review Meeting.
Here's your essential management tool. Pull together a small team of trusted people to review all major prospects.
Discuss together your progress with your donors. What new information has come forward?
What might your favorite donors want from you this month? How can you make them happy and forge even closer relationships?
Most importantly, who may be ready to be asked?
Your prospect review keeps people accountable, and helps you evaluate where you are with each of your major prospects.
You do not have a major gift program if you don't have a regularly scheduled prospect review.
BOTTOM LINE: Build Major Gifts Fundraising for YOUR Nonprofit!
Every organization can be successful at major gift fundraising.
Would you and your team like training, structure and accountability to expand your major gifts program this year?
Then consider joining our Major Gifts Intensive coaching program. Click here to find out more!
https://gailperrygroup.com/wp-content/uploads/2019/12/FeatureImageBlog1213.png
1080
1080
Gail Perry
https://gailperrygroup.com/wp-content/uploads/2022/09/Gail-Perry-Group-2.svg
Gail Perry
2019-12-13 10:00:45
2023-07-11 11:47:27
Want to Build Robust Major Gifts for 2020? 5 Steps to Take Right Now!