What role should board members play in major gifts fundraising?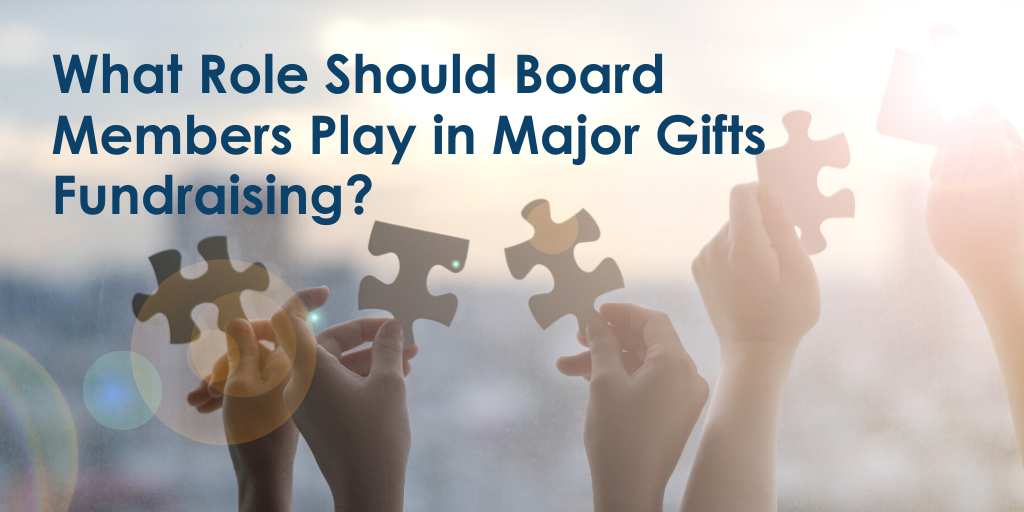 Many people ask this question: what is the best role for board members in major gifts fundraising?
Are board members supposed to be out there making asks?
Are they supposed to open doors and make introductions?
How are they supposed to work with staff?
How can they best support the fundraising effort?
Board members role in major gifts? Make introductions and open doors to their networks.
We believe that the best role for board members in major gifts fundraising is this:
They can best serve fundraising by opening the doors to their networks. This is the role that the larger and more experienced organizations request of their boards.
Usually, board members don't need to be involved in important major gift asks.
Why? It's because these major gifts require a much different approach than other types of fundraising.
Large major and principal gift asks are very well planned out and carefully choreographed.  These major gift asks don't happen in one conversation – the gift discussion happens over weeks and months.
For these types of important asks, board members are only involved if they are the right person to be asking.
We find that most board members, being busy volunteers, can best put their time to work simply making introductions.
Here are the roles we recommend:
1. Always be on the lookout for potential major donors.
Smart board members keep their eye out for potential major donors.
For example, they're always alert for people who might have financial capacity and a strong interest in our work.
They help review and screen lists of prospective donors. They can host screening sessions with small groups of donors to identify prospects.
They're good detectives for us – who might be selling a business in town, who is interested in our type of work?
They're constantly looking for our True Believers – donors who are wildly passionate about our mission, and who want to get more involved.
2. Graciously host VIP cultivation events.
One of the most important roles for board members in major gifts fundraising is opening doors.
There's lots of power pulling donors together for VIP cultivation events.  In the capital campaigns that  we counsel, small VIP events are a powerful tool for identifying and engaging with potential donors.
These small social events can take many forms: Porch parties, picnics, cocktail parties, fireside chats, meet and greets, lunches, dinners, all types of small gatherings.
This is an important role for board members in major gifts fundraising.  They can host and invite their network of contacts. They can:
Host events.
Attend events hosted by others, and bring a few interested friends.
Provide names for the invitation list and help get out invitations.
Help underwrite the cost of food and drinks.
One of the bigger jobs is to graciously play the role of host. They can engage with the guests, and help staff work the room.
They can share their story of why they care. They can ask guests to share their own stories, and listen for indications of strong interest.
3. Ask only when cleared to ask.
As I mentioned, we plan our asks carefully in major gift fundraising. We'll thoughtfully decide when, where, who should go, who should be asked, how much to ask for, and for what project.
We'll script out the ask. We'll warm up the donor by asking if they are ready for this type of discussion.
A lot of preparation and deliberation undergirds major asks.
No one ever makes an ask unless they are cleared.  The strategy team will decide that it's the right time and whether a board member is the right person to ask.
Board members who don't understand the delicate asking process can shoot themselves in the foot by moving to an ask too quickly. And the donor takes it as an affront. Then we seriously damage our donor relationship!
Bottom Line: Board Members Role in Major Gifts Fundraising
The best place for board members in dealing with large major donors – is opening the door to their networks, and making introductions.
https://gailperrygroup.com/wp-content/uploads/2019/11/Blog-11-22-sq.png
1080
1080
Gail Perry
https://gailperrygroup.com/wp-content/uploads/2022/09/Gail-Perry-Group-2.svg
Gail Perry
2019-11-22 09:50:07
2023-05-08 20:39:40
What role should board members play in major gifts fundraising?