Rule #8 for Board Members: It Takes a Team and a Culture of Philanthropy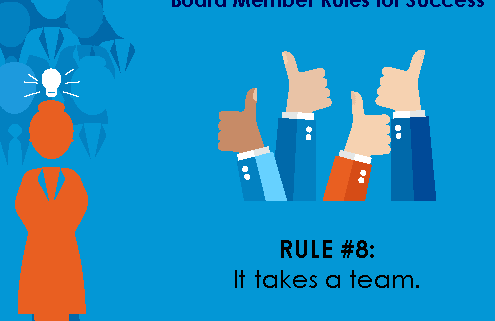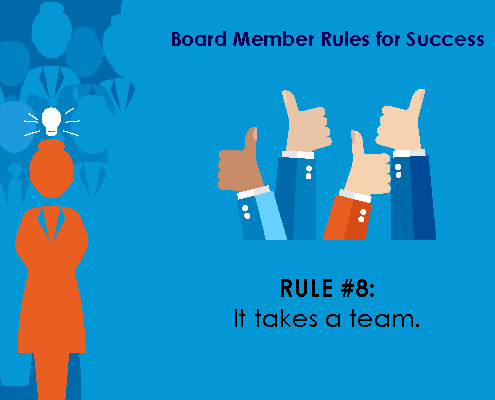 True fundraising success requires help and support from everyone in the organization.
Too often board members and the rest of the staff look at fundraising as something that is apart from their own work.
Sometimes there an internal distaste for fundraising – and everyone backs off when they should embrace fund development.
But, if you really want to see your mission flourish, then it takes all hands on deck supporting fundraising.
It takes new attitudes.
That is, if you really do want to expand your mission and change the world.
This post is an excerpt from The Board Member's Guide to Fundraising: 10 Rules for Success Every Board Member Must Know.

It's an easy guide for board members who want to learn more about effective fundraising works today, and how they can help.

You can find out more and get the Board Member's Guide to Fundraising here.
Let's change the definition of fundraising.
Change it to the concept of philanthropy and somehow it becomes high-minded.
"Philanthropy" is a lofty idea full of love and charity.
That's what fundraising really is. Celebrating donors' good hearted philanthropy.
It's a move AWAY from the narrow idea of simple "fundraising" that focuses on "money."
It's a move TOWARD a much broader, more holistic notion of "philanthropy."
It's a special land. It's where fundraising is valued, considered an important part of an organization's mission.
It's where donors are engaged and honored as true partners in the organization's work.
Getting over the myth that fundraising is "asking people for money."
There are many fundraising activities that don't involve asking. And they all contribute to fundraising success.
Those are the places where board members can help so very much.
There are so many ways to find friends, donors and spread the good word about what you do.
As board members, why not be active spreading your vision for a better community?
Your donors are a wonderful organizational asset.
A culture of philanthropy happens when the entire organization actually embraces donors.
This should be so easy! Your donors are such lovely people.
They are making your work possible. They are your partners. Your true believers.
Why not invite more donors into your organization?
Celebrate them. Help them meet the program staffers. Help them learn more about your work. Host thankathons. Host donors for tours. Have a donor appreciation party!
From my perspective, people may feel awkward about fundraising. But no one could ever be embarrassed to thank the people who are making your work possible.
The easy, fun first step in building a culture of philanthropy
It's really pretty easy and even fun to embrace donors and bring fundraising into the center of your organization.
It's a matter of bringing board members – and program staff to meet, chat with and – when appropriate, help ask donors for support.
Bottom line:
If you really want your organization to be successful, then fund development needs to be something everyone embraces.
It takes all hands on deck to create successful fundraising.
You can't expect a fundraiser to work self-sufficiently in a silo alone – without broad organization-wide support. If you do, you will not experience a lot of success.
For more on how a culture of philanthropy builds strong fundraising success, check out:
https://gailperrygroup.com/wp-content/uploads/2017/10/11-3-17-blog-image.png
400
495
Gail Perry
https://gailperrygroup.com/wp-content/uploads/2022/09/Gail-Perry-Group-2.svg
Gail Perry
2017-11-07 10:59:47
2023-07-13 06:18:34
Rule #8 for Board Members: It Takes a Team and a Culture of Philanthropy