Video series just for board members. Gain your board's support and buy-in for fundraising!
Help them understand how fundraising works — and how they can help.
If you feel like you're in this alone and your board just doesn't get it, help is here.
Educate your board and show them easy ways they can help.
Help them understand that investing more in fundraising, yields higher and higher returns.
On-Demand Video Education Series
Designed Just for Board Members
Your board members will learn:
Complete Video Series: $399
Want to see a sample excerpt?
 Introduction and Module One: Fundraising is Not Just Asking for Money
Video 1: Fundraising is Not Just Asking for Money (10 min)
It's about the bigger picture – philanthropy.
The dark side of fundraising – when you make it about money.
Smart fundraising is not begging or hitting someone up, instead its inviting people to help make the world better.
How we don't talk about needs – only opportunities.
How board members can help build a positive cash flow from fundraising.
How is fundraising viewed at your organization?
Transactional vs relationship fundraising.
Video 2: Fundraising Has to be a Consistent Priority (12 min)
  What happens when the development office is consistently staffed.
Long term sustainable cash flow comes from consistent investments in the development budget.
Why you should keep your fundraising strategies consistent to build up expertise and internal know-how.
How fundraising staffers are not magicians – they need something to work with.
Why well funded development operations raise more money
How are decisions on fundraising strategy made at your organization? Based on data, not personal preference.
Video 3: Different Fundraising Strategies Bring Different Results (16 min.)
What is the best mix of fundraising strategies for your unique nonprofit?
Pros and cons of various fundraising strategies: what does it take to be successful in:
Direct mail  (brings in 60-80% of funding).
Digital, email and web based appeals. How your website donation form can drive away donors.
Grant seeking is a body contact sport.
Fundraising events – the least efficient way to raise money. Why too many events will run your organization dry.
The backdrop of fundraising success: your messaging, communications and infrastructure.
Major gifts – the most profitable fundraising strategy of all.
Planned giving – endowments are build by bequests.
Video 4: Fundraising Has a Return on Investment (10 1/2 min)
Cost-benefit of your fundraising strategies – where are you investing your time, energy and resources?
Fundraising is a profit center not a cost center.
Looking at the "profit" from various fundraising strategies at your organization? What's the ROI of your mailing program, your fundraising events, your major gift fundraising?
Why "The Overhead Myth" is a destructive idea.
How investing more in fundraising will bring in exponentially more money.
Video 5: You Need a Fundraising Plan (9 1/2 min)
Strategic thinking – how planning for the long run will help your nonprofit flourish.
How a plan gets your team on the same page, and focuses everyone on one set of strategies.
How to raise money by the numbers, no guessing!
Choose the strategies that work best for your organization.
Make a careful analysis of how best to use your org's limited resources.
The art of setting fundraising goals.
Your responsibility as a board member is to support your organization's plan.
Video 6. Build Up Your Donor Loyalty (13 min)
Donor Retention – where the easy money is in fundraising today.
How to build a loyal base of current donors.
What really influences donor renewals?
What do today's donor's want?
What happens to renewals when board members call to say thank you?
How donor relations is a huge money maker for you.
How to get off the fundraising treadmill.
Taking a look at the "post-gift donor experience."
What does your donor loyalty program look like?
Video 7: Major Gifts Brings In the Most Money (11 min)
Major gift fundraising is not about "asking."  It's never about money.
Many roles board members can play in the major gifts fundraising cycle.
How do we develop relationships with potential major donors?
How major gift fundraising requires beautiful manners.
The role of VIP donor experiences in major gift fundraising – and where board members can help.
Four steps to a major gift asking conversation.
How to listen your way to the gift.
What major gift donors really want.
Video 8: Takes a Team: Building an Internal Culture of Philanthropy (8 min)
How your internal culture impacts fundraising success more than anything.
What does a culture of philanthropy look like and how can you create it at your organization.
Redefine fundraising into "philanthropy" so that everyone can get behind it.
There's a role for everyone to play – that doesn't involve soliciting.
Internal distaste for fundraising – why it's debilitating and dangerous.
When everyone is on board, fundraising skyrockets.
Video 9: Know Your Fundraising Responsibilities as a Board Member (10 min)
 Your legal responsibilities as a board member.
Every board member needs to support the fundraising program, and find a way to help.
How board members can support philanthropy joyfully.
Many different board member roles: make introductions, open doors, spread the word, thank donors, be supportive.
Why you should educate yourself about how fundraising works today.
Video 10: Why It's Important to Make Your Own Annual Gift (9 min)
 The leadership role of board members.
Governance responsibilities – assure your organization is on sound financial footing.
You are setting an example to others and encouraging philanthropy.
Your financial support adds credibility and integrity to the fundraising process.
How every board member should make their own proud personal gift each year.
Frequently Asked Questions
How do we access the video materials?
You'll get an email link to our web platform where all the videos are stored.
How do we share the videos with our board members?
You can share your access link and log in with your board members.
Do we need to purchase separate links for each board member?
No, you purchase one access link and share it with anyone you want.
Can board members watch them independently at their own computers?
Yes, you can send the link and log in to each board member, and they can view the videos at their own convenience.
How long will the videos be available?
They will be available on the site for at least 3 years.
How long are the videos?
They range from 7 min to 17 minutes.
Where can I view the content outline?
Right here, above. Just click on the topic and the detail will pop up.
Is there a limit to the number of times the videos can be viewed?
Nope! We'd encourage you to have board members watch these videos over and over!
Is this something new board members could view as they are on-boarded over the coming year or longer?
Yes, this is an excellent orientation tool for board members.
Will we have our own password to have access to the videos whenever we wanted?
Are you available for private coaching or consulting for our board?
Yes, that would be a separate arrangement.
Complete Video Series:
$399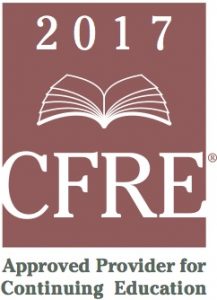 Full participation in Fired-Up Fundraising Master Classes is applicable for 1 point per hour in Category 1.B – Education of the CFRE International application for initial certification and/or re-certification.