The CEO's Speech: "I Have a Dream"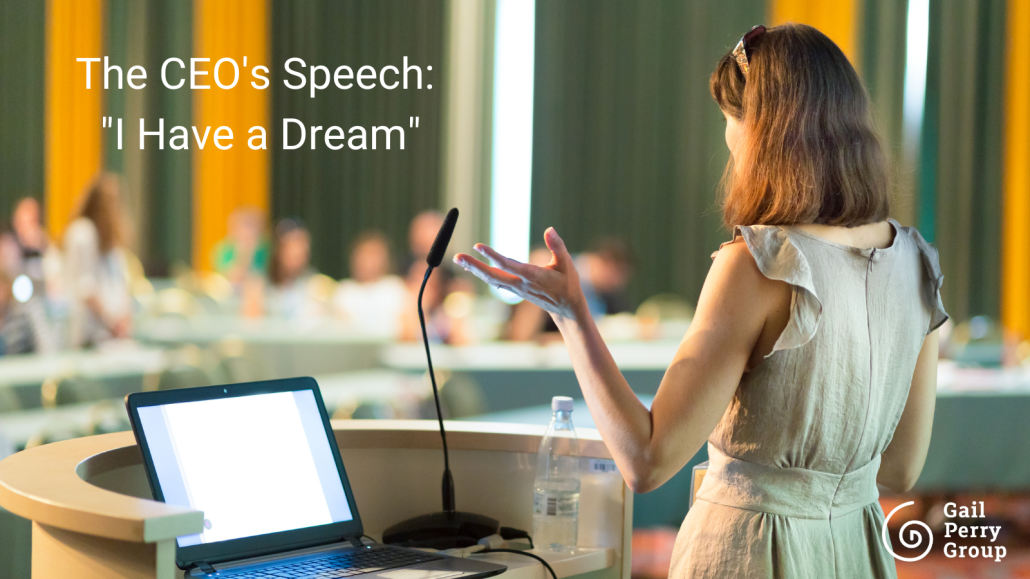 At many events, your CEO has the opportunity to deliver a short, high-impact message about your organization.
This is a chance for the CEO to shine as a visionary and inspirational leader and get everyone excited about your organization's impact on the world. 
It might be helpful to think in terms of Martin Luther King's "I Have a Dream" speech. If you can think of the most rousing speeches you've ever heard, that's the spirit needed in the CEO's message.
Above all, this talk needs to be full of emotion, passion, and urgency.  
As a Visionary Leader, your CEO is in a position to share the dreams and wishes of the organization.  It's your chance to talk about where we are going and why the community needs us.  It's especially powerful when you are personal – share your own dream for your organization's future.  
Try standing in a place of vision and possibility and sharing that vision.
Because when you are talking about potential and wonderful possibilities, you're in a powerful position that attracts people to you and your cause.
People want to hear about hope for a better world.
"We dream of a time when. . . ."
"We dream of a time when every elderly person in our community has someone to look in on them each day.
Or, we envision a time when the waterways in our community are clear and free of pollutants. . ."
People want to hear your dreams. It makes them happy to know that your organization is focused on fulfilling a vision of a better future.
How Long Should It Be?  
This talk needs to be short and sweet – ten minutes max. Most importantly, It's not a recitation of data and facts about impact.
Don't let this presentation become dry, businesslike, and less from the heart. Don't shift into a more professional, clinical tone that emphasizes what you do (programs) rather than the impact your organization achieves through its good work in the community. 
It's important to share "Why what we do is important" rather than "What we do. 
Outline of the Message:
Here are key points about the "I Have a Dream Message":
Start with your own personal story for two minutes. It's ok to show emotion. 
Briefly share the IMPACT the organization is having on the community. How are people benefiting from your work? Tell them clearly about the difference your organization is making in the city, in the region, in the world.
Share your dream for the future. Where is your organization going? Where do you see yourself heading? What are the needs that you are not able to fill? What are your dreams?
And don't use jargon like "unmet needs" – that kind of language is too far removed from the urgency of what is happening out there on the street.
Paint a picture of the need.
This is why your organization exists: to help fill an urgent community need.  What about the people and kids you serve? Can you describe them and how they may be feeling? 
Tell about the people you can't help, who are on the waiting list, perhaps. The bad situation you describe is why you so much want their help.  
Talk about the Gap:
What's the gap between where you are right now and where you want to be? What kind of resources do you need to reach that next place? Can you be as specific as possible? 
Here's an example:
We have enough funding to help 350 kids each week, but we have to turn away about 300 more children and families.

If we had another $xxx in annual funding, then we could help all the desperate families on our waiting list. Our focus this fall is to raise $100k in order to do xxxxxx.
Can you tell a story or two?  Paint a picture of your nonprofit with a story or two that graphically and emotionally illustrates the need your organization addresses.  Stories are easier for people to remember than facts. Tell stories that could actually break your heart and bring you to tears. 
Use emotion.  Be willing to wear your heart on your sleeve. Above all, be passionate! Explain the urgency of the situation. Be willing to use colorful language. Remember, people give money out of emotion. 
Build credibility. These days Americans have less trust in nonprofit institutions than they once did. A United Way poll found that only 51% of Americans trust nonprofits to do what they say they are doing to do with donations they receive.
And the Brookings Institution found that only eleven percent of Americans believe that nonprofits do a very good job of spending money wisely.
If your organization has been around for a decade or more with an unblemished track record of service to the community – this gives you enormous credibility. People will feel that you have earned their trust.
Approach the talk as if you are certain your audience is going to be as concerned as you are and as interested in a better future.  You know that they want to see their community whole and healthy.  Expect that they are already sold and need a bit of cheerleading. Tell them how they can help.  
Add a Clear Request for Assistance.
The call to action is the most important part of your talk. You will need to tell them exactly how they can help. Why are they there? What specifically do you want them to do? Get them to take some action to support you.
Wanting to take action to help each other is a fundamental part of being human.
In fact, even Charles Darwin (the author of a major theory based on scarcity, not abundance) concluded that human beings are biologically inclined to help each other.
So, call your audience to action:
"We need friends out there in the community to help spread the word about this situation. This initiative really needs more ambassadors!

This problem is not going to be solved with just our current group of supporters, board members and volunteers. It is too important to be left to just us. We are calling our whole community to join us to help out!"
Then offer a short list of how your organization needs help, and be as specific as possible. Don't suggest more than three things they can do.
You might say, "We need you to do three things:  First, write a letter to the editor of the newspaper. Two, come and volunteer this month.  Three:  Host a small social or porch party like this one to help us reach more people.  
Our goal is to have a small social or porch party event every month this year. Please help us reach this goal.  We need hosts for July and September. Can you be a host?"  
In a context like this one, you could also seamlessly add in a request for a contribution as just one more example of your need for help.  
Sample Requests for Help:
Spread the word! Tell others about this work and help us get our mission on the community's radar screen.
Come volunteer and make a difference.
Bring your friends in for a tour.
Introduce us to a local philanthropist, government official, or corporate leader who would want to know about this problem and who can help.   
Host a Small Social with your friends to hear about our organization and bring more folks onto our bandwagon. 
Consider a $100 contribution or more. A $100 gift will help us to … . . . .
Bottom Line: The "I Have a Dream" Talk is exactly what your audience wants to hear!
Thanks to the very smart Benevon folks for some of the ideas in this article.
https://gailperrygroup.com/wp-content/uploads/2023/04/BLANK-CEO-SPEECH.png
900
1600
Gail Perry
https://gailperrygroup.com/wp-content/uploads/2022/09/Gail-Perry-Group-2.svg
Gail Perry
2023-04-27 22:36:09
2023-04-27 22:36:10
The CEO's Speech: "I Have a Dream"