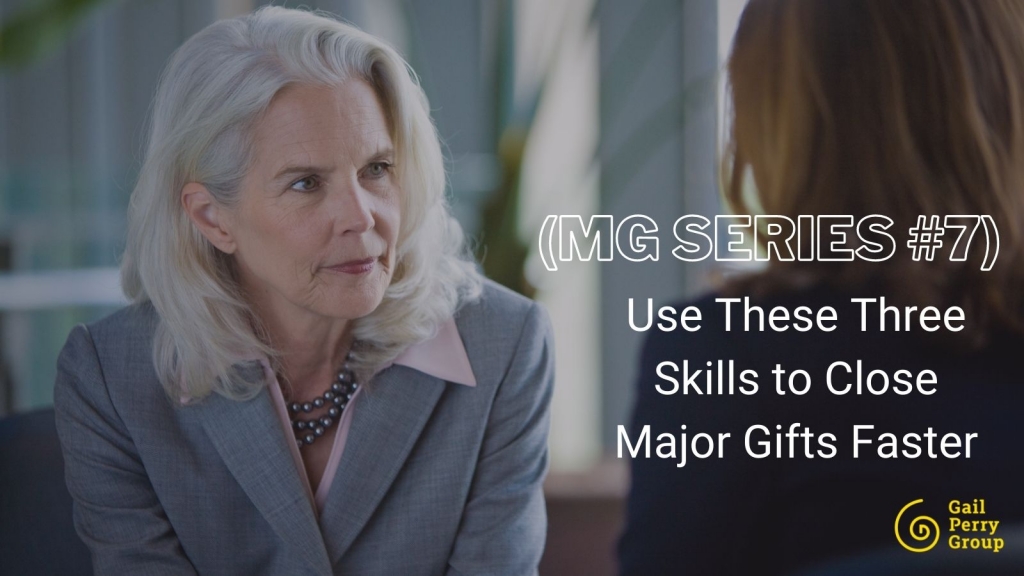 We thought you might be interested in hearing about three skills everyone needs in order to close major gifts much faster. So today, in the final article of our Major Gifts 2021 content series, we're sharing the secret skills that the best fundraisers use to close mega gifts.
Here's the challenge we often face: donors are people. Which means they are human – they can be ambiguous and confusing. Smart fundraisers can read their donors, decipher the implications of a donor conversation and move forward to a gift conversation.
Use the Artful Questions to Find Out Where a Donor Stands.
Often, mega donors don't come right out and say things unless directly asked. They'll share conflicting information about their financial position, their family and their giving intentions.
One of the great tragedies of fundraising is when we assume too much about a donor.
We may decide they are a serious donor prospect, based solely on a wealth screening report. Or we may assume they will not be supporting our cause for one reason or another. Either way, donors can – and will – surprise you.
One of the skills we teach in the Major Gifts Intensive program (join us this year!) is how to ask the Artful Questions to find out where your donor truly stands. You can politely, but directly, ask donors specific questions about their intentions.
There is a way to do this that is organic and natural, never pushy. Everyone who aspires to close major gifts needs the Artful Questioning technique that moves a donor toward a gift.
The best fundraisers master Artful Questioning – the hard but delicate questions that uncover their donor's intentions.
Learn to Read Your Donor's Cues.
Donors give you signals – some weak and some strong. The best fundraisers can "read" their donors, because they are constantly vigilant, scanning the donor's communication and behavior for signs of greater enthusiasm or change.
Your major or principal gift donor is constantly giving you cues about where they stand, but alas, you and your team are missing them.
The problem is, you are not paying close enough attention.
Practice watching the things your donors actually do – such as their willingness to chat with you or their facial expressions. (Do they smile when you call?)
Donors will also say surprising things that will perk up your ears. They may ask about naming opportunities or ask to meet your CEO and learn more about your work. They may mention a recent inheritance or a financial situation. These are all classic signals that your donor is interested in deeper support.
Kathryn closed the largest gift of her career ($9 million!) when she picked up a side comment from a donor couple – that they didn't have kids and were planning their estate.
Gail likes to tell a story of when she realized the donor was blowing her off, by just the flicker of his eyelid and posture shift. "I got the message quickly," she says, "and I changed the subject to a more productive direction!"
Use Deeper Listening to Find Your Next Gift.
There's an absolutely critical attribute of every smart fundraiser – including staffers, CEOs, deans and chancellors, leaders of all types who engage with donor prospects. They must learn the Deeper Listening skills.
Here's the problem: your team members are too focused on the excitement of the meeting, including what they are planning to say next. If they tend to be talkers, they have a problem. Typically a dean, CEO or your president is going to expect to talk.
Not so. Your donor expects to do the talking.
Deeper listening will help you interpret your donor's cues, and move in the direction they want to go. You'll be alert to signs of readiness to give.
The best fundraisers know how to listen their way to a gift.
Bottom Line: The Secret Skills that Help You Close Major Gifts Much Faster.
Don't wallow around just guessing. Learn to read your donor, listen and ask for clarification. You'll save so very much time!
Major Gifts Intensive registration will close out next week!
If you and your team want to learn the secrets to locate and close mega gifts, then plan to join us in this year's Major Gifts Intensive coaching program. This program only happens once a year and we are filling up quickly. But we would love to chat with you and make room. Find out more here and schedule a call with us next week.
We often receive questions about the return on investment of this program. Remember this: the Major Gifts Intensive course will PAY FOR ITSELF through increased gifts.
In fact, most members receive a 10 to 1 return on their investment. So not only does the program pay for itself, but it often brings a 1000% return – much better than the earnings from your endowment. Just think about the long term payoff of building up a robust major gift program for your institution!
Have questions about the Major Gifts Intensive? Email anne@gailperry.com and we'll follow up shortly!
https://gailperrygroup.com/wp-content/uploads/2021/02/MG-Series-7.jpg
900
1600
Gail Perry
https://gailperrygroup.com/wp-content/uploads/2022/09/Gail-Perry-Group-2.svg
Gail Perry
2021-02-20 16:09:07
2023-07-17 02:16:48
(MG Series #7) Use These Three Skills to Close Major Gifts Faster