How to Get Your Whole Organization Behind Major Gift Fundraising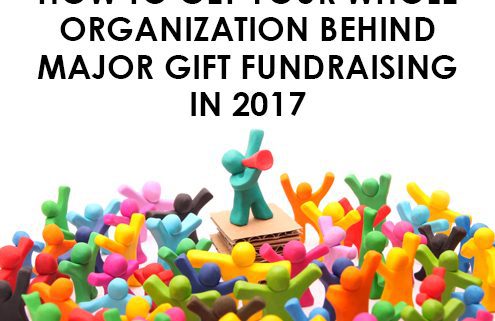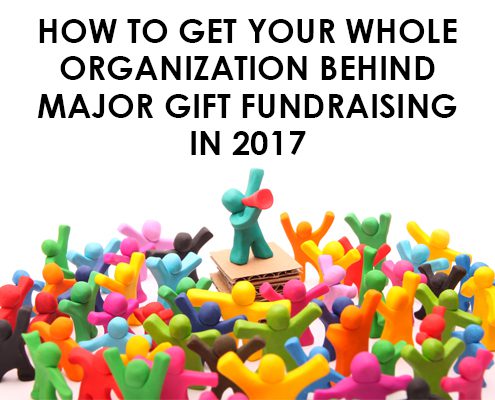 What would be possible if your whole organization supported a full-scale major gift fundraising program?
You'd be able to raise tons of money to fund important projects and urgent expenses at your organization.
You'd have a cadre of loyal, happy engaged major donors.
Your board members would actually participate and open doors.
Your colleagues would help out, too. They'd understand that everyone has a role – large or small – to help generate this important revenue.
Then you'd have huge success with your major gift fundraising program.
What you are really after is a Culture of Philanthropy
A culture of philanthropy is when your entire organization embraces the idea of philanthropy.
It's the magic place where fundraising is honored, and donors are considered true partners in your work.
Here's how to get there:
1.Make it about "Philanthropy," not about Fundraising.
Philanthropy is a more holistic, lofty concept.
The idea of philanthropy sounds more fun.
It's less about "asking" and more about changing the world.
It's more altruistic and focuses on donors instead of money.
People have made up awful myths about fundraising – how it can feel pushy and salesy.
Remember that many people think that fundraising is nothing but "asking for money."
Start by simply changing the conversation.
Refer to your work as philanthropy.
This shift will create new openings for involving your colleagues in the fundraising process.
They don't want to do "fundraising" but they may enjoy supporting "philanthropy."
2. Begin with the fun stuff.
Ok, so what is the fun stuff in fundraising?
It's thanking donors. It's listening to donors.
This is where the payoff in fundraising really is.
Finding out why donors love YOU and why they care can be a moving emotional experience.
Start by exposing your board members and colleagues to the thank you process.
We all know that stewarding donors well will increase donor loyalty and retention.
We know that when donors feel appreciated, they are more likely to keep giving.
3. Let your own attitude be contagious.
So how do YOU feel about fundraising? Do you feel tense and pressured about it? Or do you enjoy yourself?
Do you laugh and have a good time here and there?
Your colleagues and leaders will take their cue from you. If you are having all the fun, they will want in on that stuff. You will actually attract people to help you.
Start by lightening up.
Be a spark plug for good energy.
Show your people how enjoyable it is to engage with and honor the donors who love you.
4. Take soliciting off the table.
Your colleagues and board members are probably most afraid of the Ask.
They really do NOT want to be involved in "asking for money."
That is really what is scaring them away from having anything to do with the entire fundraising process.
Start by telling everyone that they don't ever have to engage in soliciting.
They can just enjoy the fun part of fundraising – cultivating donors, hosting tours, entertaining, thanking, and honoring your donors.
You can still have a full-scale major gift fundraising program, if YOU handle the soliciting.
You can get other people involved in other parts of the fundraising process- the fun stuff.
5. Focus on donor engagement that involves everyone in your organization.
How important is donor engagement? It actually can mean everything.
This is what will boost your donor retention and donor loyalty.
If you want to build a sustainable fundraising program – full of loyal donors who give year after year, then start here!
What kind of post-gift customer experience are you giving your donors? Time to ramp it up to boost your donor retention!
Start by engaging everying in your organization in building donor loyalty.
How can they have a problem with that? This is the fun part of fundriaisng.
This is where you are dealing with your enthusiastic suporters who so believe in you. It's good for everyone to do this!
6. Show off your program staffers.
Your hard working program directors are the closest to the action.
They live your mission and your work every single day.
Studies show that donors enjoy engaging with program leaders. Donors simply love hearing their stories.
Start by asking program staffers to brief donors.
You are honoring your program leaders' work and shining a light on them. Engaging them with donors makes everyone happy – your donors, your program folks, and you!
BOTTOM LINE: Get Your Whole Organization Behind a Major Gift Fundraising Program
It does take time to change people's attitudes.
Start now with these simple steps, and I promise you that attitudes will slowly change. Before long, your colleagues and board leaders will be even enjoying their interactions with donors.
And your major gift fundraising program will take off to the stratosphere.
https://gailperrygroup.com/wp-content/uploads/2017/01/1-13-17-Image-Feature.jpg
400
495
Gail Perry
https://gailperrygroup.com/wp-content/uploads/2022/09/Gail-Perry-Group-2.svg
Gail Perry
2017-01-13 10:31:23
2023-07-11 09:45:15
How to Get Your Whole Organization Behind Major Gift Fundraising