(MG Series #2) How to Predict Your Major Gift Pipeline This Year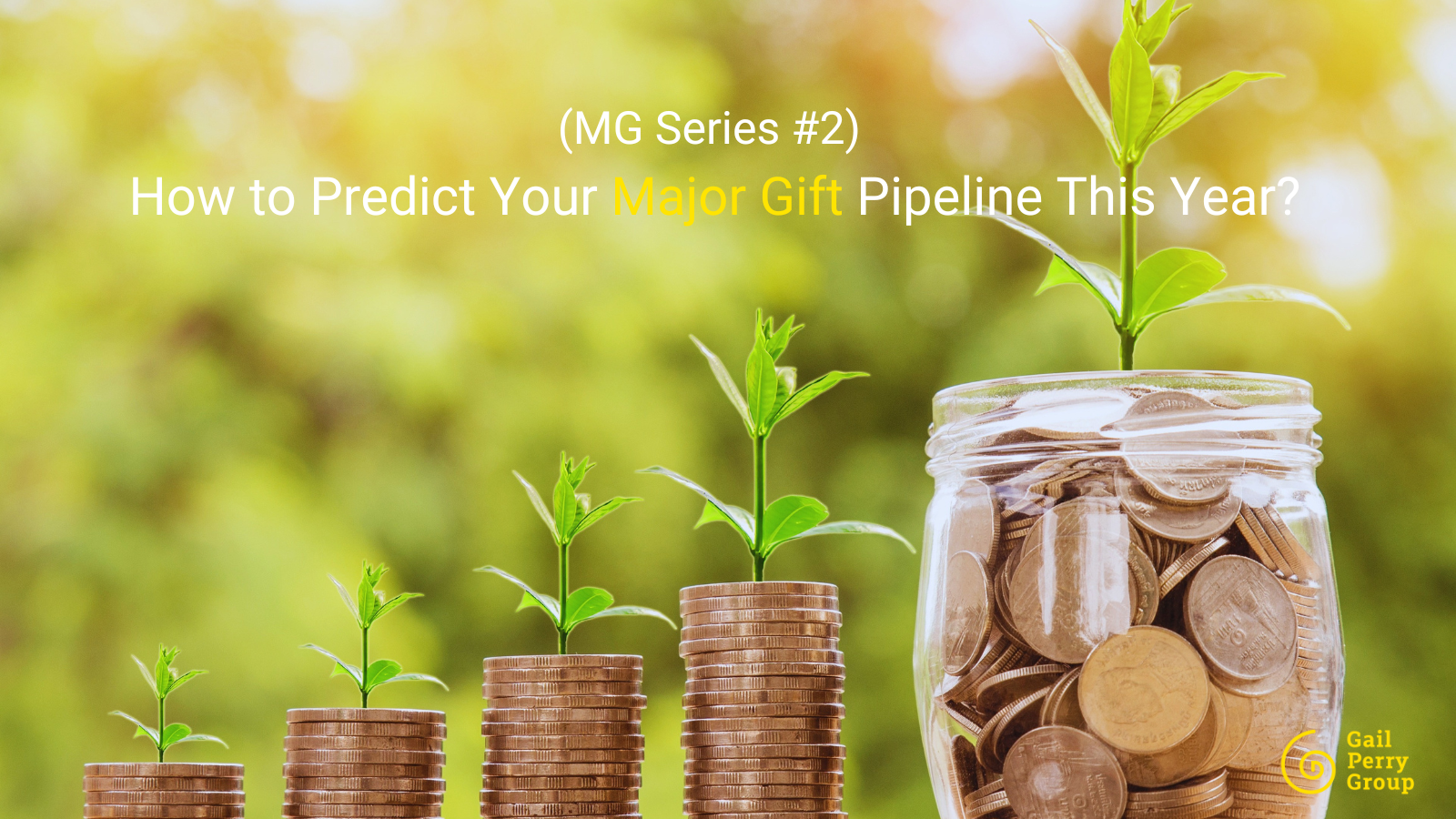 Do you and your leaders want to know how much money you can raise, and when it will come in? This is the sought-after truth of fundraising – the ability to predict future cash flow from gifts.
Just think, wouldn't it be wonderful to really know – and feel good in your gut about – how many gifts you will close this year and even when they will close?
We hope that this major gifts email series will give you a taste of our advanced Major Gifts Intensive coaching program, currently open for registration. It's a fast-paced, high-level learning and coaching experience that's helped over two hundred nonprofits raise millions of dollars. Join us this year!
Add Predictability to Your Major Gift Fundraising
How do you determine the value of future major gifts that might be out there in your portfolio or among your key supporters?
Our answer: If you have the data about your prospects, and organize it correctly in your prospect management system, then you should be able to literally predict your fundraising results.
In a good pipeline analysis, everything is quantified – including the probability of a gift coming in at a certain time.
The numbers tell you a story.
In a smart prospect pipeline, the right donors go on your list, not the wrong ones.
You're using your data to separate your high-opportunity donors from the other individuals who may need to go on a "back burner."
As you know, it can be a challenge to evaluate your prospects based on real information: their behavior and the actual (not imaginary) status of your relationship.
Develop a Sustainable Pipeline of Qualified Donors
We see far too many organizations make serious mistakes in their prospect management systems:
Mistake #1: Putting "suspects" in your pipeline.
If a donor is still a "suspect" and not a qualified prospect yet, then that donor has no business being listed in an estimation of future revenue. If you do this, you are playing a guessing game that will take you off track quickly.
The only donors in your true pipeline should be people who are qualified: that is, they have indicated strong interest, as well as have wealth capacity.
Mistake #2: Overvaluing wealth capacity.
Many people overemphasize wealth. We see too many portfolios loaded up with high net-worth "prospects" who have no track record of involvement.
These wealthy individuals are not qualified! They may as well be bubbles in the air. Because, if they have no interest, they will never give. And you are wasting your time.
You may be making these mistakes too. It's easy to get distracted by high net worth, isn't it? But chasing these wealthy unresponsive donors will cause you to beat your head against the wall.
Bottom Line: How to Predict Your Major Gift Pipeline.
Move forward now to quantify and properly organize your prospect portfolio. Put your suspects on the back burner. Don't overvalue wealth capacity.
You need a system that will help you predict future fundraising streams, identify which donors need attention, and manage your overall portfolio for maximum giving and productivity.
In the upcoming Major Gifts Intensive, you can create this kind of prospect management system. If you think our Intensive coaching program might be a good fit for you and your team, send us your letter of interest today and we'll hop on zoom to see if the program is a good fit.
We can help you and your team close more transformational gifts this year!
https://gailperrygroup.com/wp-content/uploads/2021/02/MG-Series-2-How-to-Predict-Your-Major-Gift-Pipeline-This-Year-1.png
900
1600
Gail Perry
https://gailperrygroup.com/wp-content/uploads/2022/09/Gail-Perry-Group-2.svg
Gail Perry
2023-01-11 21:39:00
2023-07-17 02:06:49
(MG Series #2) How to Predict Your Major Gift Pipeline This Year