Do NOT Make These Mistakes at Your Next Fundraising Event!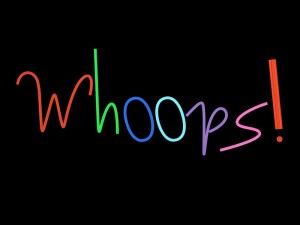 Want to totally ruin your well-planned fundraising event? Avoid these mistakes!
I had so much fun seeking out stories of event disasters. You'll laugh when you read these, but remember, LEARN from them too.
Don't let these true disaster stories happen to you. (And add your own story at the bottom in a comment!)
1. When the honoree got totally out of control
Here's one about the speaker gone wild:
The hospital was honoring a long-serving doctor at gala. We had set him up for his comments to be 2 minutes max.
But when he came to the podium, what did he do?  He pulled out three pages of a typed speech and proceeded to laboriously READ the entire thing.
We almost fainted when we saw him pull out the 3-page paper. You could have heard us gasp in the back!
 2. When the Emcee decided to give her own (unscripted) speech
Ok why do we have a Master or Mistress of Ceremonies? Or an Emcee? It is for one reason only – to keep the speakers in line and gently shepherd them off stage if they get long-winded.
We had a local TV anchor as our Emcee, thinking she would be perfect. But SHE decided to give a speech herself about the wonderful nonprofit. So the overly long program started off already behind schedule . . . and the program dragged on and on and on, and on and on.
A few days after the event, I ran into someone I had met there.  And she said, "Never again will I go to anything that organization puts on." :((
3. When there was food poisoning
Shanon Doolittle, who'll be speaking in our Highly Profitable Fundraising Events series next week (her webinar is How to Secure High-Dollar Sponsorships For Your Fundraising Event), shared this disaster:
It was a summer cocktail party with an ask. The young event planner tried to save money by picking an unknown catering company.

Bad decision.

Over two dozen people reported some type of foodborne related illness to the organization that week—and it was a crisis management nightmare.

Needless to say, that event did not come back the following year.
I should mention this was a healthcare organization too. How's that for irony?
4. The auction organizer passed away (!),  and no one knew till way too late
Joe Garecht, also a speaker in our Highly Profitable Fundraising Events webinars next week, shared this TRUE story.  (Joe will be showing us How to Supercharge our Volunteer Committee and Sell-Out our Next Event)
Joe received a frantic phone call from the Executive Director 10 days for their big annual silent auction gala. They had always hired an outside consultant to handle the entire silent auction, which raised about $50k each year.
The ED was frantic because she had just found out that their consultant had died! (gasp). No one at the organization knew the consultant had been so very ill, and that she had not done anything to prepare for the event.

The staff only found out when they visited her family to pay their respects, and inquired about the silent auction items that the consultant normally kept in her basement. And, well . . .  there was nothing in the basement.
Whoops. And alas for everyone.
5. When the comedian makes fun of the wrong people!
This one is from smart consultant and social media expert John W. Dawe.
It was an event for the Domestic Violence Center put on for our local comedy club as a benefit. The comedian was not sensitive to abused women issues and the jokes were not appropriate! Whoops!
And this reminds me of my own fundraiser for the Women's Political Caucus at the Raleigh Comedy Club.
I was co-chair of the event, and we had every important politician in Raleigh in that place.
The female comic was trash mouth with gross female anatomy jokes. People walked out.
I'm still living THAT one down!! Triple whoops!
6. When the auctioneer kept getting the name of the organization wrong
Shanon Doolittle shared this blooper too:
She said she'd never forget the time their auctioneer insisted on calling her organization by the wrong name. I can't imagine anything more infuriating.
Shanon says he sure didn't get full payment for that gig!
7.  When "Vegas Night" flopped
Fundraising expert Tammy L. Zonker shared her own disaster:
The addiction recovery organization decided to stage a huge fundraising event. But the theme they decided on was "Vegas Night."
Ouch. How awkward it was when they realized their theme was not very "mission-centric!"
Highly Profitable Fundraising Events
So when you plan your next event, don't make these mistakes. And DO try to make as much money as possible!
If you want to max out your profit – and your fun – from your next event, don't miss our webinar series next week.
how to nail big money sponsorships,
how to sell out the room and all your tickets,
how to stage a high profit auction and
how to max out your ROI.
If you are having an event any time in 2014 or 15 – bring your volunteers and listen in. Even if you can't attend live, you will get all the recordings plus a written transcript of each class.
If you think this will help you, click here and register now and be sure to join us!
*** IMPORTANT: If you're a member of the INSIDERS club, these webinars are yours for no cost. (Info about INSIDERS membership here.)
What are YOUR biggest event bloopers?
Pleeeeze – leave a comment and share your "Whoops"!
Let's have a laugh and have some fun. And let's be sure NOT to do any of this stuff!
https://gailperrygroup.com/wp-content/uploads/2014/05/whoops-.jpg
225
300
Gail Perry
https://gailperrygroup.com/wp-content/uploads/2022/09/Gail-Perry-Group-2.svg
Gail Perry
2014-05-15 19:36:01
2014-05-16 09:50:38
Do NOT Make These Mistakes at Your Next Fundraising Event!