What You Can Expect from a Full Scale Major Gift Program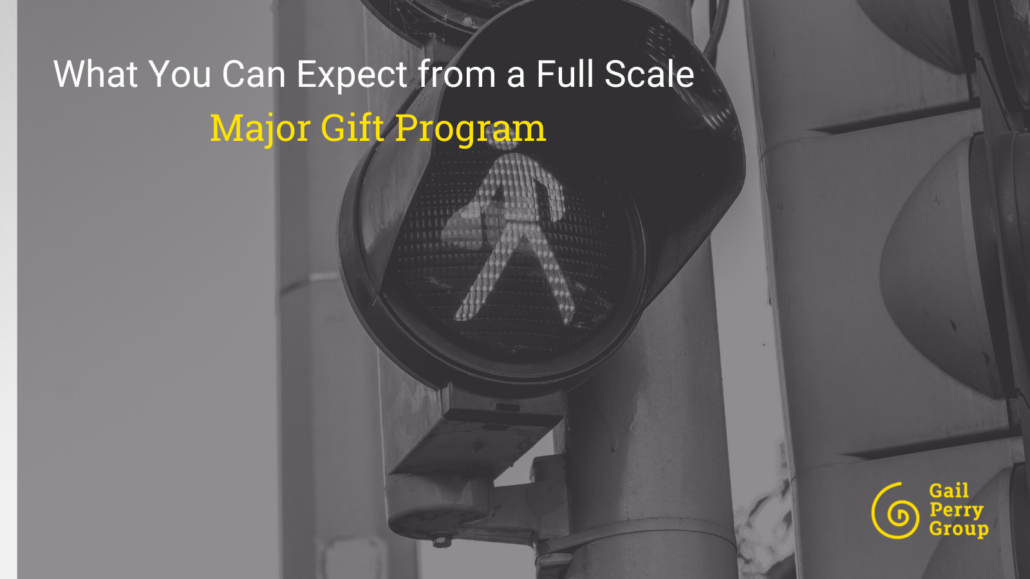 What would happen if your team could expand into a full-scale major gifts program? Let's look at the results you'd achieve for your institution:
Most of all – you guessed it – new funding would start flowing in.
Your organization will identify more and better major gift prospects. 
Who would not want a cluster of high-net-worth donors on hand, ready to support your cause? Wouldn't it be wonderful to have major donors who would readily take your calls?
The first step of every major gifts program is identifying major gift prospects.
The next step, of course, is Discovery – systematically connecting with prospects to find out their level of interest and commitment to your work.
Uncovering high-capacity donors.
As your team refines their prospect portfolios by making discovery and qualification calls, they will uncover high-capacity donors who love your mission.
Following this process, you'll be able to develop close-knit trusting relationships with major funders. These donors will be people who believe deeply in you and your work. They will like and respect you because they know your team and leadership personally.  
They'll be ready to give when you need them. You'd know their capacity – that they'd actually be able to make generous investments to support new initiatives, special projects, expansions, and even general operating costs.
Wouldn't it be wonderful if you had tight relationships with these special high-net-worth donors who are deeply aligned with your mission? They'd be available to help when you turn to them. Ready with great advice. Always willing to take your call. Always there when a big opportunity comes up.
(Need to identify which donors are your immediate major gift prospects? Learn about building a prospect management system for major gifts.
Stronger major donor relationships will create more funding.
Yes, raising money is the ultimate objective of major gift programs. But first, everything starts with building strong and fruitful major donor relationships.
You nail the donor relationship first. Then the money comes. First one, then the other.
Relationships are more important than money at this point.
One of the greatest mistakes ever is to launch your major gift program for the money only. In this case, you may be somewhat successful, but you won't build close and productive long-term relationships with these funders. What's more, you won't reach the potential that's out there for you and your team.
Nurture your donors using the building blocks of the major donor relationship. When you focus on building connections and understanding their emotional connections to your work– you will demonstrate to your donor all the possibilities their gift can achieve.
Check out how to learn more about discovering your donors' emotional connections.
This is the art of major gift fundraising and how you achieve the potential that is waiting for you.
A short-sighted focus on more money sooner than later will hurt future giving from your largest potential donors.
If you take a transactional approach rather than a relationship approach, you will shoot this effort in the foot.
That's why we developed the Major Gifts Intensive educational and coaching program – to help organizations build the skills, tools and structure to expand their major gifts. We teach the nuances of a relationship-based approach to HNW donors. Registrations are open for our 2024 cohort, and we are already filling up. You can find out more here. 
"I just received a $100,000 gift out of the blue, without asking! I followed all of your rules in working with Major Donors, patiently listening to her. She told me, "You have made me feel heard. I didn't feel that way before. Now, I want to give a $100k gift in support of your new leadership.""

Odessa Dwarika M.A

Executive Director, Jhamtse International, Major Gifts Participant
What else could you expect with a well-structured major gifts program?
Expand your mission with more money!
Your leaders could expect to expand your nonprofit's mission and serve more people.
Wouldn't it be wonderful if your nonprofit organization had the funding to bring more benefits to the world! To stop suffering, create art, educate people, save land – whatever your mission is.
You'll have the money to pay your staff adequately, invest in infrastructure, expand programming and outreach.
You'd be able to expand your mission's work, in a world that badly needs your mission.
Achieve expanded PR, more community visibility and outreach.
What happens when you announce a major gift to the rest of your stakeholders?
People start thinking of your organization as worthy of major gifts. You rise to a new level of prominence in your community. Your work gains attention. With this attention, more gifts – of all types – will flow in.
More efficient fundraising.
By far, major gift fundraising is the most efficient and effective way to raise money. By focusing on major gifts, you can forgo other types of fundraising strategies that are far more labor-intensive (a gala, anyone?).
Major gifts fundraising is a targeted approach, focusing on a fewer number of people and funders. One smart, well-trained fundraiser can bring in gifts far exceeding what you'd raise from an event.
Your team will be able to raise the funding for your mission, without exhausting the board and all your volunteers. Without exhausting themselves.
One major gift can be a million dollars. It's the most efficient and effective way to raise money, hands down.
Bottom Line on a Full-Scale Major Gifts Program: Your nonprofit can achieve all of these benefits.
But you'll need to invest the time, energy, and resources to make it happen.
And above all, you'll need to work toward excellent donor relationships, not just a money machine. When you build relationships centered on trust, respect, and concern for the goodwill of your mission, anything is possible.
Major Gifts Intensive 2024
Don't forget, that we can help you expand and build a profitable, sustainable major gift program. We've just opened registration for our Major Gifts Intensive 2024, and we are surprised that it is already filling up so quickly this year.
Join us if you want to develop the systems, mindset, vision, structure, and processes for a long-term productive major gift program that will deliver measurable results for years. Find out more here.
https://gailperrygroup.com/wp-content/uploads/2020/01/Soliciting-is-OUT.-Asking-for-Permission-is-IN-1.png
900
1600
Gail Perry
https://gailperrygroup.com/wp-content/uploads/2022/09/Gail-Perry-Group-2.svg
Gail Perry
2023-11-14 14:41:11
2023-11-14 14:42:12
What You Can Expect from a Full Scale Major Gift Program