(Major Gifts #6) Building a Prospect Management System That Helps You Close Gifts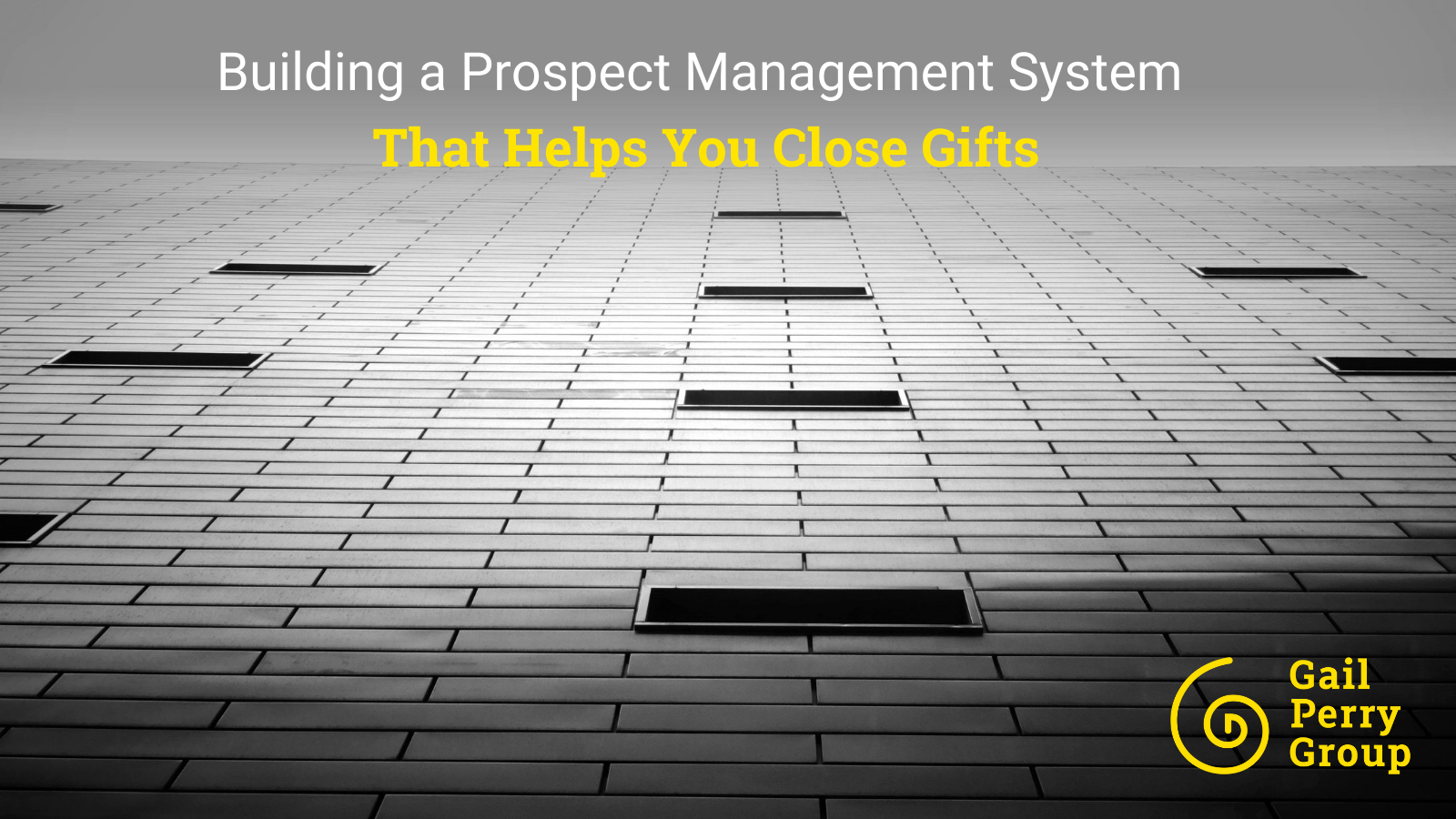 Do you have problems getting distracted when you are working on major gifts?
How do you know you're spending time on the right prospects, and not the wrong ones? How do you know that you're not wasting time and energy?
Here's a tough challenge – there are too many prospects who look so promising, but they never, ever respond.
It's a tough call, but there IS a solution. It's in your database.
The data in your prospect management system can keep you from wasting time on the wrong donors. Your data can forecast which donors are most likely to give now – your immediate major gift prospects.
Who are your most passionate donors who also have high wealth?
This is every fundraiser's burning question. You can start by tracking their actual giving behavior. It's right there in front of you. Your database can easily tell you:
Is this donor current or lapsed?
How many years have they been giving?
How much have they given?
At what frequency do they give?
All these tell us just how passionate any particular donor is about your organization and its mission. This is part of using a smart prospect management system.
We're sending this email series because the Major Gifts Intensive is open up again for new participants. Join us to level up your skills and close mega gifts.
You and your team will literally get a roadmap to expand your major gift fundraising, deliver measurable results and directly improve your bottom line.
We're sharing the all-important building block strategies that we've taught thousands of people, from small nonprofits to the largest universities around.
Find out about the Major Gifts Intensive 2022 here.
Check it out and schedule a call with us to discuss your goals and opportunities.
Recency, Frequency, and Monetary (RFM) scores point you to the right donors.
We love RFM (Recency, Frequency, and Monetary) scores. Why? Because they tell you just how much your donor likes your organization. Even more, the scores can reveal your most passionate and committed donors.
Combine the RFM with wealth screening data and presto: you have a solid major gift prospect list. And those donors who are in the top quartile are your special people – you'll want to look at them closely.
We recommend that you start looking at this list name by name. You can reshuffle the priority ranking based on the status of your current relationship with them, and how much you do or don't know about their capacity to give major gifts.
Successful major gift fundraising takes a solid prospect management system.
Raising money from major donors is not really rocket science, but it does take a very carefully organized structure.
Without this structure, you can't effectively manage a portfolio of highly engaged donors.
Your prospect management system will help you identify who needs attention and when, and who is most likely to give at any point in time.
Don't forget: If you want to develop a structured, systematic prospect management program that helps you close gifts, then join the 2022 Major Gifts Intensive. We are here to support you. Check out the 2022 Major Gifts Intensive and let us know if you are interested. Registration closes Feb, 24th.
https://gailperrygroup.com/wp-content/uploads/2022/02/Untitled-design-2022-02-15T152355.724.png
900
1600
Jenn Shefcik
https://gailperrygroup.com/wp-content/uploads/2022/09/Gail-Perry-Group-2.svg
Jenn Shefcik
2022-02-15 16:45:06
2022-02-15 16:45:07
(Major Gifts #6) Building a Prospect Management System That Helps You Close Gifts