(Major Gifts #2) Finding and Discovering New Major Gift Prospects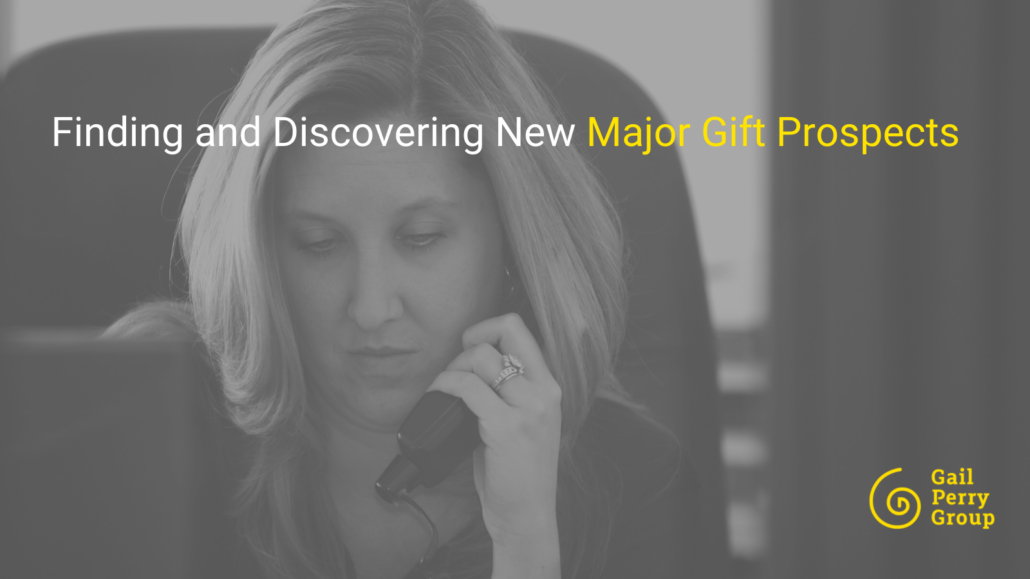 This is #2 in our series on Major Gift Fundraising in 2022 that we promised:
Today, we want to focus on one of the greatest challenges facing development shops everywhere: finding and discovering new prospects for major, principal, and capital gifts: Fundraisers tell us that they don't have enough prospects to work with. Board members keep saying, "We need NEW prospects. We need MORE prospects."How about you? Do you think you have enough prospects?
Here's my response: You really have plenty of major donor prospects. There are sleeper major gift prospects right under your nose. Start at home.
The best place to start prospecting is with your current donors. Make thank you phone calls to them, and turn each call into a Discovery Call.
Every single thank you call you ever make should really be a Discovery Call. These thank you phone calls can be the key to a major gift. You never know.
How do you turn a thank you call into a Discovery Call? By asking the donor all sorts of questions.
Turn Donor Thank You Calls into Discovery Calls
In the call, you are all about the donor – why they gave, why they love your organization, what's their story? Want to know something? Donors will usually tell you if you ask them.
In these calls, you have a chance to do deep prospect research. Remember, the best way to find out if a donor wants to learn more about your work, or wants to do more for your organization, is to ask them directly!
In our Major Gifts Intensive this year, we will be teaching our Discovery Call Playbook – it's our guide to making successful Discovery Calls.
How Cristina turned a $1k gift into a $100k gift.
You'll love this story: Last year, one of our MGI participants, Senior Development Director Cristina Fragale, achieved amazing success with a thank you call. Here's her story:
Thank you's and follow-ups are very natural for me, but I learned we could leverage them to make stronger donor relationships.
I had a cold thank you call with a donor who had been giving $1,000 faithfully, I followed up with her using the cultivation techniques I learned from the course. I knew the questions to ask.
As the donor talked on and on, she told me she really believed in this project, and that she was writing us a check for $100,000!
The biggest plus is that I now recognize opportunities to ask for a gift when they come up on the phone. It has become very natural for me. I'm constantly referring to the things I learned in the Major Gifts Intensive course.
You, too, can turn a bread and butter thank you call into a major gift. Just by asking the donor to share her story and getting her to talk. You never know what you might find.
Major Donors are Sleeping in Your Database
Many of your smaller donors are actually major gift prospects. You DO have plenty of prospects.
Think about it. Usually, a major donor will make small gifts at first, to get to know the organization. Then, over time, their interest may grow, and their gifts increase.
They may be making large gifts to other organizations, but you are not aware of their generosity.
Right there in your database, you have plenty of major gift prospects. No kidding.
The problem, of course, is that you are treating them like smaller donors – with no special attention.
The more discovery thank you calls you can make – the better. Using discovery questions in a thank-you call is the path you want to take.
And, of course, we all know that the best way to cultivate someone is actually saying thank you, not asking for money.
2022 Major Gifts Intensive
We will be focusing extensively on major gift discovery in the Major Gifts Intensive this year.
If you'd like to learn the Discovery Call Playbook, so you can discover and qualify more major gift prospects, then consider joining the Major Gifts Intensive.
This program may not be for you and your team. But then, it might just be the perfect guidebook to raise transformational gifts for your institution.
This year's cohort will close out on February 24th, and we are filling up earlier than usual this year. So let us know if you are interested. We'd love to work with you!
Burk says that many potential major donors come into the system at the bottom, and as soon as they do, someone of influence, like a board member, should call them.
You just might discover a sleeper major donor right on the phone.
There are many other ways to identify potential major donor prospects. This is just a start.
https://gailperrygroup.com/wp-content/uploads/2022/02/empty-Finding-and-Discovering-New-Major-Gift-Prospects.png
900
1600
Jenn Shefcik
https://gailperrygroup.com/wp-content/uploads/2022/09/Gail-Perry-Group-2.svg
Jenn Shefcik
2022-02-10 19:04:30
2022-08-18 13:01:35
(Major Gifts #2) Finding and Discovering New Major Gift Prospects