(Major Gifts #4) What's the Return on Investment from a Major Gift Program?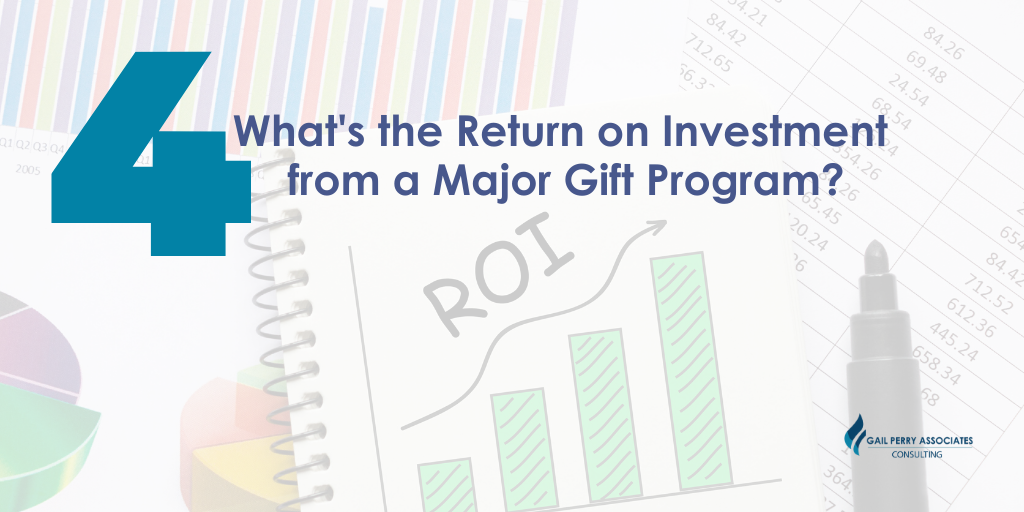 Wish you could have been there. We were up in a New York City office tower, gathered in a big conference room, surrounded by smart, thoughtful board members.
We were presenting the strategy for a robust, newly expanded major gift effort.
It was a cool moment – because we were really excited about this organization's fundraising potential. They needed a new infusion of funding, and we knew where they could get it.
We'd looked at their data, and we had run the numbers. So, we had a really good feel for what kind of revenue likely would be possible if they invested in their major gift program.
We knew they had the donor prospects, but they just needed to connect with and cultivate these donors more. That meant, they needed to invest in their fundraising program by hiring more staff, and giving them training, coaching, and support systems.
In our presentation, we laid out a very clear chart with all the arrows heading up. It showed the exponential revenue increases they could expect as a result of spending more on fundraising.
We projected a HUGE 10 to 1 return on investment.
The numbers were pretty amazing, with a 10:1 return. If the organization invested around $300k in new fundraising staff and training, they could expect to receive around $3 million a year from their major donors.
The board members were thoughtful. They were weighing the pros and cons of taking some money out of the organization's reserves and investing it for this huge return on their investment.
But one board member got cold feet: "We can't possibly spend that much on fundraising!" he said. He wanted to back away from the strategy, because he couldn't connect the dots between investing the money – and seeing the exponential return.
What kind of $ return could YOU expect from investing in major gifts?
Typically, a major gift program provides a "profit" of 8 to 10 times the cost of the program.
Brenda Riehl, of the Lancaster (PA) Health Center, saw a ROI of 18 to 1 from her investment in our Major Gift Coaching program two years ago:
I'm happy to share the ways we're benefitting from the program. To date, we've seen a return on investment of 18:1!
$18 raised for every dollar spent on the program. I think what sets you and your team apart is that you get right to the point and get your participants doing the work and applying the principles quickly.
Major gifts is a likely source of untapped revenue for your organization.
You can almost certainly improve your fundraising bottom line if you had more time and resources to spend with your major donor prospects.
You are probably sitting on a lot of potential, but your team may not have the time or resources to go after it. Are you sitting on a gold mine?
Many organizations have set aside money in endowments that are bringing in only a 3-4% return. Compare that to investing your resources in fundraising, which can provide a ROI of at least 100 – to 1000%.
For example, your organization could invest $100k in major gift fundraising, and could receive back $500k- $1 million – or even $5 million depending on your donor prospects. It only takes a few donors to reach these totals.
Fundraising is a profit center and investments must reflect that mindset.
Fundraising costs are not a black hole into which you pour money.  Instead, they're investments that generate money. Your fundraising expenses end up bringing in a large profit to your organization.
This means that your organization's fundraising staff and programs are NOT a "cost center." Instead they are a "revenue generating machine."
Just like you invest in the stock market – and you expect a return, your organization is investing in fundraising strategies that produce a generous return.
Fundraising pays for itself many times over.
Major Gift fundraising is the most efficient and effective way to raise money.
It's efficient, because you get a higher return on your investment of time. This is where the largest gifts are.
You can devote a day a week and raise millions, vs. staging events that take vast amounts of time and raise much less.
What happened with our board member friends that I mentioned earlier?
Yes, one board member wanted to back off.
But the rest of the group took a business-like, analytical approach. They studied the financial projections. And they decided they were confident that their fundraising and consulting teams could deliver.
Yes, they went for it – made the investments, and ultimately saw dramatic increases in revenue for their mission.
Bottom Line: The more resources you invest in fundraising, then the more you will exponentially raise.
Major gift fundraising has a very high rate of return. Think of fundraising costs as investments that will pay back over and over.
Don't forget:
Major Gift Roadmap 2020 Coaching Closes Feb.3rd
We can help you develop the systems, mindset, and processes for a long-term productive major gift program that will deliver measurable results for years. 
Find out more at majorgiftscoaching.com.
If you want to expand your organization's major gifts, right now, in 2020, then join us for this 10-month structured training and coaching program. Registration closes on February 3rd, and we begin on February 20th.
https://gailperrygroup.com/wp-content/uploads/2020/01/7.png
512
1024
Gail Perry
https://gailperrygroup.com/wp-content/uploads/2022/09/Gail-Perry-Group-2.svg
Gail Perry
2020-01-10 11:09:43
2020-01-24 13:41:32
(Major Gifts #4) What's the Return on Investment from a Major Gift Program?