Major Gift Metrics: How to Measure and Evaluate Your Gift Potential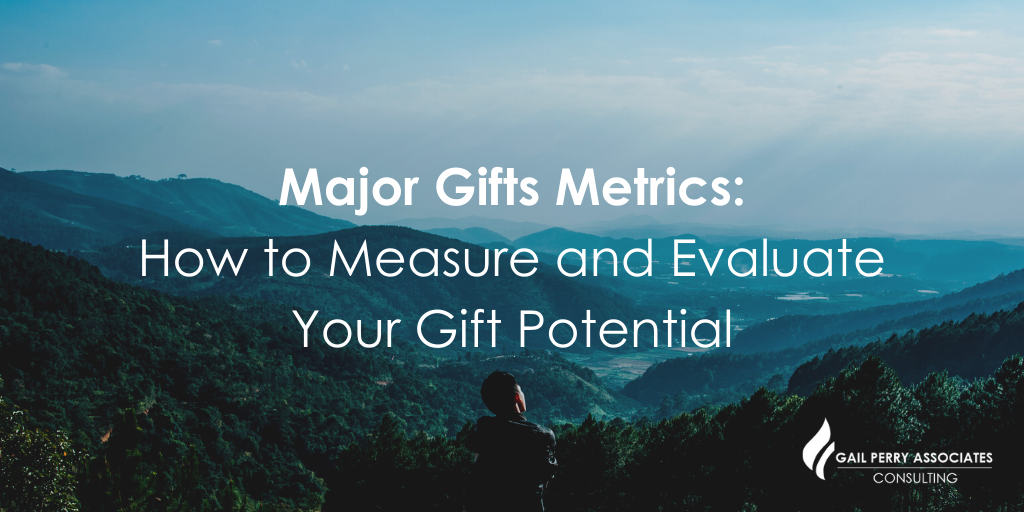 By guest author Steve MacLaughlin
In 1954, the management guru Peter Drucker wrote that "what gets measured, gets managed."
This statement is as true today as it was then. As I wrote in my bestselling book, Data Driven Nonprofits, the importance of measuring performance is critical to the success of a nonprofit organization.
There are certainly fundamental metrics that are essential to improving a nonprofit organization's fundraising program.
The basic metrics should include:
first year donor retention rate,
multi-year donor retention rate,
revenue per donor,
overall revenue retention.
Any good fundraising program should measure and manage these metrics.
How do we measure and manage metrics for more significant levels of giving?
To develop major gift metrics, you need first to start be defining and quantifying different levels of giving.
If you ask five different nonprofits what is a major gift, then you're likely to get five different answers. But the data on giving provides a lot of clarity on definitions.
Principal Gifts: These are transformation gifts of $225,000 to more than $1,000,000 and come from 1% to 3% of all prospects.
Major Gifts: These are impact gifts of $10,000 to $225,000 and come from 2% to 10% of all prospects.
Planned Gifts: These are deferred impact gifts of $10,000 to $125,000 and come from 7% to 15% of prospects.
Mid Level Gifts: These are upgrade gifts of $1,000 to $10,000 and come from 5% to 15% of prospects.
Annual and Sustainer Gifts: These are retention gifts of $20 to $1,000 and come from 30% to 40% of prospects.
Ask the right questions:
Now that we have defined giving levels then we can start to ask the right questions.
That is because all good major gift metrics help us answer important questions. These questions should include:
Who are our most valuable donors?
Which donors should receive greater or lesser focus?
How much should we ask them to give?
How do we build long-term relationships with donors?
To help answer these questions, then we're going to need to turn data into information. And that modern information we need is prospect capacity, affinity, and engagement.
Understanding the information and analytics behind these three elements is the secret to significant giving success.
Turning data into information:
Capacity is a measure of a donor's ability and potential to give.
Giving capacity is calculated through and analysis of their financial, demographic, behavioral and lifestyle attributes.
Blackbaud expresses this as a set of ranges over a five to ten year period.
Affinity is a measure of a donor's natural liking for a cause or organization.
Affinity is calculated through a combination of prior giving and philanthropic involvement. For example, donors that give to animal welfare causes may have a higher affinity that leads to giving to a similar nonprofit.
Engagement is a measure of how connected the donor is to your organization.
Engagement is calculated through weighing all the ways a donor engages and responds – or not – to your nonprofit. For example, do they attend events, open your emails, participate as a volunteer, or none of the above.
Looking at capacity alone is not enough. Just because a prospect has the financial ability to give does not mean they will.
Adding in affinity is important because capacity alone doesn't help if a prospect is not interested in your mission.
Engagement is the critical missing piece because donors with capacity and affinity need to be engaged to invest.
Bottom Line: Major gift metrics.
The bad news is that there are no shortcuts or simple formulas to measure capacity, affinity, and engagement.
The good news is that modern technology makes it easy and affordable to have this actional information applied to all their donors and prospects. The next step is then to put it into action and measure what you manage.
Steve MacLaughlin is the Vice President of Product Management at Blackbaud and bestselling author of Data Driven Nonprofits. MacLaughlin has been featured as a fundraising and nonprofit expert in The New York Times, The Washington Post, USA Today, The Chronicle of Philanthropy, and on National Public Radio.
MacLaughlin previously served on the board of NTEN, is a frequent keynote speaker, and is an adjunct faculty member at Columbia University. Steve earned both his undergraduate degree and a Master of Science degree in Interactive Media from Indiana University.
https://gailperrygroup.com/wp-content/uploads/2020/02/Copy-of-Blog-Thursday-1.png
1080
1080
Gail Perry
https://gailperrygroup.com/wp-content/uploads/2022/09/Gail-Perry-Group-2.svg
Gail Perry
2020-02-21 08:11:48
2023-07-13 06:35:22
Major Gift Metrics: How to Measure and Evaluate Your Gift Potential