How to Have a Super Successful Visit with a Major Donor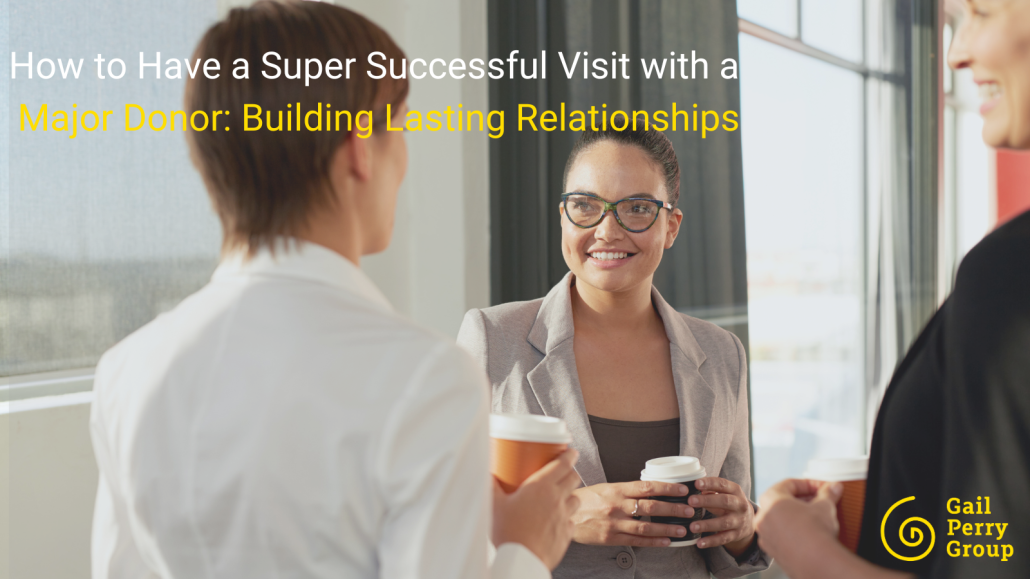 Major donor visits can be nerve-racking. Here you are with a golden opportunity—you've obtained a meeting with an important capital campaign prospect.
It's exciting but it is also high-stakes – because, of course, you want to be successful.
Just remember that your real goal is not money.
It's not to make a formal presentation either.
Talking too soon about a big gift at this very first meeting can be a big mistake. And, above all, you certainly don't want to deliver a rehearsed sales pitch.
What you are really after is something much more important: a longer-term, warm, and friendly relationship.
You hope to build a relationship where they will respond to your emails, share their advice and input, answer your calls, and maybe even show up at an event. And yes, you're crossing your fingers for a generous gift, too!
Goal #1: Build a True Relationship with This Donor
Your ultimate goal with every single donor visit is to foster a long-term relationship.
In general, it's best to take things slowly, and first work to establish trust with your donor. If you can do that, you'll create something much longer lasting – a long-term friendship.
A leisurely, relaxed conversation with your donor will tell you so much information. But don't rush things, unless the donor is interested in talking specifics right off the bat.
Tips for relationship building:
No need to rush, do take it slow. Take your cues from the donor.
Ask them to share their thoughts and opinions.
You want them to become a trusted friend of your organization – a true advocate. Help them feel like an insider on your team.
Remember, it's not just about the gift. It's about nurturing a close, friendly bond.
This initial step can pave the way for long-term engagement and ultimately result in substantial support for your cause.
2. Goal #2: Discover Where Your Prospect Stands
Another important goal for every meeting you ever have with a donor is to discover your prospect's disposition towards your organization and cause.
That's why we always say, "Listen your way to the gift!"
Has your donor's interest level changed? Are they warmer, or cooler towards you and your cause?
Can you discover what's in your donor's heart – what will compel them to get more involved in your capital campaign or major gifts initiative?
Can you find out what they believe in, and hold true in their heart? What are they passionate about? Why are they interested in your organization's work?
You want to know what they think. The only way to find out what you really need to grow the relationship is to ask questions and let them chat with you.
Remember, you can actually control the conversation if you simply ask questions.
It's difficult, but so important – to listen! If you do all the talking, then you'll never find out all the information that you really need to grow the relationship.
Your true goal in every donor meeting, is to get them to talk, so you can discover what they care about.
Tips for Listening to Your Donor:
Ask them about their history with your organization.
Ask them outright why they are interested in your cause. Can you determine how passionate they are about your organization's work?
Ask open-ended questions to uncover their personal values, interests, and motivations.
3. Goal #3: Plan A Next Step with the Donor
Why is the next step so important? Because you won't have a long-term relationship with your donor without a reason to circle back to them.
You're always looking for what you can do next to encourage your prospect's interest.
Our firm rule is this: If you want to maintain contact with the donor, then be sure to leave the meeting with a clear idea of next steps.
It could be to bring the donor some information that they wanted to know. Or, it could be to ask for their advice and input about another donor.
Did you find out what they were interested in, so you can follow up? Did they ask a question that you couldn't answer?
Tips for establishing follow-up next steps:
Before you leave, know what your follow-up plan is. Never leave it to chance.
Find reasons to circle back, keep the lines open, and maintain the connection.
Did they ask questions? What were their major questions about? Now you've got a reason to follow up.
The Fundraiser's Kiss of Death: Talking Too Much
Here's a key point to remember: talking too much can ruin everything during a major donor visit. Don't make this rookie mistake. Your donor expects to be heard, not lectured.
In fact, the more important the donor, the more they expect to do the talking to you! Sometimes we say, the bigger the VIP, the more they expect to talk and give YOU their advice.
Over and over, we all fight the same battle: how to control our talking when we are meeting with a donor. After all, talking too much can be the kiss of death.
It's a challenge for everyone – newbies, experienced fundraisers, executive directors, board members, and academic leaders alike. Most of us tend to talk too much when we are nervous.
Effective Communication Strategies:
Set clear objectives before the meeting to stay focused and practical. Remember what you are trying to accomplish.
Consider asking for advice and input as a way to engage donors in the conversation.
Avoid lengthy presentations.
Listen actively and be genuinely interested in what the donor has to say.
Be an interesting conversationalist; ask thoughtful questions and be knowledgeable about current events, trends and issues the donor may walk to discuss.
Bottom Line on Major Donor Visits: Let Your Donor Lead the Way.
Remember, a warm, friendly relationship with a major donor is a wonderful asset.
Then they will become an advisor, and you can seek them out for access to other donors and ideas.
Don't blow that important first visit. Use it to establish trust and credibility.
Remember your donor will like you even more, if you are all about THEM, rather than being all about yourself and your organization!
https://gailperrygroup.com/wp-content/uploads/2023/09/Blank-Building-Lasting-Relationships-1.png
900
1600
Jenn Shefcik
https://gailperrygroup.com/wp-content/uploads/2022/09/Gail-Perry-Group-2.svg
Jenn Shefcik
2023-09-14 17:38:46
2023-10-05 10:05:10
How to Have a Super Successful Visit with a Major Donor