How to Host a Porch Party, a Fun Donor Cultivation Event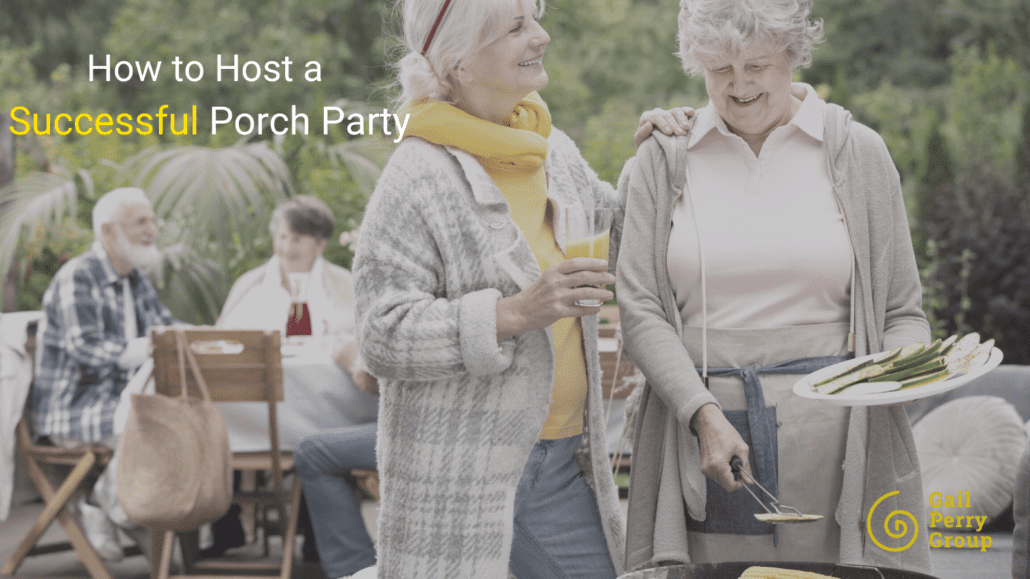 A casual, small social event like a Porch Party is a terrific donor engagement and cultivation tool. Porch parties and small socials can be wonderful for building community support, engaging people, and generating momentum about your cause in the community. In fact, the art of social gatherings for donors or new prospects is a time-honored strategy for fundraising. This is because helpful fundraising-related conversations can easily happen in a more casual, quasi-social environment. You can open the door to a new prospect, touch base with a donor, and find out what's on a prospect's mind.
Friendmaking for the cause.
Just think how much you could accomplish if you could get key supporters in your community all in the same room to hear about your mission and its impact. Your team can cover so very much ground at a Porch Party. Casual conversations about your mission help bring friends closer to your work. Social chats can reveal a donor's hot buttons, how they feel about your organization, and how passionate they are about your cause. Remember that this type of connection treats your donors and supporters like people, not ATMs. Do ask your donors to get engaged in the cause before you ask them for money. Friendmaking means that you hope to create die-hard friends for your cause whether they give or not. If your organization is planning a capital campaign or major gift initiative, porch parties can be a useful method for bringing the right people together who can make your campaign a success.
What Exactly is a Porch Party?
It's a small, social, informal gathering of people who are or who may become supporters of your organization. Porch parties are typically easy to pull off. They "feel" attractive to donors because they are casual and informal – and we have seen that donors are more likely to attend something that "feels" smaller, more personal, and more casual. Small socials and donor events can take many different formats. You can have a picnic, a cookout, or a pool party. If the weather is cold, you and your team can still go forward with a Fireside Chat. There is not a "hard ask" at this event. By this, we mean that you are not making a specific, clear ask of everyone in the room to make a gift. You can, however, make a soft ask, by inviting everyone to come to take a tour, learn more, and/or support your work.
Our Template for a Successful Porch Party or Small Social
1. Decide on your objectives.
What do you really want to accomplish with your porch party or small social? We always believe you should set specific objectives ahead and time, and then design the event to meet them. A porch party or small social event could have multiple objectives: Is your objective to get to know your donors better? If so, be sure to allocate enough social time to be able to work the crowd. Or do you want to open the door to new individuals who might become donors? Then you'll need a nice combination of social time and program time. You can also hold a small party to:
Announce a new gift or sponsorship and celebrate the donors who gave it.
Welcome a visiting dignitary
Introduce your new CEO to a group of your closest donors.
Kickoff your annual fund
Give someone an award
Consider, what might happen if you turned the Annual Meeting that is required in your bylaws, into a Porch Party? Takeaway – Choose your objectives and then set up your event to accomplish them.
2. Who to Invite to a Porch Party?
Who you invite depends, of course, on your objectives. Porch parties are a wonderful strategy for opening doors to new donors, prospects, and community influencers – without being pushy. You can also add elected officials, current and former board members, and major donors to the mix. Is your organization hoping to receive public funding from state or local government grants? If so, then invite key elected officials or their staffers. Or invite some of their key supporters. Is your nonprofit hosting a big social event, a grand opening, or gala soon? Then invite social leaders in your community to your porch party. Does your organization have a new CEO? Then invite potential and current supporters to come to meet them at your porch party. Just think what you could accomplish if you could access key people in a brief span of time. The gathering can be a very effective, time-saving tool.
Great for Introducing New Prospects to Your Cause
One thing we love about Porch Parties is that they are lovely formats for meeting new people who might turn into donors or supporters. You can invite new potential donors to a casual, fun-feeling social event to introduce them to your cause – and then find out why they are interested enough to attend. Board members, in particular, find porch parties to be an easy format for introducing their friends and associates to your cause. Who knows, it could be the beginning of some long and happy relationships.
3. Who does the inviting matters.
Do give some thought to what will help your busy invitees decide to attend. Often, the best people to host Porch Parties are trustees or major supporters of your organization. Your core leaders and supporters are the ones to "invite" others in the community to come and find out a bit about your organization. You want someone who has the clout or social reach to attract people in. Especially if you hope to reach major donors or community leaders to your event, then make sure the invitation comes from a board member, a donor, or someone they know of and respect.
4. The location of the Porch Party matters.
If you can, try to have your event at a location that people want to see. Perhaps you have a board member with an interesting home who will host a porch party. Perhaps you can host it at a new building or outdoor space in your city. Try to have an interesting location – somewhere people want to visit. It makes the event more appealing.
5. Your team's job is to work the room.
Here you are, with all these wonderful people gathered together at your event. What's next? Everyone on your team can't just huddle in the corner. They need to be working the room, meeting every single person in attendance. Ask all the guests why they are here. How did they come to be interested in your cause? Every donor or potential donor may have a personal story about your work that they would love to share with you. That's where the conversation comes from. Hot tip: Be sure to triage the guest list. That way you can decide ahead of time who the most important donors in the room will be. And your leaders can be sure to focus on them first.
6. Name tags are essential.
Here's an often-forgotten Porch Party tool. If you are representing your organization, then you are the person who, above all, wants to know exactly who is in the room. It's just essential to have name tags, so you can work the room properly. In many cases, your team may not know everyone's face – so they really do need to see their names. Tip: Don't let guests fill out their own name tag. Instead – have someone at the door, greeting guests, and writing name tags in easy-to-read, large block letters.
7. Someone must clearly be in charge.
First, you'll have social time on the porch for an hour or so. And then you'll go inside perhaps, for a short program or conversation about your organization. But be clear about what's happening and when. Have someone fully in charge, making sure things move forward. This person also needs to be ready to gently cut speakers off if they go on too long. Indicate a director of the event, and give them authority to make decisions to move things along. Tip: Make sure things happen when they need to. Don't leave anything to chance.
8. A short program or not at all.
Remember, that your team's purpose for the Porch Party is to be able to make personal connections with the people in the room. For that reason, there must be more social time than program time. While the program is not the real purpose of the event, it is still very important. It must be short, compelling, and showcase your organization's impact.
The program should include:
A short overview of how you are making your community better
An emotional picture of the people your organization is helping
A call to action
For example, you can feature:
A short video
A testimonial
A story shared by program staff
A short performance if you are an arts organization
Tip: Your program should evoke an emotional connection- with pictures, words, and stories.
9. The role of the board at a Porch Party or Small Social cultivation event.
Board members often shine when they play no-ask roles that support fundraising. We like to see board members take on important jobs that can help make your gathering successful – especially if you have a small staff team. For example, board members can help pay for the cost of refreshments. They can even host their own porch party at their home. They can:
Invite people to come to the event (we've known some boards that hand-deliver invitations)
Identify potential attendees and share contact information
Follow-up invitations to encourage people to come
Handle logistics (try organizing board members into teams for food, drink, invitations, clean up)
Serve as hosts at the event – greeting people and making them comfortable
Tip: We also like to have board members make follow-up calls after a small event, thanking and asking guests what they thought of the gathering.
10. Ask or not to ask at a Porch Party or small social event?
This goes back to your objectives. It's (hopefully) not about money. Instead, it's about opening doors, making friends, and developing relationships. Remember if you take your time to make friends for the cause first, and then ask for money, your supporters are more likely to respond generously. Often teams hold porch parties to cultivate major donor relationships. In these cases, you certainly don't want to muddy the water with an impersonal group ask. Remember our key fundraising rule: you should never, ever surprise your donors with an ask. Even more, ask people for their help, before you ask for their money. Tip: We strongly recommend for there to be no ask at a cultivation event. It defeats the purpose.
11. The best kind of call to action to make at a Porch Party or Small Social.
We think every gathering on behalf of your cause needs a strong call to action. You want to inspire everyone to join the bandwagon, spread the word, get involved, and make it happen. A call to action like this is inspirational. For one thing, it has good energy and excitement. It focuses your guests on the mission at hand, not on money. And this general "get involved and spread the word" request can inspire some new supporters to get more engaged with your work. Remember the more engaged people are, then the more money they will contribute.
12. Use a Follow-Up Card to capture your guests' contact information.
Often the host will invite people, and your staff team may not have contact information for many of the attendees at the event. For this reason, we strongly recommend that you ask your guests to fill out a Follow-up Card. This is a paper card that you will distribute (with pens) during the program that asks for your guests' contact information. Include boxes for them to check off how they might like to be involved. You can include boxes such as:
Please put my name on your mailing list.
I'd like to make a gift to support your work.
I'd like to host a small social of my own to support your work.
I have an idea I'd like to discuss with you – please contact me:
Tip: Follow-up cards help guests self-select what type of follow-up they want.
13. How to follow up your wonderful Porch Party.
Many teams manage to get key people to an event, but then there is no follow-up. Yes, it's one thing to expose people to your mission. But it's another thing to know what to do next! Here are ways to follow up:
Call everyone who came. Thank your guests, and ask them to share their impressions of the gathering.
Invite them to your organization's next fundraising event.
Invite these guests to learn more by attending a tour.
Write them a personal letter, thanking them, and asking for their financial support.
Put major gift prospects into a discovery process to nurture a relationship that might yield a major gift.
Tip: Personally follow up with top people about something they are specifically interested in.
14. Charging for the event – yes or no?
Should you have a small charge to attend? We recommend that your porch parties and small events should be privately underwritten. Often the host will simply cover the costs. Or you can ask another support to underwrite it. We prefer not to ask donor prospects to pay anything. However, it can be entirely acceptable, for a big dinner or party – to ask attendees to pay a minimal amount. Tip: A free event feels more gracious and welcoming to your guests.
15. Staff should definitely attend your Porch Parties and events.
We strongly recommend that staffers should attend – but if and only if they actually mingle with the crowd. They should not be off huddling in a corner with their cell phones – this is a social event, really! We like to have key program staff AND fundraising staff. Do remember that donors enjoy meeting program staff and learning more about what they do. One thing to remember – if any fundraising staffers have a prospect at the event, then he or she must be invited to attend. Tip: Your VIP donors do enjoy getting to know the staff.
BOTTOM LINE: Try hosting a porch party – it's an easy way to open doors to new prospects — and engage current donors in your mission.
As always, it is a pleasure to share our weekly insights with you as we cover important fundraising strategies. If your organization is planning a capital campaign or expanding your major gifts program – we can help. Send an email to coaching@gailperry.com if you'd like to schedule a free strategy call with us.
https://gailperrygroup.com/wp-content/uploads/2022/08/How-to-Host-a-Successful-Porch-Party-1.png
900
1600
Gail Perry
https://gailperrygroup.com/wp-content/uploads/2022/09/Gail-Perry-Group-2.svg
Gail Perry
2022-08-11 22:53:43
2023-05-24 17:54:10
How to Host a Porch Party, a Fun Donor Cultivation Event