How to Create a Donor-Centered Appeal Letter by Writing With Love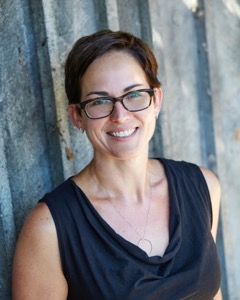 Today we have a guest post from our next world-class webinar presenter — writer extraordinaire Jen Love of the communications firm Agents of Good in Ontario, Canada.
Jen and her partner, John Lepp, have created some world-famous direct mail campaigns that we are still studying and learning from.
I've written about the amazing Food Truck campaign here and here.
And you can read about Agents of Good's wildly innovative Hummingbird Campaign here. (The Director of Development was terrified to send it out but it was wildly successful!)
Want to craft your OWN donor-centered appeal letter?
Join Jen for her webinar with us on Sept. 10 to get examples, tips and checklists to improve your next appeal letter. We'll even be doing appeal-letter "make-overs!" It will be recorded!
Here's the guest post from Jen Love and some tips we've pulled together for you:
Write With Love
I get a lump in my throat when I think about the number of times I sat down and wrote "Dear Granny" on the top of a letter, card or postcard. My grandmother and I wrote to each other for decades, from the time I went off to university right up until she died.
From the side of the road in rural Costa Rica to my kitchen table with my kids drawing pictures to enclose, I shared stories, moments and feelings with her.
From her "workshop" where she knitted and quilted sweaters, blankets, mittens and more, to her retirement home apartment, she shared stories, moments and feelings with me.
Love in Every Word
Every letter from her was sure to include at least one "good for you, dear" and would sign off "Love Always, Granny." And every sweater, blanket or mitten would have a homemade tag she sewed in that said, "Love in every stitch."
When I read her letters, I could picture her blue eyes sparkling when she was trying to find the right phrase to make me smile, even laugh out loud.
I imagined her twiddling her fountain pen between her fingers, listening to Sinatra and wiping the sides of her Manhattan with a lacy handkerchief.
And when I wrote back to her, she inspired me to up my storytelling game.
Every single time I sat down to write to my Granny Love, it was with both a full heart and a sense of purpose.
And that's exactly how we should write to our donors.
How to Craft Your Own Donor-Centered Appeal Letter:
Here are a few tips to help you gauge the donor love in your letters — and dial it up if you need to.
Donor-Centered Letter Tip #1: Avoid "org speak."
Instead of the words "its mission," use "our mission."
Instead of "I" and "we," use "you."
Instead of talking about "our supporters," talk about "our community," "our movement" or "our family."
Instead of reports and newsletters filled with board-approved messaging and showing photos of old men in suits accepting giant checks, show gratitude and love for the people — your donors, your heroes — who make it all possible.
Donor-Centered Letter Tip #2: Skip the jargon.
Terms such as "capacity building" are used a lot in the nonprofit world, but they may not mean anything to your donors.
Donor-Centered Letter Tip #3: Keep your writing clear.
Don't make readers guess what you want them to do. What is the intention of your message? Are you asking your readers for a donation, thanking them, or informing them?
If you have a call to action, that needs to be clear as well.
Donor-Centered Letter Tip #4: Make it compelling.
Bring your readers into your cause by capturing their attention early in the letter. Put a human face on your stories, and keep statistics to a minimum.
Donor-Centered Letter Tip #5: Keep your writing free of typos and grammatical errors.
Why would a donor want to support something when the person writing a letter about it isn't invested enough to check his or her work?
Donor-Centered Letter Tip #6: Get personal.
Your letter should sound like it was written by one human to another human. It should sound conversational.
Read it out loud — the places you stumble need some work.
Tell a personal story that is relevant to your beloved donor and your mission. What do you know about him or her? Does she love cats more than dogs? Did he give $100 last spring?
If you were asking your grandma for some help to send the kids to camp — how would you ask her?
Donor-Centered Letter Tip #7: Be creative.
Don't "do that thing" you did last time.
Try different envelopes or writing in different moods, switch up the font and letterhead, talk about different things that are relevant to your donor.
Put forth your best effort every… single… time.
In my workshop, we'll explore exactly how you can creatively use your voice — and the voices of your organization — to share amazing, inspiring stories.
You'll learn how to make your appeal letter truly donor-centered, and (SPOILER ALERT!) you'll also learn that it's more than just the actual letter!
You'll get into some donor love with emotional fundraising — showing donors how their core values can be brought to life by supporting your organization.
You'll learn how to tap into what your donors believe in, and how to make them heroes in your next story.
And we're also going to share examples, tips and checklists so you'll walk away with practical, specific ways to improve your next appeal letter.
Basically, we're talking feelings and functions! The right balance means you can and will inspire your donors and raise more money.
Join us!
Got a question for Jen? She'll answer it here if you leave a comment!
https://gailperrygroup.com/wp-content/uploads/2015/08/agentjenjuly15.jpg
300
240
Gail Perry
https://gailperrygroup.com/wp-content/uploads/2022/09/Gail-Perry-Group-2.svg
Gail Perry
2015-09-04 09:07:35
2023-07-11 09:10:59
How to Create a Donor-Centered Appeal Letter by Writing With Love